Driven by the continuous regression in the quality of our consuming of music, Jarre Technologies devised AeroSystem One with the aim to retrieve and restore the lost sound that has been so meticulously produced in state-of-the-art recording studios: it is time for home-entertainment to be true to the genesis of the initial emotion created by the musicians in the studio.
AeroSystem One is the result of four years research and development by Jean Michel Jarre and his team of sound engineers. Conceptualised in France, this powerful sound-system can accept all digital formats, from MP3, AAC, WMA, etc. AeroSystem One is compatible with all iPod and iPhone models and comes with an integrated USB 2.0 port, as well as a mini-jack port offering the possibility to connect the system to a laptop, a CD / DVD player, smartphones, hard-disk files, as well as a vinyl turn-table. AeroSystem One incorporates an electronic signal circuit, tailor-made to reproduce both the bass line and high notes with optimal precision.
AeroSystem One delivers a precise and enveloping sound thanks to its powerful box beam and two directional speakers.
The ultimately elegant design of the AeroSystem One, perfectly integrates into any interior, with its aesthetic ambition while privileging optimum audio quality, all at a most affordable price: a sound-system that appeals both to design and music-lovers.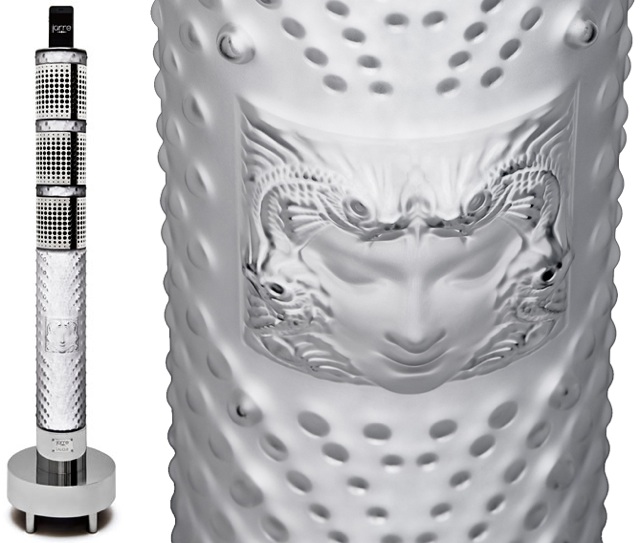 LALIQUE Crystal, which decorates this speaker, reveals sparkling jets of water which emerge from the intriguing Masque de Femme, an iconic motif of this prestigious crystal house. This Art-Deco style mask reveals the face of a mysterious woman, with subtle features, surrounded by aquatic wildlife. Like a fingerprint, the face seems perfectly captured in the crystal.
To create this piece of work, 13 master glass-blowers blow, cut and polish crystal with their expert hands into a design that is so emblematic of LALIQUE.
The artisans from LALIQUE have managed to enhance and illuminate the speaker created by Jean Michel Jarre and to raise it to the rank of a true piece of contemporary art.