Immerse yourself in the world of Alfa Romeo at the the Centro Internazionale Guida Sicura
Founded in 1991 by Andrea de Adamich, a racing fan, the Centro Internazionale Guida Sicura is a driving center and circuit that boasts the highest standards in driver training and safety.
The Guida Sicura has also had a historical partnership with Italian marque Alfa Romeo, and offers an advanced drivers' course that promises 3 key elements: Professionalism, Safety and Adrenaline.
Indeed, the Alfa Romeo Advanced Driving Course is a 2 day packed schedule, with actual track experience, administered by professional instructors who are national and international race drivers, educating the attendees on how to control the car, manage the environment, including the minimization of personal mistakes as well as managing of other drivers' errors -- all of these components executed with a high degree of safety.
The course also corrects driver habits by illustrating, demonstrating and giving drivers scenarios of "wrong driving", which include driver reaction to emergency scenarios, e.g. vehicle skidding on slippery surfaces, dodging an unexpected obstacle.
The driver is also monitored over his abilities to set the judge the trajectory bend of the road, modulation of braking, use of the accelerator, exploitation of the torque-power of the engine with practice, feedback and competition to improve all these different key components of advanced driving.
An Elite Circuit
The centerpiece of the Centro Internazionale Guida Sicura, is the circuit of Varano de' Melegari located in the Province of Parma in the Italian region Emilia-Romagna. It is one of ten circuits approved by the Auto Racing Federation.
Containing all the possible iterations of road bends, the Varano de' Melgari is an elite circuit that is equipped and updated yearly with training facilities, which include CCTV cameras and telemetry measurement, convention center, box hospitality, artificial rain simulator, slip surface and slide segments.
Mastering Alfa Romeo Technology
The track has also been set up with wet surface areas with artificially low adherence, for drivers to experiment with the different available safety driving mechanisms in Alfa Romeo vehicles including Anti-lock Braking System (ABS), Anti-Slip Regulation (ASR), Vehicle Dynamic Control (VDC), Electronic Brake Distributor (EBD).
An Analytical and Comparative Learning Experience
The advanced driving course includes driving with an instructor as post-drive analysis of telemetry data, which measures the driver performance, quality of the drive including acceleration, steering, braking and speed; all of this compared against the instructor's for a optimum educational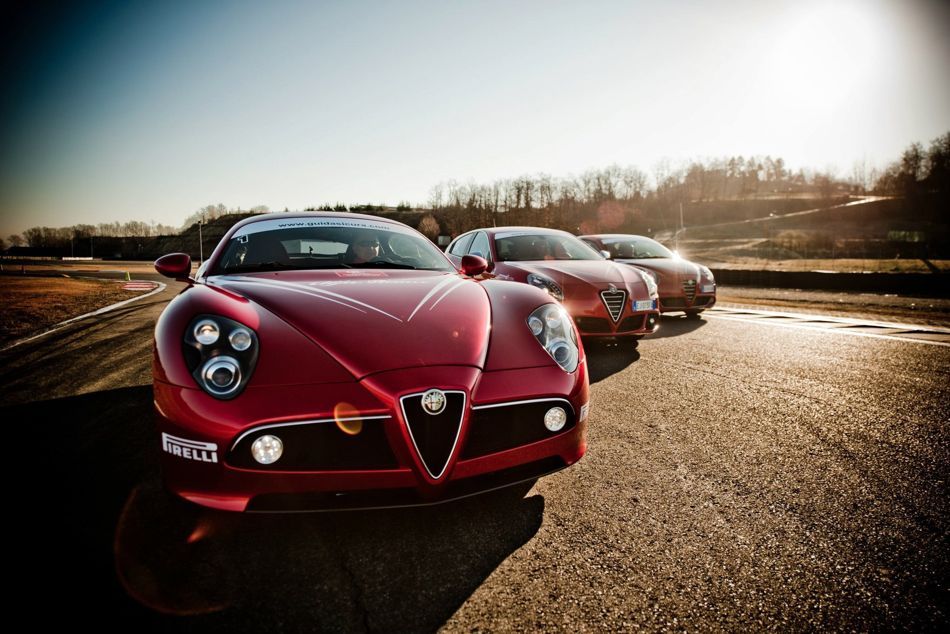 Access to the Alfa Romeo Fleet
Finally, to complete the experience, drivers are exposed to a wide variety of Alfa Romeo's to choose from:
Alfa Giulietta 1750 TBi 
Alfa Giulietta 2.0 JTDm 
Alfa MiToQV MultiAir170cv 
Alfa MiTo1.4 Turbobenzina155cv 
Alfa MiTo1.6 JTDM 120cv 
Alfa 159 2.4 JTDm 
Alfa 159 3.2 V6 JTS Q4 
Alfa Brera 3.2 V6 JTS Q4 
Alfa Brera 2.4 JTDM 
For more information, go to //www.guidasicura.com