by Ana Ow
India – one of the oldest places on earth and the seventh largest country in the world. The earliest known traces of human life began here with the first known permanent settlements appearing about 8,500 years ago and gradually developing into the Indus Valley Civilisation, dating back some 3400 BC in western India.
But enough with the history lesson.
These days India is a jewellery box of a destination, its cities filled with treasures found and some yet to be unearthed. Its culture and heritage is an amazing backdrop against which technology and cosmopolitanism run riot. And what better way to enjoy the taste and textures  of India than to stay with the pros who do luxury retreats in the best way possible – Aman Resorts.
In a rich amalgam of India's bustling urban vibe and a peaceful countryside retreat, Aman's exclusive India Journey – Summer Season experience hosts travellers in a stay at two different Aman resorts: Aman New Delhi and Amanbagh in Rajasthan.
Aman New Dehli
The former is a subtle but sensuous Kerry-Hill designed building. Located on Lodhi Road, overlooking the sprawling Lodhi park, Aman New Delhi is a select property housing 31 rooms and eight two-bedroom suites in a dramatic nine-storey structure, each offering its own private plunge pool – a unique feature you don't see very often in a multi-storey city resort.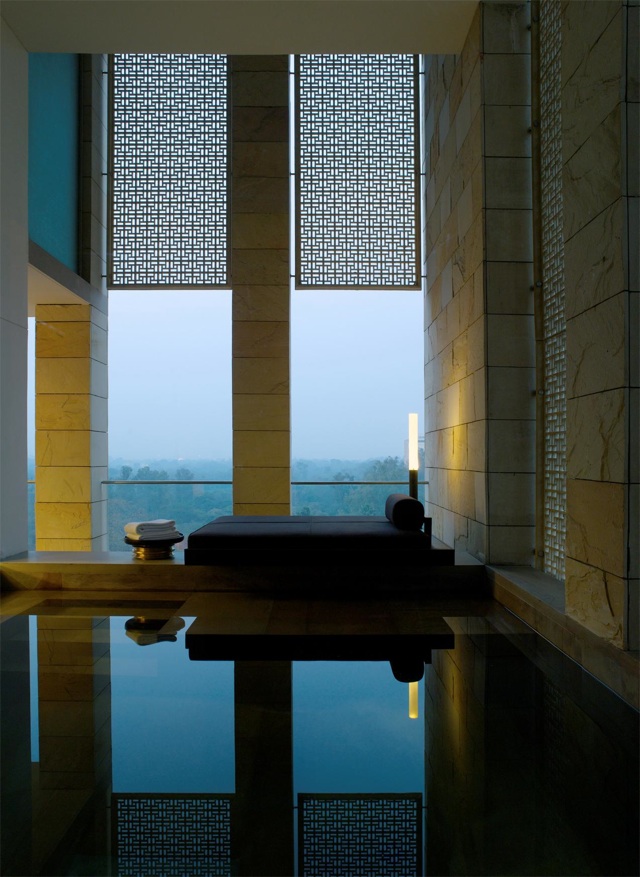 When you step out of your champagne coloured retro-vintage Ambassador car, the kurta-garbed staff will be at the ready to welcome, handle belongings and whisk you off into your deluxe room, suite or apartment. A dedicated butler will waiting smilingly with your door open and the delights of the room ready for use. Check-in happens in the comfort of your quarters with every need and requirement taken care of, upon your indication.
In addition to the fruit basket, chocolate and wide range of complementary snacks, the room is a gift in itself. A fusion of contemporary lines and traditional Indian design, it is a space of absolute tranquillity and timelessness.  Olive-hued Khareda stone lie underfoot, warmed by handmade rugs in muted earth tones and dark wood panels accentuated by discreet lighting, Bose sound systems and flat screen televisions. 
All rooms feature sweeping terraces with outdoor seating. Guests can keep their privacy while cavorting in the 5 m x 5 m private plunge pools as the clever design of the building allows for that and more. Traditional jaali screens provide terraces and exteriors with an aura of serenity and mystery, while casting endless patterns of sunlight and shade onto stone walls and floors.
Rising bright and early, you will be rewarded by the melodic recitation of classical mantras by a sari-garbed Indian lady in the hall. In your days there, choose from an array of eye-opening city excursions or eat, swim and play golf in the nearby course at your leisure.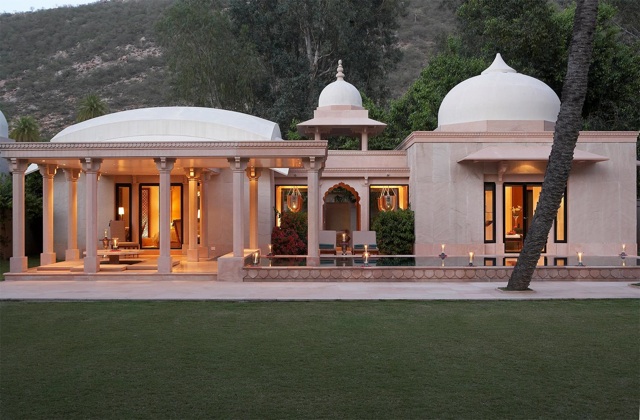 Amanbagh in Rajasthan
at The sister property of Amanbagh is a four and a half hour ride in a comfortable 4WD Mahindra or a shorter helicopter ride away. Remotely located in the Alwar district of Rajasthan, the resort is built on the grounds of what used to be a Maharajah's hunting retreat. As a guest there, you are treated as no less.
Its isolation from the maddening crowd is definitely an Aman signature. Deep in the midst of the stunning Aravelli hills, the resort is a real oasis of luxury, with its 24 haveli suites and 16 pool pavilions surrounding a jewel of a pool.
In stark contrast to the hustle and bustle of Delhi, the village of Ajabgarh in Alwar is remarkably peaceful. One cannot help but feel transported back to India's golden age with chaatri (umbrella) dinners set under stone pagodas, decorated with flower rangoli on the ground. Yoga also takes on a new meaning in Amanbagh, as classes can either be taken by the pool or more interestingly, at highly evocative locations around Ajabgarh such as the archeological site of Bhangarh, 10 kilometres away or at one of the many temple ruins or forts dotting the surrounding landscape.
For more information go to //www.amanresorts.com