As one of the highlights of Men's Fashion Week Asia,
 London-based designer Kim Choong-Wilkins' unforgettably bold and beautifully macabre Bodybound collection got the entire industry talking.
KIM REYES speaks with the Singapore-born designer to find out what it took to produce his incredible debut work.
"KNITWEAR IS A STAGNANT CRAFT, SO HOW DO WE MAKE IT ADDICTIVE AND HOW DO WE MAKE PEOPLE LUST FOR IT? [THIS COLLECTION] WAS ABOUT INJECTING THAT ENERGY AND SEX BACK INTO KNITWEAR."
You went to Central Saint Martins and got started in the industry working at Alexander McQueen. What did you learn there?
It was such an eye-opener – these things we were producing, they were serious fashion propositions and yet they were so fantastical. There's a tendency to produce theatre, and that's not what I'm about. I'm really about producing garments and fashion, and certainly the things we were producing at McQueen were that.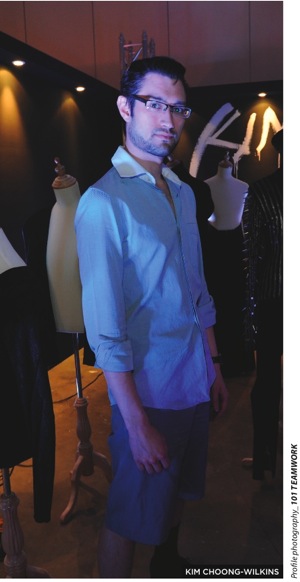 What was next after interning at McQueen?
After that, I did more seamstressing type jobs – things I learnt through university and at McQueen, all kinds of hand-finishings, couture, how to cut. I worked for Jasper Conran for a little while. Then I got my first design job as the knitwear designer for Ermenegildo Zegna in Milan.
Zegna is a very classic Italian menswear brand, with an aesthetic very different from your own. How did this experience shape who you are as a designer today?
The experience was amazing – I fell in love with the Italian lifestyle, their approach to work and play. It was wonderful and fun and glamorous and brilliant, but I was also somewhat disappointed in the work I was producing. It was very, very conservative and it was really just product.
The banality of those kinds of designs made my brain rot. It was far more painful than the physical hardships at any of my internships or any of the eccentric firms I'd worked in. The experience taught me what I didn't want to do. And that was really brilliant. I couldn't have arrived so quickly to where I am without understanding that.
After Zegna, it seems like you would've had your pick of labels to move to.
 Why did you decide to go back to school?
I looked at high-end menswear labels in Italy with good headhunters and I got proper interviews, but it seemed to always come down to my formal training. Irrespective of the experience I'd had over the past two years, because I graduated as a textile student, they found it so hard to not put me again back into a textile role. I knew that's what I didn't want, I didn't want to design squares and rectangles for the rest of my life. So I came back out to London to apply for my MA.
You also went back to work for McQueen a second time. How was that experience different from the first?
That time again was quite hard, but because I'd experienced this kind of brain rot, nothing else hurt. I had cut all the show dresses for that season – I'd cut so much my hands were literally bleeding, bound up in masking tape. We'd be cutting dresses in the atelier, just again and again and again. And at the last minute, there'd be an extra five dresses. I was like a cutting machine! But again, it was nourishing for the soul in many ways. And
 I realised this physical aspect doesn't matter, it's really to do with the emotional nourishment. I think so many people in the studios, they give so much of themselves and I think everyone really believes in the aesthetic, so it was a good environment to be in.
Was going back to school worth it?
I chose the Royal College of Art above anywhere else to do my MA, partly because it's the only place that offers a menswear Masters, and also the collections that were all coming out seemed really mature and really refined. knowing I'm a bit of a diamond in the rough and uncouth and a bit unrefined, I thought that if I can bring my ideas, and I can get their touch, that would be brilliant. As it turns out, that was really naïve of me. The system churns you out one way. The idea that you could go in and suggest your plan for the world and just get away with it wasn't feasible.
However, the visiting lecturers were extraordinary and I found champions who helped me and pushed me. For example, David Kappo, a designer and stylist in London, really gave me strong advice about the nature of what I was doing. And Peter Siddell who owns a very forward thinking and conceptual menswear shop called The Library, supported me and believed in what I wanted to make.
After Royal College, to be brutally honest, I was a bit more confused than when
I first started. I managed to put together a collection I really believed in, but as I needed a little head space to let the dust settle, I went back to freelancing. I did the knitwear for Katie Eary's first collection. She showed amazing confidence in my work, and I was really happy with the work we did there. Freelancing wasn't always designing. It was a lot of grasping what to do in the studio, a lot of sewing, a lot of hand finishing. I remember working on Halston and sewing 2,000 sequins on a dress for Queen Rania of Jordan.
At the same time, we were working 16-17 hour days, for like a month. You might get one day off. We were sleeping on the pattern-cutting tables, things like that. Thinking back on it, it was just really manic. I was a lot younger and you can take that kind of thing. I was 20 or 21, drinking lots of full-fat Coca-Cola and eating Mars bars. I actually don't remember really eating, or stopping for lunch. I remember this one incident: it was late in the afternoon, I'd been bursting all day, so I went for a pee. I'd say it was maybe 20 seconds. But because I had taken a pee, someone got fired! When I came back, a girl ran out in tears! I later learned that someone had asked her where I was, she said she didn't know, they said 'go find him,' and maybe she answered back. But literally if you look at it, I went for a pee and she got fired. It was quite an extreme place!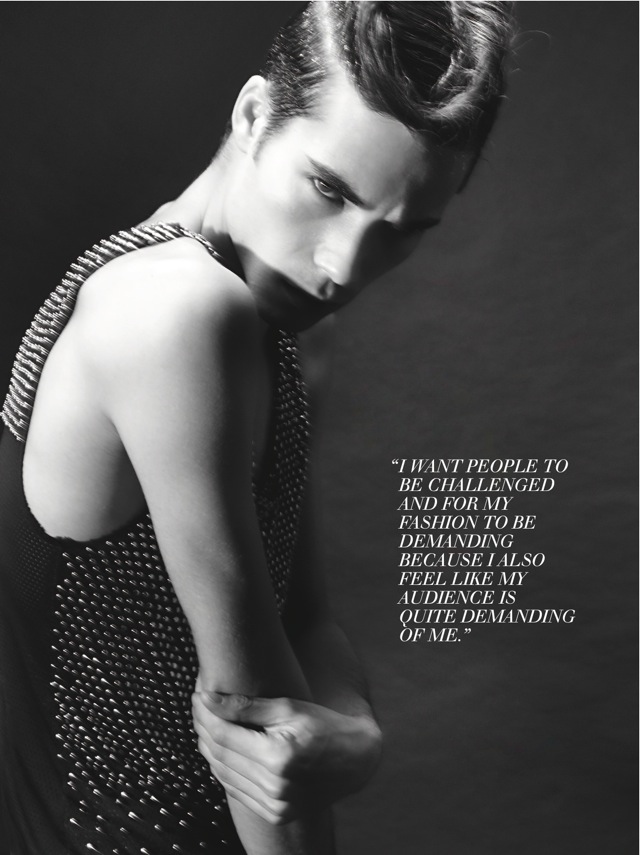 "THE MENSWEAR AUDIENCE IS DESIGN SAVVY AND ART-EDUCATED. THEY ARE CLEVER, CONCEPTUAL PEOPLE WHO ARE NO LONGER WILLING TO ACCEPT JUST REGULAR THINGS."
Eventually you became the menswear designer for Matthew Williamson. What was that like?
That was a really great break. They are an enthusiastic team and they were amazingly kind to me and took me under their wing and showed me the ropes. That was a great experience and a great opportunity. I loved working with these brilliant Italian knitwear factories that also did Versace and Missoni, because I also designed knitwear for the women's line and they were these amazingly engineered cable knits that took about eight hours just to come out of the machine.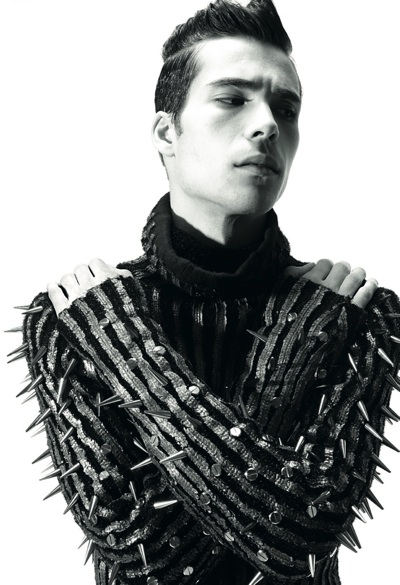 STUDDED AFFAIR | Knitted woollen turtleneck sweater with studs on sleeves, Bodybound by 
Kim Choong-Wilkins.
How did you finally decide to start your own label?
I realised I had to grow up. And I wanted to say something. I'd been doing all this stuff to get to a point where I was in the right emotional and cerebral space to make my statement, and I felt this time was the right time. And then MFW came along and I feel like all the planets were just aligned. I left my job at Matthew Williamson, and within three weeks, I was exhibiting here in Singapore. It was incredible!
In terms of designing, where do you start? How did Bodybound come about?
It mainly starts from a visual and emotional inspiration. I start to collect images that resonate, then once I've got enough to form a narrative, we start to analyse and disseminate what from the images is important. It starts to become less surface. There's a cerebral and an emotional intellect in how to approach the work.
So for this collection, we were looking at photographs by Joel-Peter Wilkin, who takes these body parts and reassembles them into mock classic paintings. So they may resemble an old Caravaggio or a Van Dyke, and they're exquisite.
They're so painfully beautiful, and yet there's also this rather sickening feeling you have because they're body parts. They're not just dead people but parts of people, and there's something really macabre and unsettling about that.
I think that's what we wanted to look at, this bit of 'the unsettling' and in some sense, taboo, but not in a vulgar way. It was important for us to keep everything very beautiful, just like in the photographs. And then there was also a literary influence in a poem called 'Goblin Market' by Christina Rossetti. The poem is about being tempted and in fact irrevocably, so doing things which are terrible and inconceivable, and not being able to recover from them in the end. It's like torture – they talk about lust and thirst and addiction for things. So that's what interested us for the collection. Knitwear is a stagnant craft, so how do we make it addictive and how do we make people lust for it? It was about injecting that energy and sex back into knitwear, because it's such a versatile textile construction and it's so malleable. Initially, knitwear wants to be flimsy and body-conscious and there are elements of that here, but we thought, how do we do structured knitwear?
How does this Bodybound concept translate into the design elements and details of the collection?
The texture-based pieces referred to these bodily influences, whether it was old anatomical drawings or muscle structures, like the rib jumpers. And there's also a more graphical influence seen in the muscle jacket, which in fact came from muscle drawings. We programmed this effect into the machine where you can create like a 3D pocket, where the fabric kind of comes away like skin that's retracting, or it filled in pockets that look more like muscles. We also played around with layers of glue and heat fixing which became almost like cracked skin.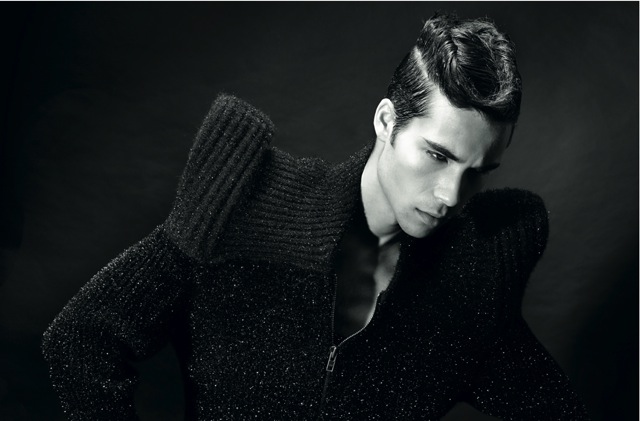 The collection is also defined by its strong silhouettes, which some might say make the pieces less wearable. How would you respond to that?
Some of the shapes are quite demanding but actually quite relatable. I want to keep these strong shapes, but I also want them to be wearable too. I want people to be challenged and for my fashion to be demanding because I also feel like my audience is quite demanding of me.
The menswear audience is design savvy and art-educated. They are clever, conceptual people who are no longer willing to accept just regular things.
Tell us more about the silhouettes and what they mean for you.
The shapes in the collection have a strong Japanese influence. There's a samurai ideal about existence and existing: 'I'm here, I'm breathing, I'm a living being and I demand this much space.' So their outfits are quite expansive. In a time where space is so limited in terms of real estate or getting onto the subway or bus, you don't want people so close to you. These clothes claim your physical space for you, in some sense. These are not drama clothes. We felt like these are clothes you can wear and walk into a room and just be, and everyone will know that you're there. You don't have to scream and shout or dance around. You're in their consciousness.
There's also a strong sexual connotation in the work, in the tight denims or the cod pieces. Everything has been cut and recut and tailored. The idea was to produce something that could make the vulgar, elegant.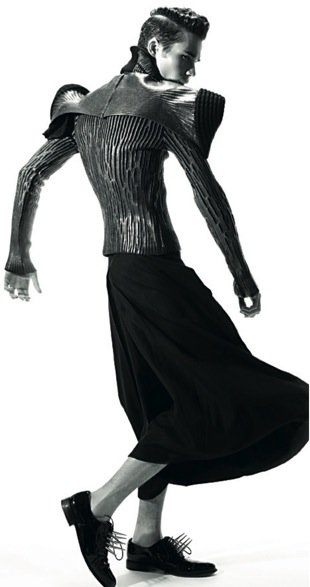 BOLDLY FUTURISTIC
 | Textured woollen shoulder padded sweater, cotton wide legged trousers and patent shoes with studs, Bodybound by 
Kim Choong-Wilkins.
'Bodybound' is the name of this collection, but you've also taken it on as the name of your brand. Why did you decide to go with this instead of simply doing an eponymous label?
During my design process, I've always gravitated back to this idea of the body. That's always been quite clear in my work. That's where 'Bodybound' came from. And thinking about how inspiring this collection is for me, it's given me direction and it just feels right.
But also at the end of the day, I feel more comfortable with a name other than mine. I feel it would be unjust, because during the course of producing this collection and through the life of my brand, everybody has carried us. ;The amount of goodwill and other people's sweat and blood and tears is unfathomable. I poured my heart and life into this, but so did other people, and they didn't have to. But they did because they believed in it. So that's my tribute to them to call it Bodybound, also because we all seem to be bound up in each other's energy.
I think pretty much everyone understands that fashion brands are manned by teams of people. The age of the maestro, the one-man-band, is truly buried.
With such a strong concept in Bodybound, going forward, how do you ensure that it doesn't become gimmicky?
It's really difficult. This is something I am really conscious of. I don't make theatre, I make fashion, and that's really important to me. At the same time, I have a strong fashion concept and nothing I make is a gimmick.
These are actual fashion propositions. I do want people to be on the Metro wearing a jumper with big shoulders. That is important to me. In London, I wear the samurai trousers.
For me, fashion is about rallying against mediocrity. And we have the ability to realise a dream, to realise something that was previously only imagined. Because we make it, it exists in the world. Because it exists, people have to deal with it and interact with it. Maybe they'll disregard it or maybe they'll accept it.
The gimmick thing is always in the back of my mind and it's such a fine line. I just hope I can tread that well and not produce anything that's theatre. I never produce anything just for a showpiece. Everything is a considered element. Even the jumpers that come up to cover your mouth are meant to stop you talking and allow you to behave with just your body, to just exist. All of a sudden, if you cover somebody's mouth, in some sense, you make them impotent but you also demand them to interact with the world in a different way. The wearer becomes really conscious of what they're viewing and starts to communicate with the eyes much more. I think the idea of silence is interesting for us. These are quiet, dramatic clothes.
"FOR ME, FASHION
 IS ABOUT RALLYING AGAINST MEDIOCRITY."
How did Alexander McQueen's death affect you?
There are very few people still designing who can produce fashion propositions that by any other hand would be ridiculous, but by his touch, are mature fashion propositions. Even a dress made out of dried flowers – it didn't look like a surface, or just cinema, this was absolutely a gown. And I think certainly losing that eye, the world has become darker and less colourful without it.
To be frank, there is no one I know even in the history of fashion that made work like he did. I think the McQueen collection now is amazingly strong and it still remains a really strong brand, but it has changed. And I think that's the sign of a great designer – that there is something that is irreplaceable and cannot be reproduced.
What are your dreams for the future of the label? Will you consider doing womenswear?
We want to walk before we run. It's important for our integrity as a brand. Everyone comes with such years of experience and even for me as a designer, it has been a really considered decision to start this line and not just do a flash-in-the-pan and that's it. So we're really taking this step by step, seeing how we can grow this as a business.
I think womenswear will come quite naturally afterwards, but right now I'm really just concentrating on menswear. Menswear is experiencing this kind of renaissance where I think it has become so mature that people stop referring to it in terms of womenswear. It's really nice to be part of that movement. It's the right place to be, at the right time. And certainly we hope we can grow and grow and grow. How interesting would it be to do a Bodybound kids' range? You know, Onesies with four-inch spikes? What would that mean and how does that work? One step at a time.
FASHION PHOTOGRAPHY | JOEL LOW
STYLING | JUMIUS WONG

PHOTOGRAPHY ASSISTANT | EDDIE TEO
STYLING ASSISTANT | LYNETTE D'CRUZ

GROOMING | RICK YANG @ ESTIQUE USING SCHWARZKOPF
MODEL | CARLOS TAMURA / MANNEQUIN