By Kien M. Lee
---
---
Watch the livestream here on 18 June 2013 . 9PM Singapore & Malaysia . 8PM Indonesia & Thailand . 6PM India
---
---
See photos from Burberry's "Writers and Painters" Spring Summer 2014 Menswear collection here
---
Burberry announced on 13 March that after more than a decade showcasing its menswear collection at Men's Fashion Week in Milan, that future editions of its men's catwalk will be held in London.
For the British luxury label, the move back to its national capital marks a shift in the global politics of fashion, with London emerging in as the #1 Fashion Capital of the World for 2012, edging its close competitor New York City for the second year in a row and trumping over traditional strongholds of Paris and Milan, according to the ninth annual study by Global Language Monitor. 
Best known for its classic trench coats and increasingly for its bold innovation in design, construction and fabric, Burberry has held its bi-annual womenswear showcases in London since 2009, widely hailed as the highlight of London Fashion Week for buyers, international media, VIPs and guests who flock to the city in attendance.
Having relocated its global headquarters to Horseferry House in London in 2009, Burberry continues to invest in its UK manufacturing, retail an office operations, adding more than 1000 jobs in the country over the past two years.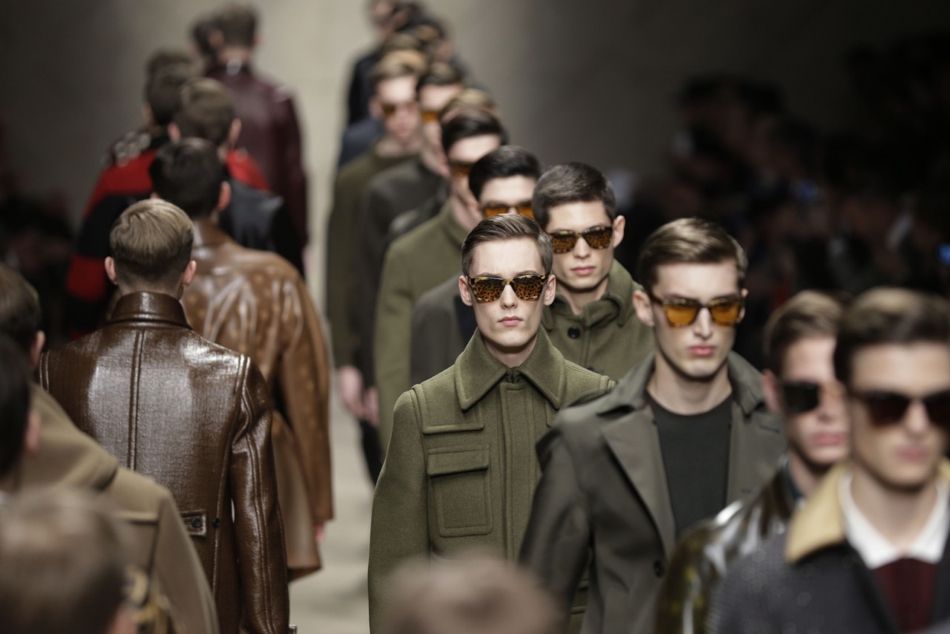 The new menswear collection will be unveiled on 18 June 2013 with Chief Creative Director Christopher Bailey adding, "London is the creative heart of Burberry and our global headquarters, so we are incredibly excited to be showing our next men's collection here."
The country's proud menswear heritage and outstanding contemporary talent give it a unique and powerful energy. It is a wonderful time to be bringing our menswear show home.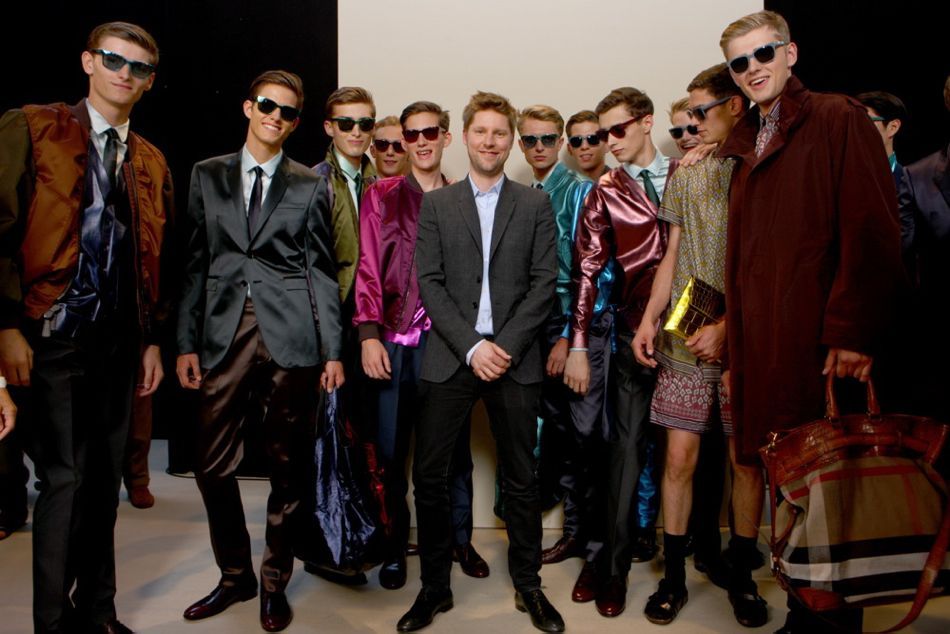 Committed to fostering the next generation of creative talent in the UK, the label established in 2012, the Burberry Design Scholarship with the Royal College of Art in London with Bailey also chairing the Fashion Fringe initiative, which supports emerging designers and celebrates its 10th anniversary this year.
For Burberry, menswear has been its fastest growing sector in the first half of its fiscal year for the 2012/13 season and expects the trend to continue to pick up as men around the globe respond to their inner sartorial longings.
---
Burberry Fall/Winter 2013/2014 at Milan Men's Fashion Week
For its most recent and final menswear fashion show in Milan, Burberry presented a collection that saw tradition meeting innovation for its Fall/Winter 2013/2014 season. Aptly named "I ♥ Classics," the collection focused on outerwear, from the classic trench and duffel, to topcoats, Chesterfields and bombers.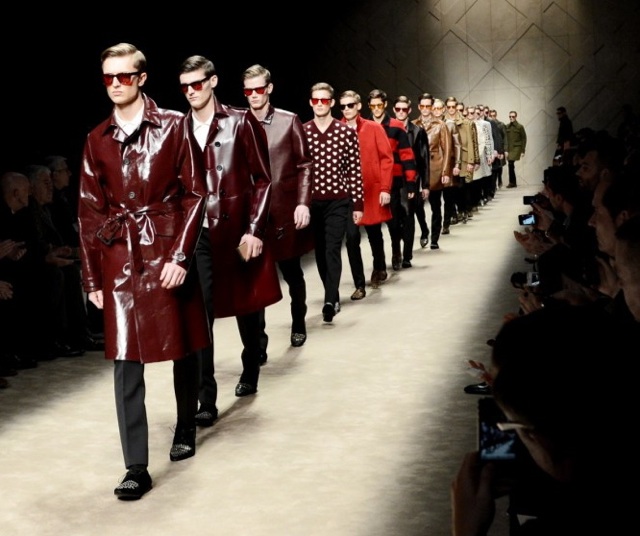 Bailey drew inspiration from Burberry's archives, adding in a dose of fun with whimsical touches like heart motifs and oversized military-inspired accents.
I liked the idea of celebrating things that are familiar, classic, the kind of classic Burberry, classic menswear. But I wanted to be playful as well.
Combining innovation and levity, Burberry featured its traditional coats made of lightweight transparent rubber which were developed to be silky to the touch, and subtly embellished with a repeating heart lining.
Cashmere also got the special treatment, with new finishes and bonding to alter and improve the texture. Colors featured include the classic line of camel, bone, olive, navy and black along with deep reds and dark royal purple.
Maintaining a light mood, animal prints accented the accessories collection, complementing the iconic Burberry check patterns in its bags, shoes, boots and even sunglasses!