By Stanley Lui
Having launched his own book as well as a special capsule collection earlier this year, shoe designer, Christian Louboutin topped his 20th career anniversary with his first retrospective exhibition held at the Design Museum in London.
The exhibition opened on 1 May and will run through 9 July 2012.
From the studded loafers to the crystal encrusted pumps, a Louboutin shoe is renowned for it's red glossy sole and is a hot favourite among the world's fashion IT crowd. Through this exhibition, Louboutin takes his visitors on a design journey deep into his life's work, inspirations and creative thought process.
The exhibition reveals how his shoes are made, from the initial conceptualizing stage to the creation of the prototype right through till the final production at the workshops. Delving into the archives to trace back the origins of his iconic red sole, visitors would learn about his past, his inspirations behind those theatrical designs as well as his fantasy with cinema and cabaret showgirls.
In addition to his handcrafted shoes and the one-of-a-kind designs, the exhibition features Louboutin's latest collection including the men's range and his newest set of luxurious handbags.
There is also a special section dedicated to the photography of the 'Fetish' exhibition held at Paris's La Gallerie Du Passage in 2007 which was a result of a collaboration between Christian Louboutin and famous artist David Lynch. Finishing off, visitors would be able to re-look at some of Louboutin's most innovative store designs with which the designer himself heavily partook.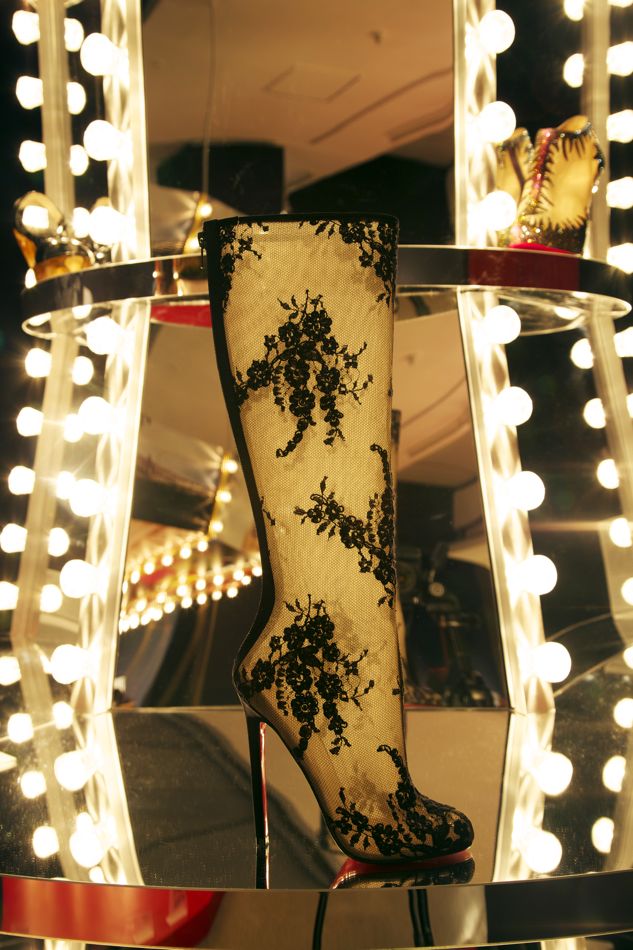 On 1 May 2012, the event opened with a special hologram performance by the tantalizing Dita Von Teese, Louboutin constantly pushes the envelope with his brand and redefines shoes with his clever mix of glamour, drama, style, elegant architecture and craftsmanship. 
Exhibition Details:
Address: Design Museum, Shad Thames, London SE1 2YD
Morning session: 10am - 1.45pm
Afternoon session: 2pm - 5.45pm
Saturday evening session: 6pm - 9.45pm
Revive Wednesdays 6pm - 9.45pm every Wednesday in June.
Gallery Tour | Sunday 1 July, 1.30pm:  30-minute guided tour of the Christian Louboutin show to learn about the exhibition from an expert's perspective. Please note there is no advance booking and places are limited. FREE with museum entry
For more information, go to //designmuseum.org/exhibitions/2012/christian-louboutin