Cointreau and its International Brand Ambassador Dita Von Teese collaborated to create an elegant fashion artifact – the Cointreau Cocktail Coffret. Dita Von Teese's unique Cointreau Coffret and boudoir set is a beautiful box that delicately cradles a custom designed bottle of Cointreau, two cocktail glasses and a pink cobbler shaker.
The Cointreau Coffret conjures up images of a sophisticated, Parisian boudoir; covered in soft silky fabrics in powder pink shades of pearl, it becomes an ornate jewel box complete with a concealed trapdoor, and a small golden key – perfect for storing one's most precious treasures.
The Cointreau Coffret is a representation of Dita's private world – a blend of modernity with a touch of 1950's glamour – giving women everywhere the tools to mix fashionable cocktails in the privacy of their own homes.
I love combining elegance and controversy, and My Private Cointreau Coffret is a marvellous concept – infusing a touch of mystery into the art of making a cocktail. In designing the Cointreau Coffret, I was inspired to devote attention to the most elaborate details which reflect my own personal style.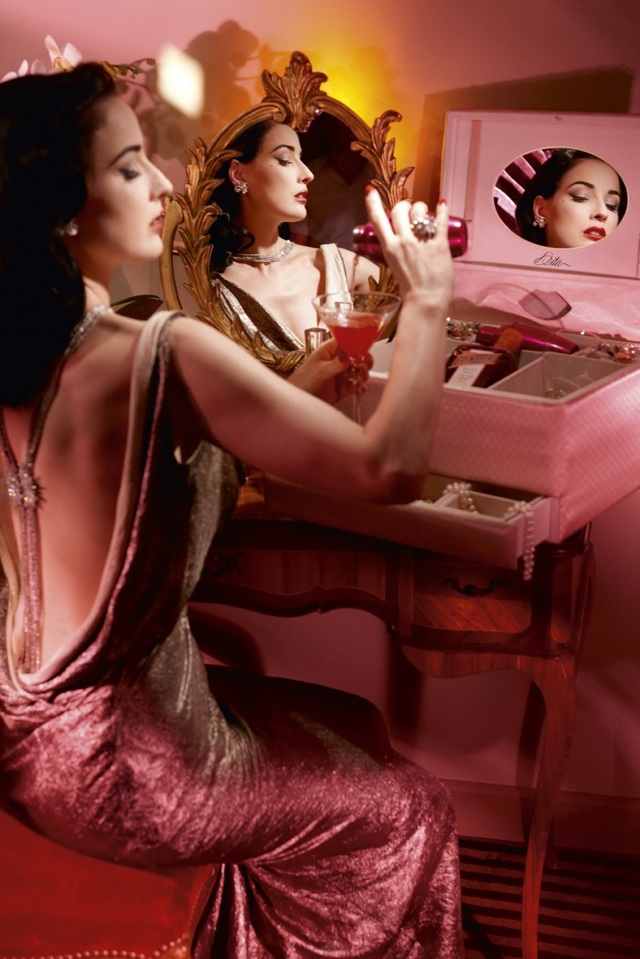 "The Cointreau Coffret is perfect for the boudoir, giving women around the world the power to enhance intimate moments with a Cointreau cocktail." said Dita Von Teese.
The perfect combination of mystery and sensuality, the Cointreau Coffret will be a welcome addition to women's boudoirs across the globe...
"My Private Cointreau Coffret" is available in some exclusive stores such as Selfridges in London, 10 Corso Como in Milan, A Propos in Berlin, Fred Segal in Los Angeles... 
About Cointreau
Cointreau was established over 160 years ago in Angers, in the Loire Valley, France and has become the most renowned and distinguished orange liqueur in the world. Its iconic square bottle with rounded shoulders and amber colour is synonymous with heritage and quality. The perfect balance between sweet and bitter orange peels sourced from around the world gives Cointreau its subtle characteristics; essential oils create a soft edge and turn cloudy upon contact with ice; a delicate taste explodes in the mouth, followed by a well-tempered tone.
At the heart of almost every cocktail, Cointreau is versatile and timeless, playing a key role as an essential ingredient in some of the most popular drinks of all time including the Margarita, the Cosmopolitan, the Sidecar and the White Lady. Cointreau can also be enjoyed neat or on ice – with a twist of fresh lime – or mixed with tonic, lemonade, soda water or fruit juice.