For the Women Fall/Winter 2016-17 collection shown in Milan, Domenico Dolce and Stefano Gabbana drew inspiration from the Princesses of fairy tales, old and new.
And yet, nothing was shown in a conventional way, but rather in a symbolic one.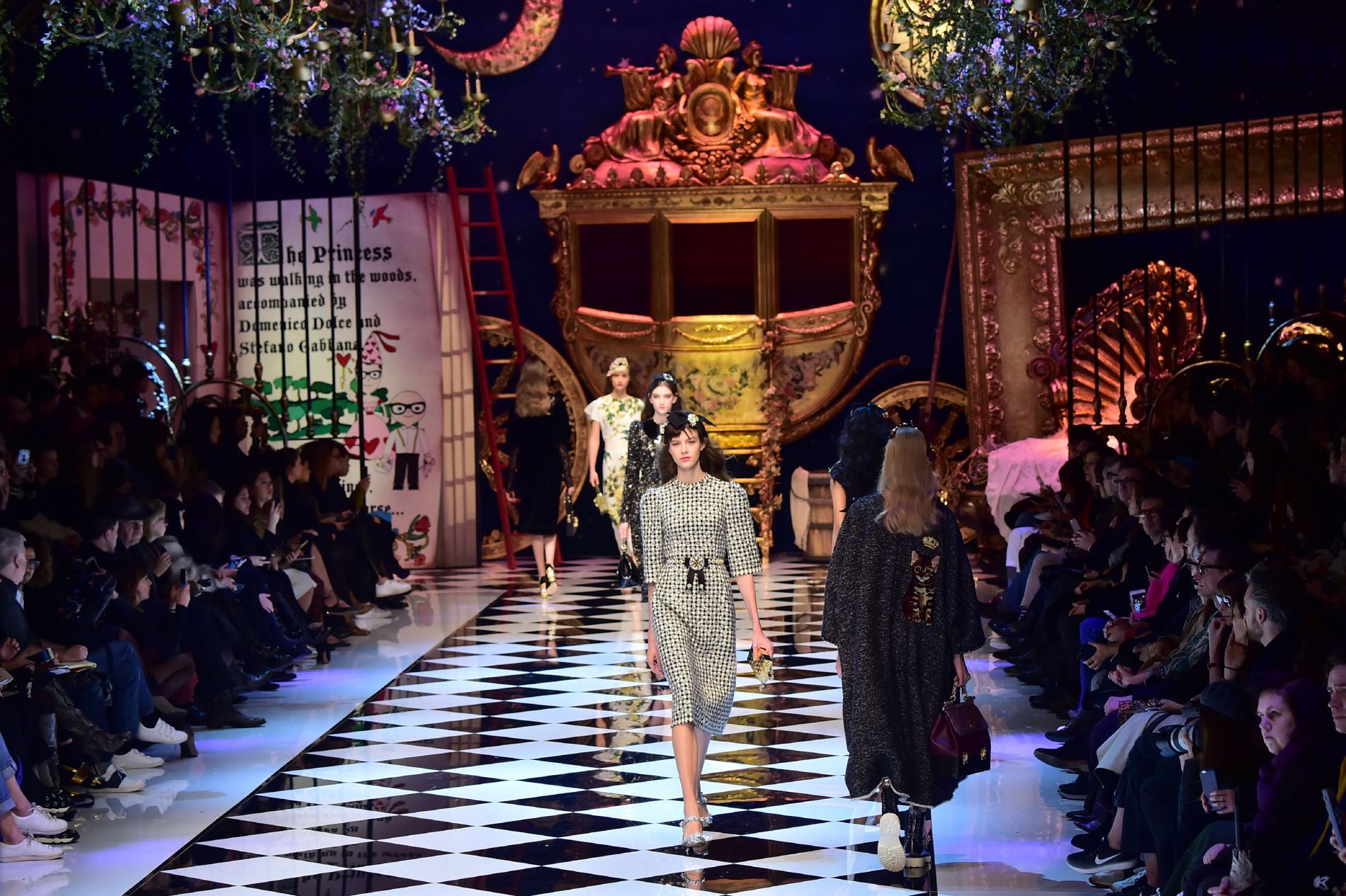 Set on a backdrop that included a golden carriage and a clock ticking towards midnight, the Italian label sent models out in a typically colourful and vibrant collection of richly-embellished dresses with patterns, and within those patterns spun the new fairy tales.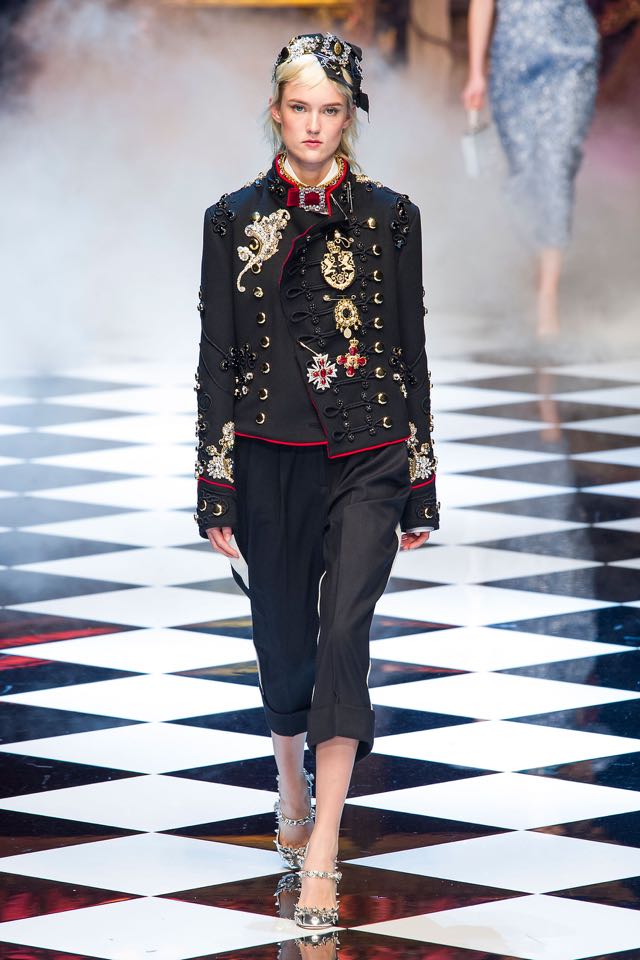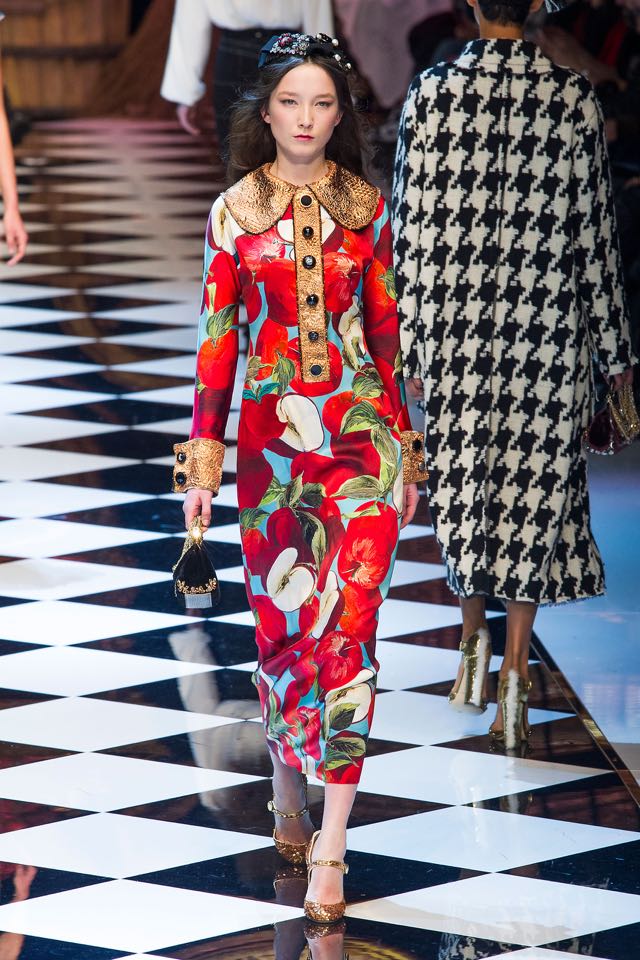 Prince Charming was interpreted as a modern girl who wore a military bolero jacket over cropped pants, while on the dresses there were embroideries and applications that referenced the various childhood stories, from sparkling sequinned mice that sew the dress of Cinderella, hand mirrors stitched with "Who is the beautiful?", fairy godmothers, teddy bears, gold slippers, the apples of Snow White, to the clock of Alice in Wonderland.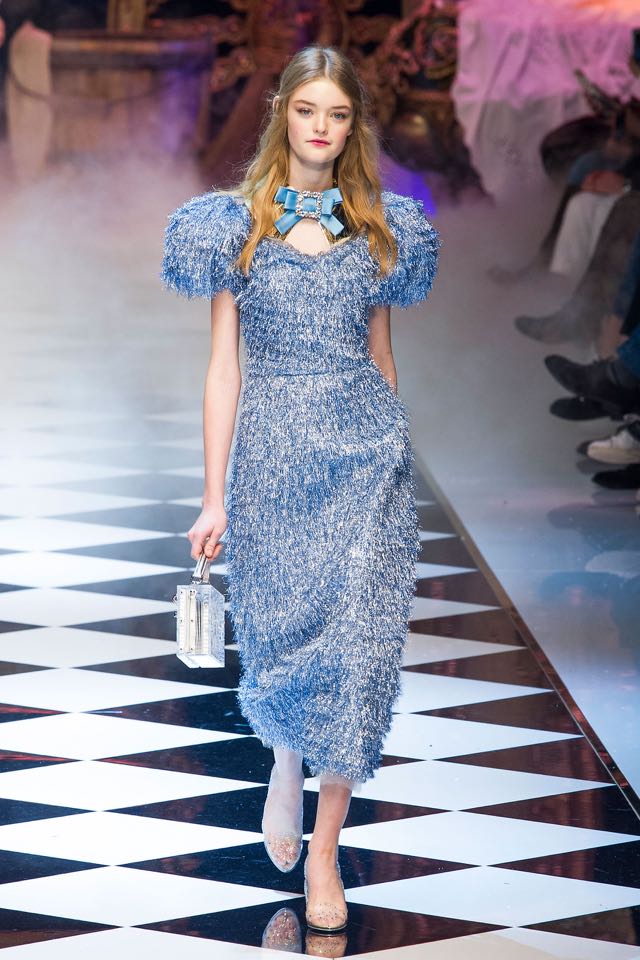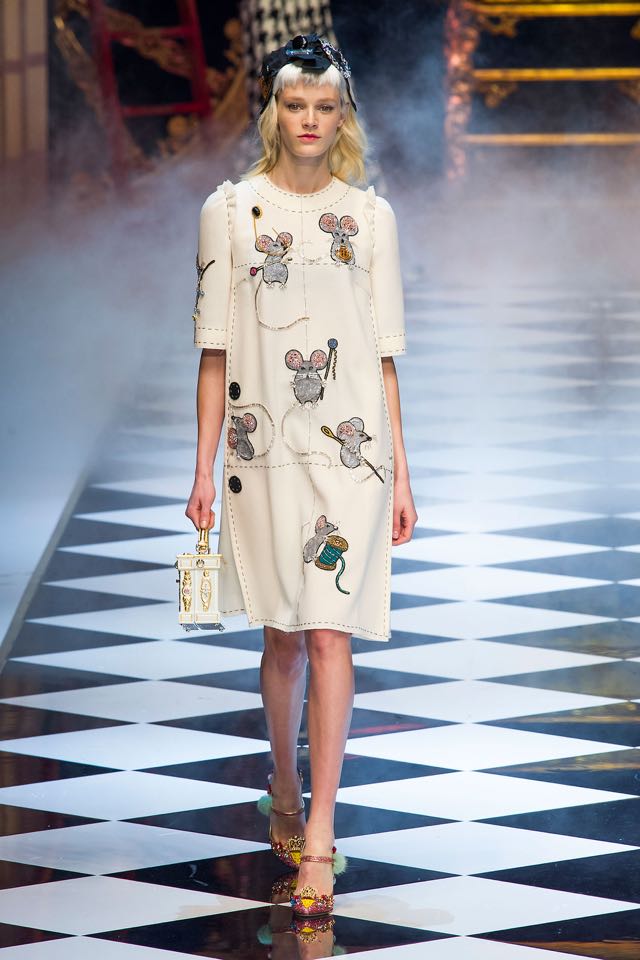 Cinderella's ballgown was given a modern update with a shimmering fitted light blue dress with enlarged shoulders. Accompanying this persona was her a reflection of her earlier fate as a household maid for her sisters, wearing a short silken dress with her sewing mice.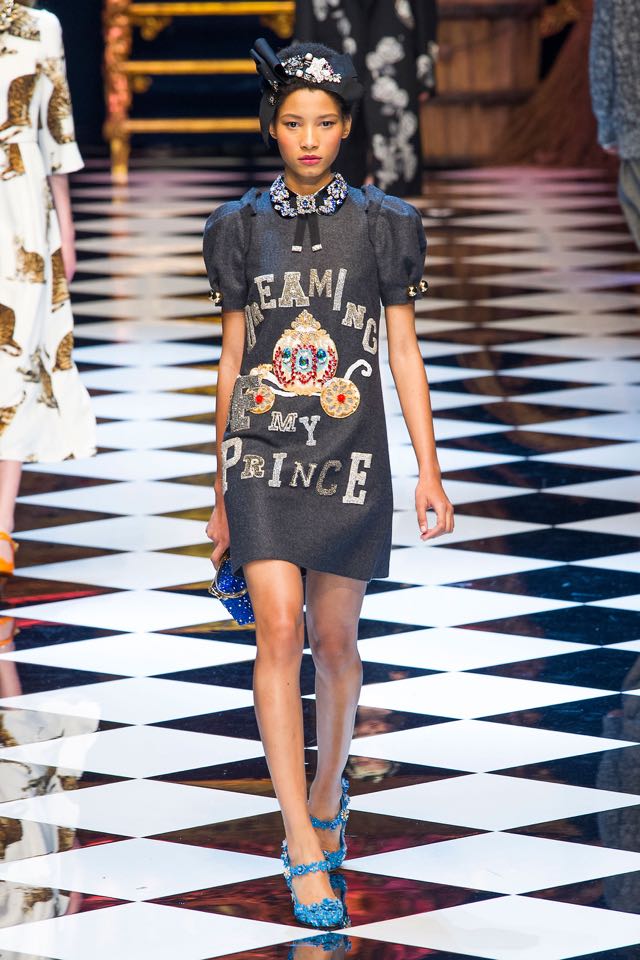 Other highlights included black dresses, including one sexy ruched dress fit for an evil queen. Among these were oversized furry coats in big shimmering stripes of silver and gold or covered with floral appliqués. One dress stood out, with the words "Dreaming Of My Prince" written out in sequins while one of the bags models carried was designed to look like a small golden carriage with wheels.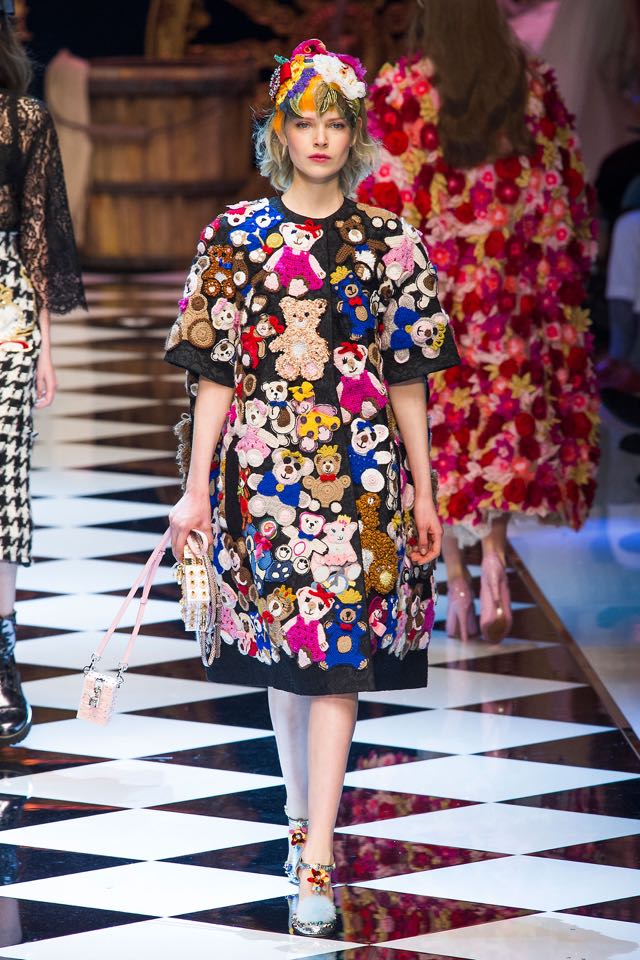 A fashion twist on the classic fairy tale isn't new, but Dolce & Gabbana has woven it into a new generation of princesses who they described as "individuals first and foremost."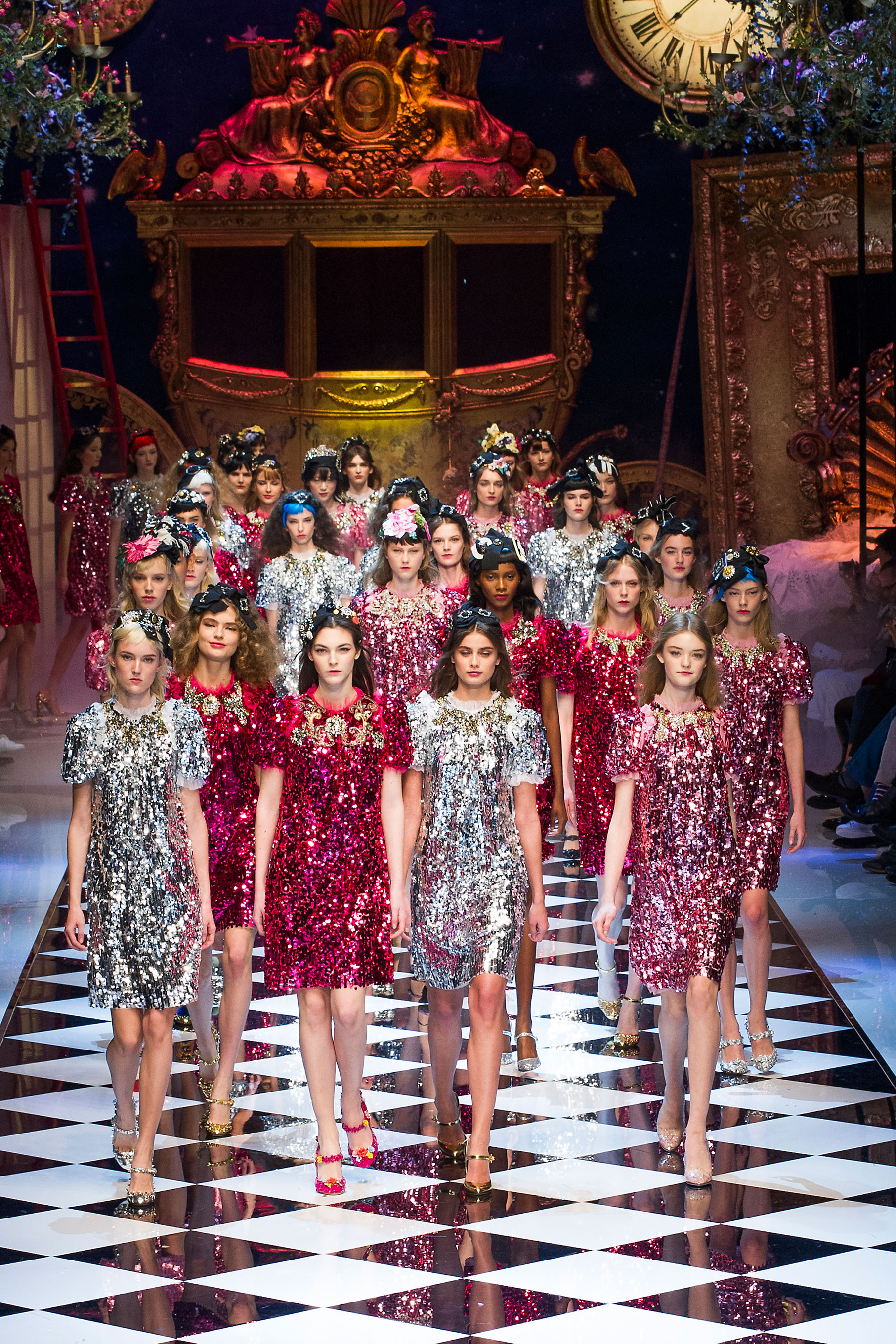 As expected, the finale was a flourish of colours as models trouped down the runway in fuchsia, pink and silver beaded and crystal dresses.
More photos here.