Fendi has opened its new boutique at Omotesando, one of the largest in Japan, within Omotesando, Tokyo.
The new flagship store is a new location, designed by Fendi Architecture Department and embraces the entire Fendi Universe where Women's and Men's full collections are showcased in a grandeur atmosphere that brings Rome to Tokyo.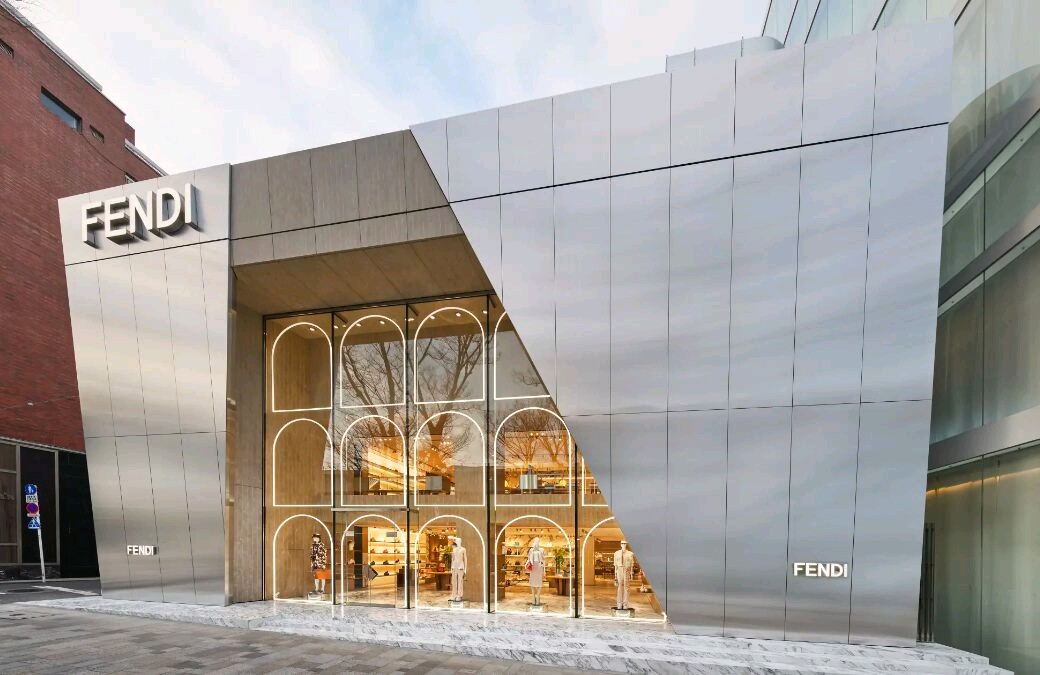 The impressive façade is a modern and urban reinterpretation of classic Roman pattern and is characterized by a combination of geometric diagonals in stainless steel finishing and a central glass window emphasized by 15 LED arches, an iconic Fendi signature recalling those of Palazzo della Civiltà Italiana – Fendi's Rome Headquarter.
The front is also inclined towards outside to incorporate the existing building in a new contemporary vision.
Spanning over 855 square meters the boutique is organized on three floors, one basement floor and two above-ground floors. The interior plays with materials that highlight Fendi's codes and tradition of dualism, pairing rough concrete at columns and beams with luxurious touches of marble, champagne metal and steel, accentuated with plush carpeting.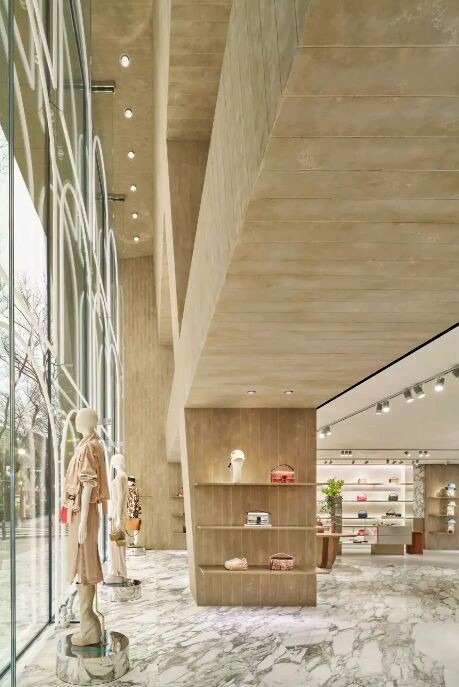 Floors and walls are characterized by perspective cuts created with the alternation of materials that became special backgrounds for the collection. The Arabescato Vagli, Patagonia black and white, White Crystal and Blue Rome marble enrich each floor characterized by a different atmosphere and colour palette.
On the ground floor of the Palazzo Fendi Omotesando, showcasing Leather goods and Accessories from Women's Collection, Arno Declercq signed three custom-made totems in brown and blue patinated steel, and three display tables in African walnut wood. In addition, for the first time available in a Fendi Boutique in Japan, the ground floor will host the Fendi Kids' Collection.
The basement floor will have a lineup of Men's Collection, while on the second floor the boutique space is dedicated to Women's Collection Ready-to-Wear, Shoes and Furs. Here, at the staircase arrival, are displayed two important pieces – a mirror and bench – from Roberto Sironi's Ruins collection: a series of works of the Italian designer that re-signify architectural fragments belonging to industrial and classical archaeology of the Mediterranean basin. 
On the second floor a special Ready-To-Wear and Fur room features light blue metal walls and touches of rose metal, combined with wood details. Here, the centerpiece is the magnificent Pinac dining table by Oeuoffice, a London-based research laboratory with a focus on developing innovative objects of limited edition. The Pinac table is in light blue aluminum and tempered glass, featuring pure geometric shapes and transparencies that result in varying shades of color. 
In addition, being the first concept boutique in Japan, Palazzo Fendi Omotesando will host the Fendi Home Décor and Lifestyle Accessories collection and Fendi Casa pieces.