Gucci's immersive, multimedia exhibition Gucci Garden Archetypes which was first held in Florence, Italy has now landed in Sydney, Australia.
Taking place at the Powerhouse Ultimo, the exhibition recreates Gucci's most seminal and conceptually adventurous advertising campaigns envisioned by Alessandro Michele.
Sydney is the 7th stop globally for this travelling wonderland following Shanghai, Taipei, Hong Kong, Tokyo and Seoul. It is open from to public from 17 November 2022 to 15 January 2023
An archetype is the original form from which all copies are made, never to be recreated again, and every Gucci campaign speaks of a unique and unrepeatable moment – expressing the spirit of each collection, while reflecting the inclusive, liberated and audacious philosophy of Creative Director Alessandro Michele.
Gucci Garden Archetypes delves into the multifarious inspirations from the music, art, travel and pop culture spheres that resonate through Gucci's campaigns.
Cutting-edge technology, elaborate hand-crafting and innovative interior design create a sequence of distinct, immersive worlds, designed by Archivio Personale, the design studio that has transformed Alessandro Michele's vision into narrative spaces reflecting and enhancing the uniqueness of his creative vision.
Accessed via what appears to be a behind-the-scenes operations center, visitors experience a split-screen live view of the exhibition they are about to enter. Inside, a network of themed spaces and corridors bring the intricate world-building of Gucci campaigns to life.
Viewers also enter the scented floral paradise of Gucci Bloom, a hidden imaginary garden becomes a place of freedom for the three stars of the campaign – actress Dakota Johnson, artist and photographer Petra Collins, and actress, model Hari Nef. Charismatic and unconventional, this trio collectively ushered in Alessandro Michele's new, inclusive vision of modern femininity.
Pre-Fall 2018's homage to the Parisian youth of 'May 68' on the 50th anniversary is evoked by graffiti walls.
The Beloved Show campaign is recreated, showing the set where Hollywood A-listers joked around in front of a skyline with the late-night host while proudly showing off their handbags, the four Gucci Beloved lines – the Dionysus, Horsebit 1955 and the timeless Jackie 1961. These are bags that tell their own story.
The obsessive collections of the Fall Winter 2018 campaign fill the space from floor to ceiling, as visitors become immersed by shelves stacked with hundreds of cuckoo clocks, ceramics and Marmont handbags.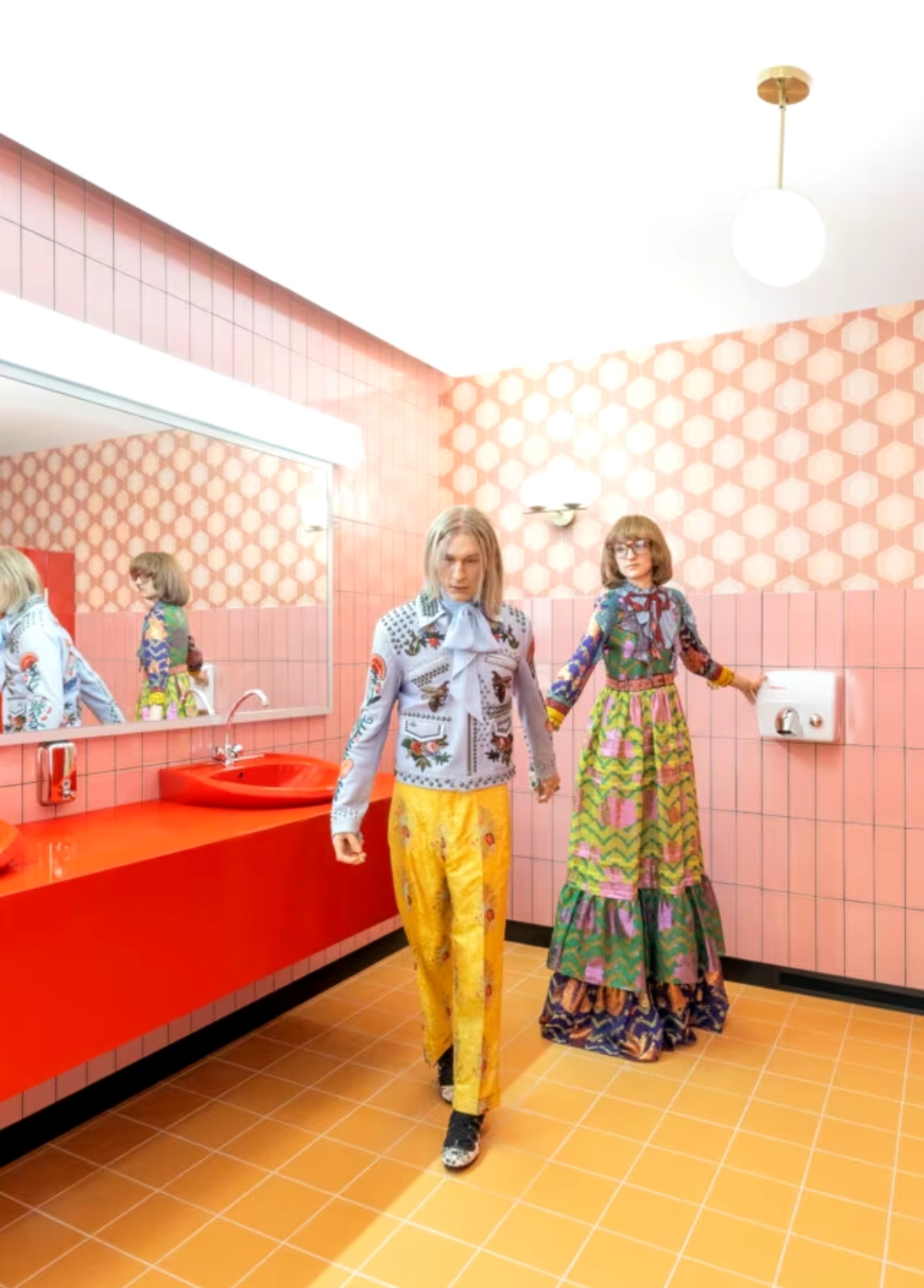 Guests can also find themselves in the 80s nightclub bathroom of the Berlin-set Spring Summer 2016 campaign.
Visitors can even enter a mirrored labyrinth to go inside a stately home like the one at the heart of the Cruise 2016 campaign, and ride on an LA subway carriage like the one that made an appearance back in the Fall Winter 2015 campaign, Alessandro Michele's first campaign.
The Gucci Garden Archetypes catalogue will be the continuation of this journey into the imagination of Alessandro Michele – a true inventory of the creativity on display and a collection of images and surprises, complemented by original prose by personalities of the cultural scene including art critic Achille Bonito Oliva, philosopher Emanuele Coccia, artist and researcher Anna Franceschini, curator Antwaun Sargent, and sustainability and culture advisor Shaway Yeh.
---
Gucci Garden Archetypes Sydney
17 November 2022 – 15 January 2023
10am to 5pm daily Fridays to Wednesdays, 10am to 9pm on Thursdays
Free admission