Our friends at MB&F has outdone themselves with their newest creation, the Thunderbolt, a fruit of three years of intricate hard work and development. We unveil it today here with everyone.
Inspired by the design of the Fairchild Republic A-10 Thunderbolt, the Horological Machine No.4 adds magnificence and ferocity to horlogerie in a manner never seen before!
For flight enthusiasts, the two cones on the HM4 bring to mind the powerful twin jet engines on the A-10 Thunderbolt plane. With the HM4 on wrist, the wearer inevitably feels as empowered as the pilot of the A-10. 
A traditional wristwatch has a relatively straightforward role: to tell the time. All that is needed is a hand for the hours, another for the minutes and perhaps a power reserve indicator to keep track of running time.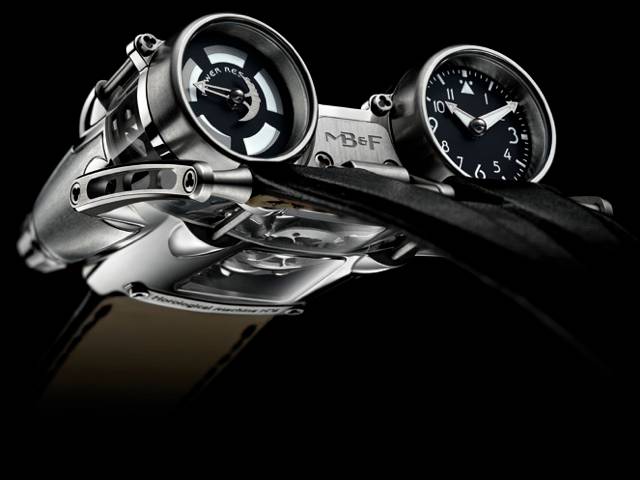 Horological Machine No4 Thunderbolt has a hand for the hours, another for the minutes and a power reserve indicator. HM4 Thunderbolt tells the time. HM4 Thunderbolt is not a traditional wristwatch. 
The aviation-inspired case and engine of the Thunderbolt are one. Neither would, nor could, exist without the other, yet each is so transcendental as to be able to stand alone as a work of art in its own right. 
The Thunderbolt's engine is the culmination of three long years of development. Each of the 300-plus components – including the regulator and even the screws – was developed specifically for this anarchistic calibre. Horizontally configured dual mainspring barrels drive two vertical gear trains, transferring power to the twin pods indicating hours/minutes and power reserve. 
But describing HM4's engine through its mechanical functionality is like describing Renoir's work through the chemical composition of his paint. Only careful contemplation enables full appreciation, and the sapphire case section and display panels top and bottom allow full access to the flawless fine finishing of HM4's intricate and vibrant micro-mechanics.
The sleek aerodynamic form of the Thunderbolt's titanium and sapphire envelope has its roots in Maximilian Büsser's childhood passion for assembling model plane kits, though none looked remotely as futuristic as this. The striking transparent sapphire section of the case requires over 100 hours of machining and polishing to transform an opaque solid block of crystal into a complex, exquisitely curved panel allowing the light to come in and the beauty of Thunderbolt's engine to stand out.
Every component and form has a technical purpose.
Nothing is superfluous - Every line and curve is in poetic harmony.
Articulated lugs ensure supreme comfort.
Highly legible time is a fringe benefit.
Get ready to take-off with MB&F's Horological Machine No.4 - the Thunderbolt.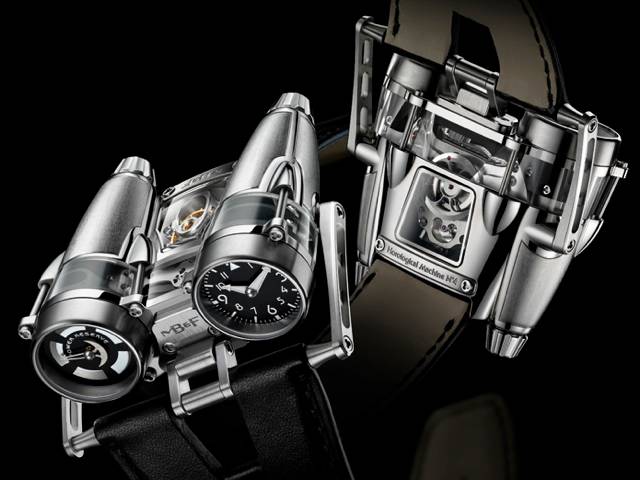 For further information, please contact:
Estelle Tonelli, MB&F SA
Terrasse Agrippa d'Aubigné 6, P.O. Box 3466
CH-1211 Geneva 3, Switzerland 

Email: et@mbandf.com
Tel. : +41 22 786 3618
Fax : +41 22 786 3624
---
SENATUS is a proud partner of MB&F and invites you to view the other pieces in the MB&F collection, as well as explore its website and Facebook pages as well
Related Articles
Horological Machine No.2 (Sapphire Vision) by MB&F
Horological Machine No.3 by MB&F
Black Box: Horological Machine No2.2 by MB&F
The Only Watch by MB&F
---
For more information, go to //www.mbandf.com
Become a fan on MB&F's Facebook page