NICE, France - For nearly a century the mythical Hotel Negresco has dominated the Promenade des Anglais on the Baie des Anges with its huge pink dome.
Its magical name evokes a certain "art de vivre" and the happy go lucky days of the "Edwardian era".
Henri Negresco, born in 1868, constructed the hotel in 1912. The son of a Romanian innkeeper, he left his home at the age of 15 in order to travel around Europe. From Paris he went to Monaco and then to Nice where he became director of the Municipal Casino. At this time he was already quite famous and heads of state, princes and the American "kings" of finance, the Rockefellers, the Vanderbildts and the Singers had all heard of Negresco!
His dream was to build a palace worthy of his prestigious clients and he entrusted the construction of his "palace" to one of the most talented architects of that time, Edouard Niermans.
Since 1957 the hotel has been owned by Jeanne Augier who has put all her energy into creating a museum-hotel that has become a veritable showcase of French art for her international visitors.
In 2003 the Hotel Negresco was listed a National Historic Building - a well earned recognition for the Hotel, its exceptional architecture and the superb art collection that it houses.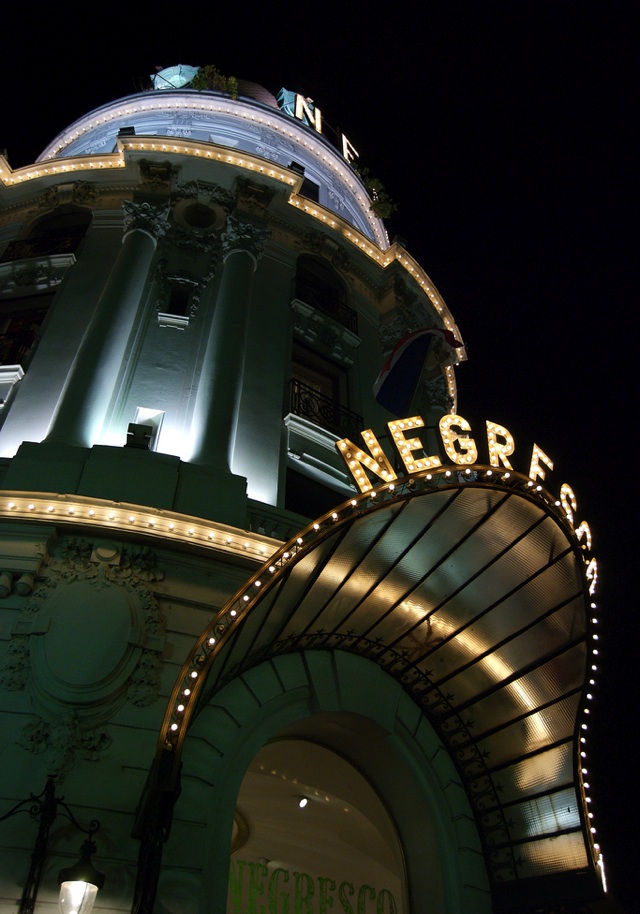 The Negresco is a prestigious address for travellers who cherish the elegance of traditional France. Overlooking the famous Bay of Angels and a listed building, it is one of the few remaining privately-owned palaces still existing in the world. 
The Hotel has been created as a unique living museum where epic periods in the history of France are represented, from the Renaissance period to the third millennium. Walking along the corridors of this hotel truly gives you a feeling of walking through a rare museum with individual works or art!
It opened its doors on July 1, 2010 after being closed for renovations since January 4, with approx 9,5 millions euros being spent to refurbish the hotel.