---

---

Read about the 2018 Partnership between HUGO BOSS and Die Mannschaft: Read Story



---

---
Text by Kien M. Lee | Photos from Hugo Boss
Germany is one of the most successful national teams in international competitions, having won a total of three World Cups (1954, 1974, 1990) and three European Championships (1972, 1980, 1996). It has also been runners-up three times in the European Championships, four times in the World Cup, and have won a further four third places.
The German National Football team, known as Die Mannschaft ("The Team") is a 3-time winner of the FIFA World Cup, last winning the coveted trophy back in 1990 in Italy.
For the last 4 major international tournaments, the team has progressed to the semi-finals, and this year is viewed by many, as the culmination of the evolution of German football, witnessed from the junior levels up to the outstanding achievements of the Bayern Munich and Borussia Dortmund of the German domestic league, the Bundesliga.
Head coach Joachim Löw, manager Oliver Bierhoff bring several recognisable faces with them to this year's tournament, from Mesut Ozil, Thomas Muller, Jerome Boateng, Manuel Neuer and Sami Khedira who debuted as fresh faces in the 2010 edition, to Mario Gotze and Andre Schurrle who were bled in at the Euro 2012 competition.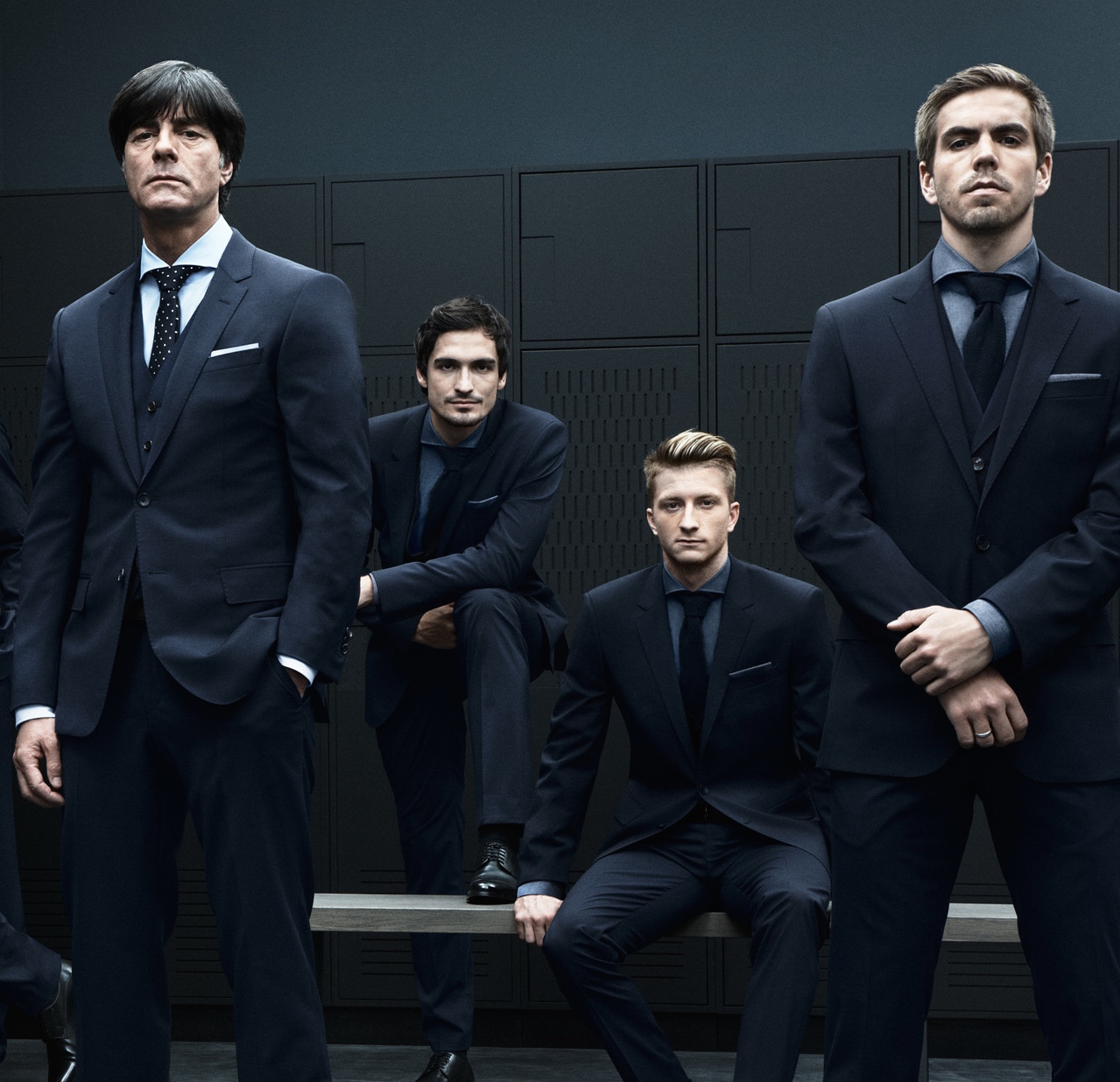 Captain Phillip Lahm (seen above, right) who has led the team in the last 2 tournaments will reprise his role, hoping to take the next quantum leap and cap a successful career with a World Cup victory.
Since 2011, HUGO BOSS has been the official supplier of the Mannschaft, and has unveiled in a splendid fashion spread, the formal suits by BOSS Made to Measure that the team will adorn on official appearances.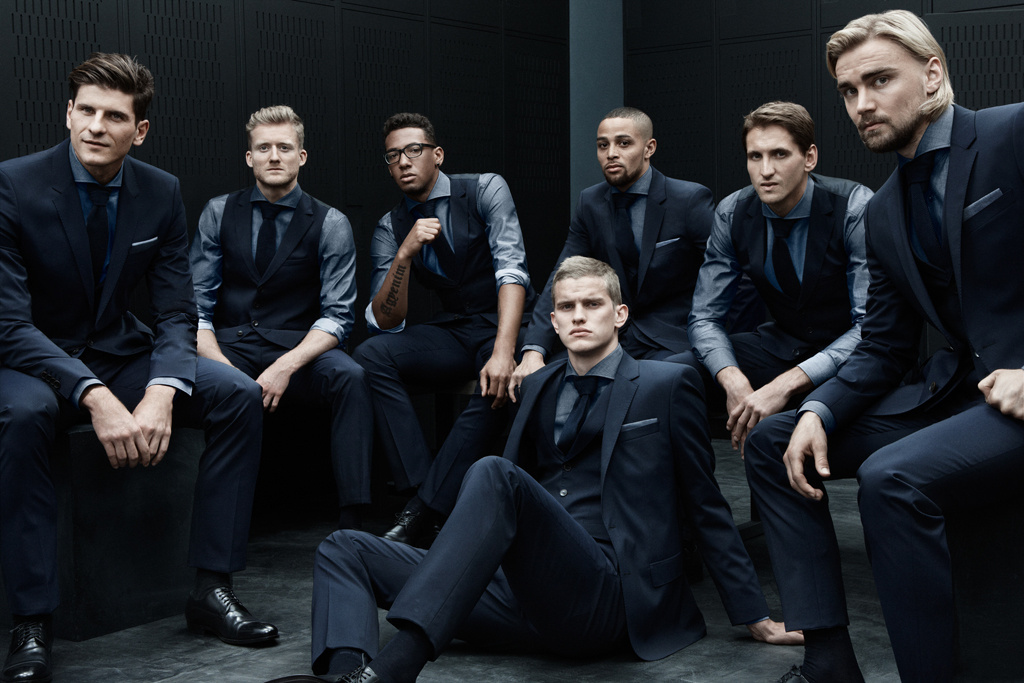 A total of 130 personnel involved in the national team setup, from management, players to backroom staff will be attired in the German fashion label's clothings. Casual wear including jacket-pants combinations, t-shirts and sweaters appropriate for the long travel from Germany to Brazil, as well as for relaxed media sessions assure that the team looks chic and comfortable as they mount their title challenge.
Accessories like travel duffel bags and suit luggage carriers from HUGO BOSS also feature in the essentials for the sartorial football player.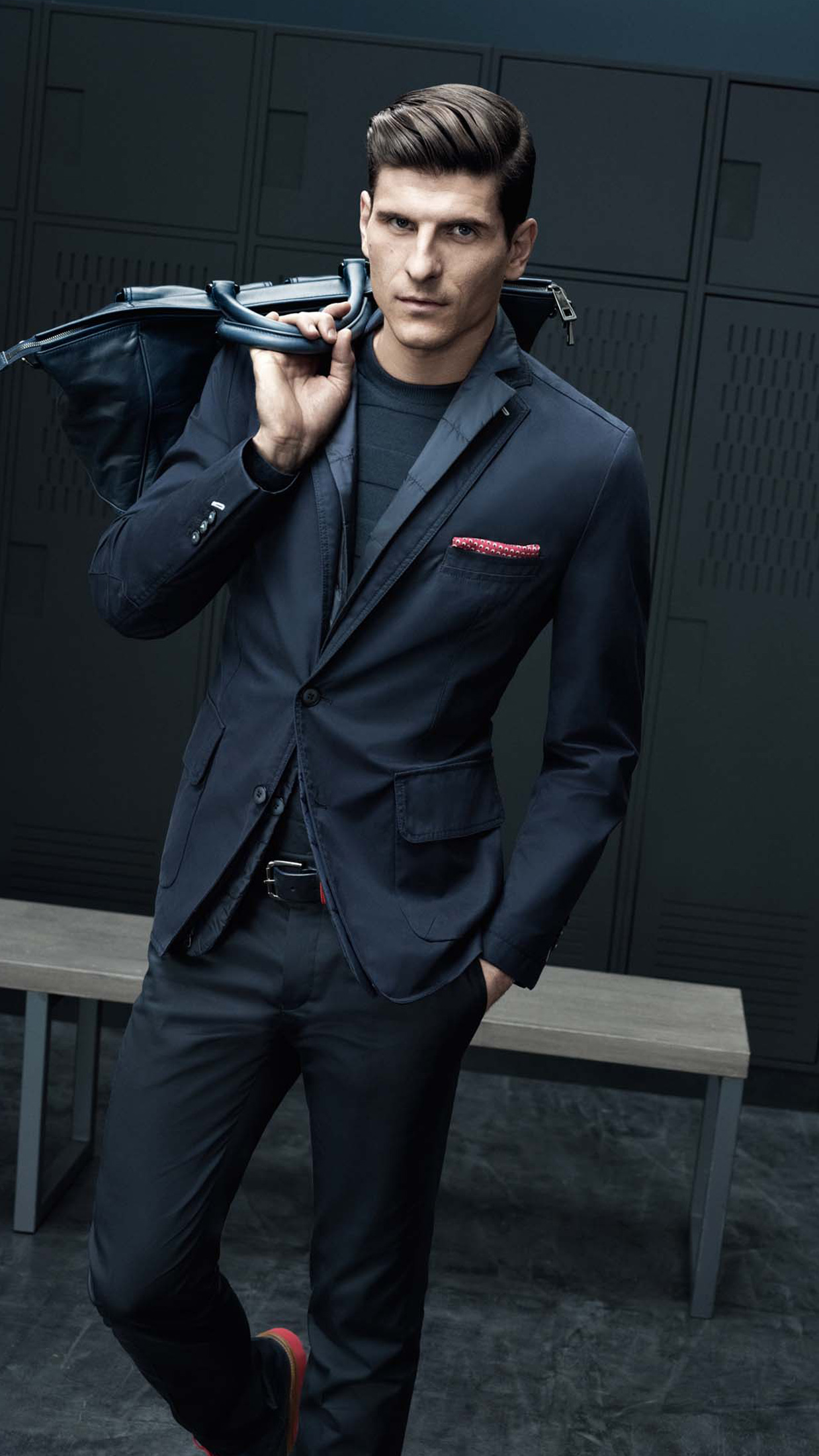 For the formal wear, bespoke suits by BOSS Made to Measure exemplify the pursuit of perfection, and attention to detail and exquisite style in the Mannschaft's gameplay. A modern dark blue three-piece suit with a denim shirt, knitted tie and matching pocket square rounds out the monochrome look with matching shoes and belt.
2014 looks set to be the year when the Mannschaft wins in style, both on and off the pitch!