Manufactured using grapes from the Grande Champagne territory of Cognac, Louis XIII de Remy Martin is blended from 1200 eaux-de-vie, some more than a century in age.
LOUIS XIII DE RÉMY MARTIN
Its name evokes the landmarks of history. The famous personalities who made it theirs – Chanel, Picasso, Churchill or de Gaulle – and the great occasions of which it was a part, from the maiden voyage of the Normandie, the world's most luxurious liner, to the supersonic splendour of Concorde.
Its carafe is a history in itself. A mysterious decanter unearthed on the site of a 16th century battlefield, whose precise origin and purpose will likely never be known. And yet, with its extravagant forms and regal fleur-de-lys emblems, it seemed predestined to hold this most extraordinary of cognacs.
Now, however, as you raise your glass, it is not the past that preoccupies your mind, but the present that seduces your senses. For Louis XIII is unlike any cognac have ever experienced before.
It tempts the eye with rich, warm hues of mahogany, characteristic of long-aged eaux-de-vie. It teases the nose with unmistakable woody notes, evocative of century-old oak casks. And then, all at once, it explodes in a firework of flowers, fruits and spices, a dizzying alchemy of extremes.
The impact is indescribable. Intense. Powerful. Breathtaking.
LOUIS XIII, A LEGEND IN THE MAKING
To create the legend that is Louis XIII, the House of Rémy Martin draws on the long tradition of crafts- manship it has nurtured since it was founded in 1724.
First comes the terroir, that mysterious blend of soil, climate, vines and man. For Louis XIII, the terroir is Grande Champagne, the smallest and most prestigious of the six cognac-producing districts, where the exceptionally chalk-rich soil and specific microclimate provide uniquely favourable conditions. And within Grande Champagne, the grapes Rémy Martin selects for Louis XIII come from just four villages, where they are cultivated by the region's most respected growers.
Once pressed and fermented, the grapes are distilled twice over to produce eaux-de-vie. Alone among the great cognac houses, Rémy Martin retains exclusively the traditional method of distillation on the lees in small copper stills, since it is convinced that this is the only way to reveal both the subtlety and the intensity of Grande Champagne eaux-de-vie.
Only then can the crucial processes of aging and blending take place. Louis XIII is an intricate alchemy of 1,200 of the finest eaux-de-vie that Grande Champagne can produce, each one contributing its own individual nuances and character. The Cellar Master whose responsibility it is to create this most elabo- rate of blends must be at once a craftsman, an artist and a visionary, for it is on his work that the future depends. He knows that he will never see the culmination of his craft – indeed, three generations of Cellar Masters preside over the making of a single bottle of Louis XIII.
The eaux-de-vie are aged in century-old "tierçon" barrels of Limousin oak, which are laid down in the limestone-walled cellars of Le Grollet, the historic home of the Rémy Martin family. Over the years, they may be moved from one cellar to another, transferred from one barrel to another, to ensure they develop harmoniously and reveal their full aromatic potential.
And throughout, time will do the work it alone can do. Only after a hundred years of aging and blending, blending and aging, will the "tierçon" barrels yield up their treasure.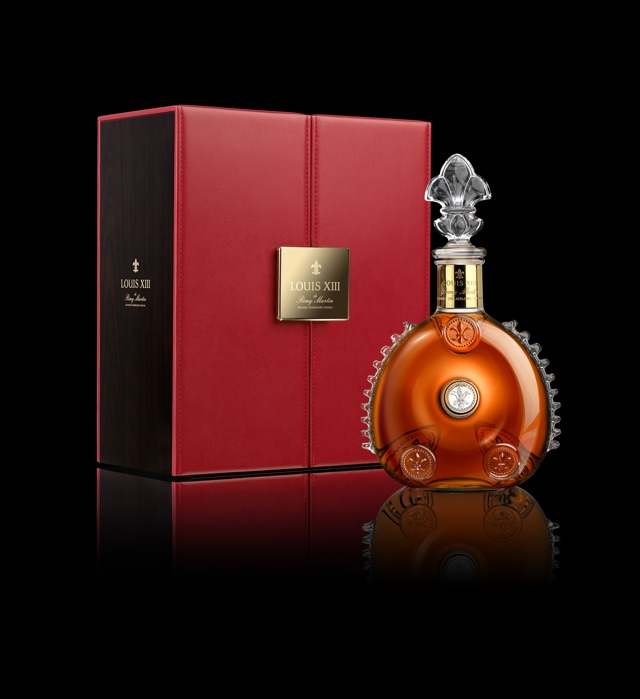 In order to reveal and enhance the previous elixir, the exquisite crystal decanter is hand-blown, individually numbered and ringed with 24 carats of fine gold. A unique work of art requiring the talent of 11 exceptional craftsmen.
Louis XIII, the King of cognacs, an act of genius, a century in a bottle.