By Kien M. Lee
In 2011, MB&F unveiled the Legacy Machine N°1 which symbolized a tribute to the great innovators of traditional watchmaking and above all, an authentic three-dimensional MB&F Machine. The timepiece went on to win both the Best Men's Watch Prize and the Public Prize at the 2012 Grand Prix d'Horlogerie de Geneve.
Two years after the release of the award-winning Legacy Machine N°1 (LM1), MB&F today unveiled the Legacy Machine N°2 (LM2), so sophisticated in its machination and construction, so superlative and sublime in its historical references to watchmaking, that it is figuratively, ahead of its time.
The highly-successful LM1 found inspiration from 100 years ago, and for the LM2, the horological genius of MB&F went 250 years back to the age of Ferdinand Berthoud (1727-1807), Antide Janvier (1751-1835) and Abraham-Louis Breguet (1747-1823) in the 18th century, when the three horological grand masters first worked with dual balance wheels within a timepiece.
A balance wheel is the timekeeping device used in mechanical watches, weighted and rotated back and forth towards its center position by a spring. The rotating motion of the watch gear train is transformed by the escapement which in turn delivers impulses to the balance wheel.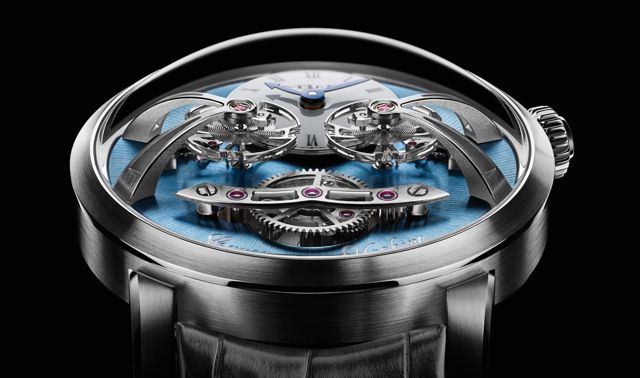 The LM2 is indeed a showcase of magnificent micro-engineering, deploying high precision and complex mechanical complication in one movement, using two fully independent escapements, and two balance wheels floated high above the dial. 
The pièce de résistance of this marvellous creation is a planetary differential which powers the regulators in the escapements, receives the timing rates from each individual balance wheel, and finally transmits the average rate to a single gear train to display the time on the dial, encased under a domed sapphire crystal cupola.
Award-winning watchmaker Jean-François Mojon (Best Watchmaker at the 2010 Grand Prix d'Horlogerie de Genève) and his team at Chronode were responsible for creating the complicated movement of the LM2, whilst watchmaker Kari Voutilainen defined the exquisite styling of the timepiece with its Geneva waves, gold chatons, mirror-polished bevels and internal bevelled angles of the bridges, making sure it maintained historical accuracy.
Both craftsmens' contributions are acknowledged by MB&F with their names engraved on the back of each LM2.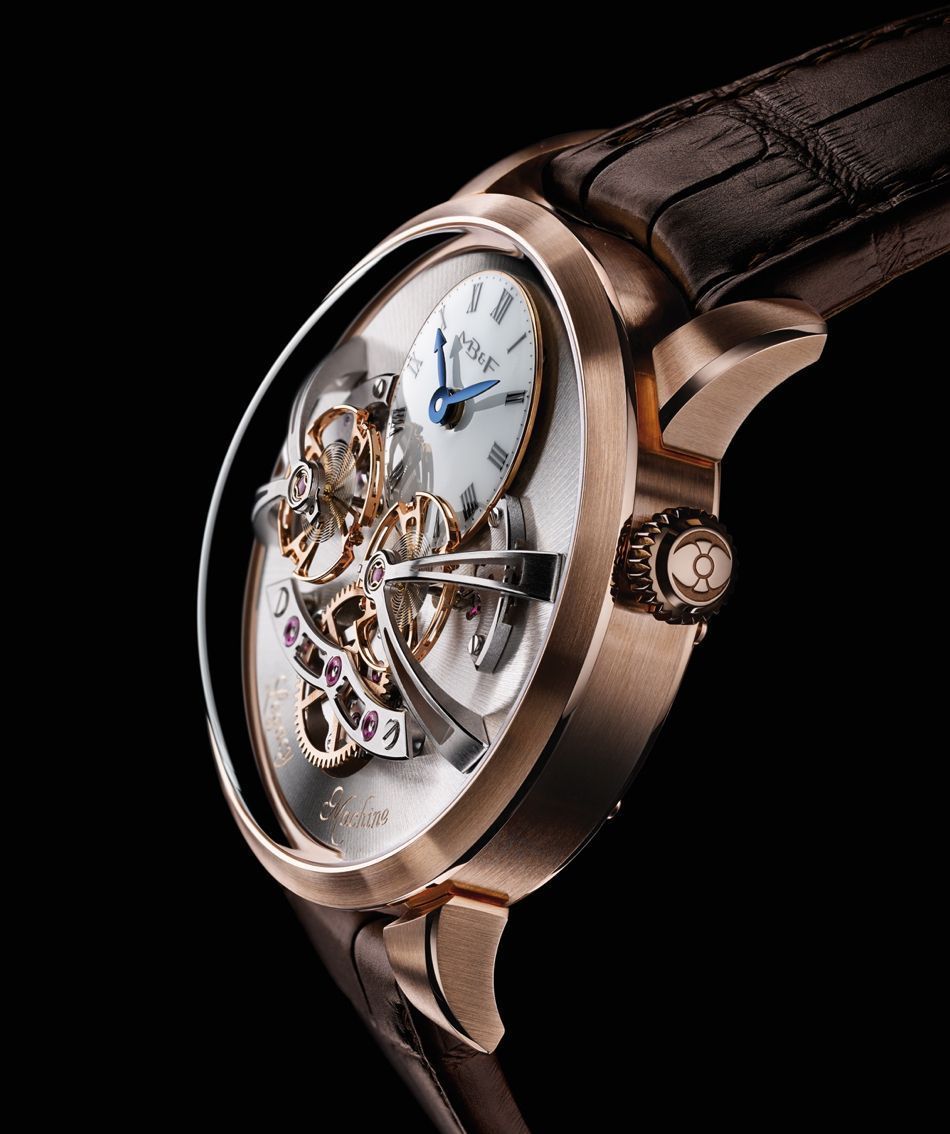 Legacy Machine N°2 is available in 18k red or white gold, priced at S$226,000 and $275,100 at select The Hour Glass stores in Singapore. The platinum 950 version that features a striking sky-blue dial will have a limited production of only 18 pieces.