Gucci Creative director Alessandro Michele whose designs have breathed new life at the Italian label, lifting its global revenues as high as near-£4 billion in the last reported half year earnings (next announcement is on 18 February 2016), continues on his overhaul with his latest menswear collection for the Fall/Winter 2016/2017 season.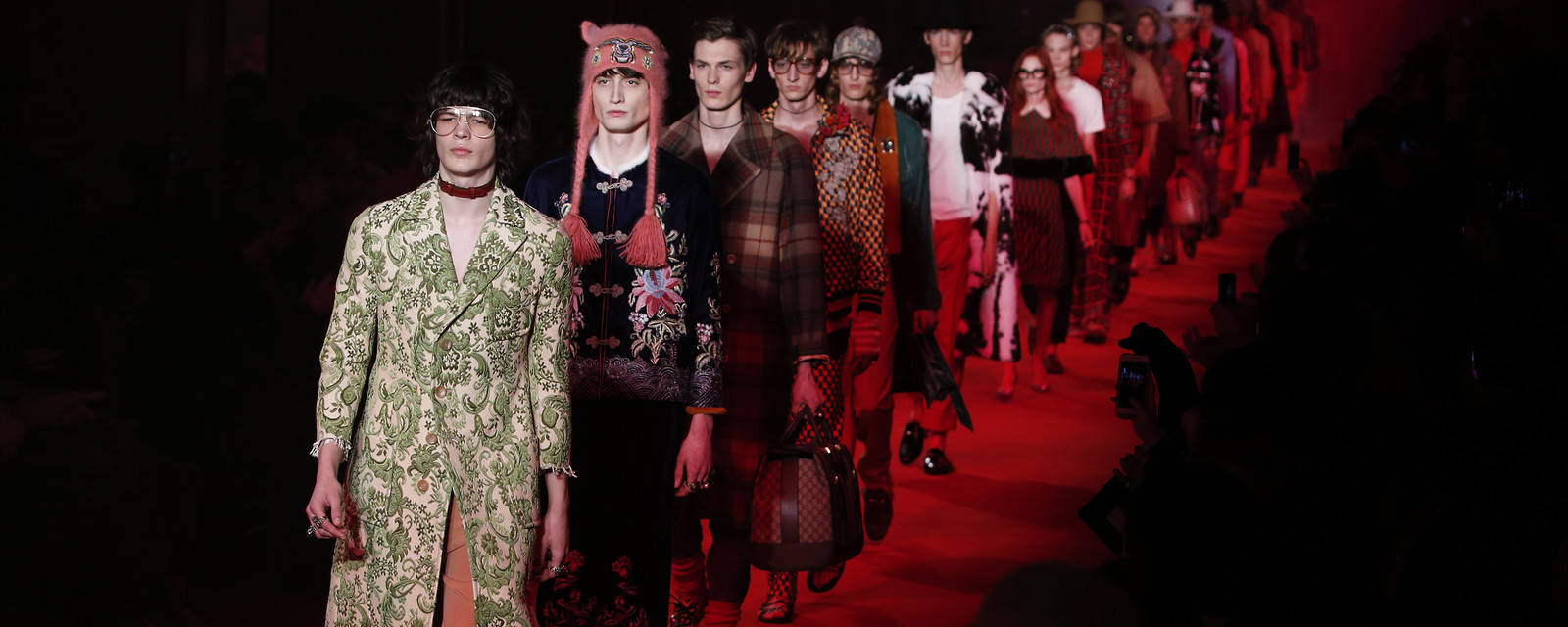 Titling the collection "Poetic Reactivation," Michele in the show notes, cited three philosophers, one French, one German, and one Russian as his sources of inspiration.
He went on to elaborate that the starting point for his designs this time round was the idea of "fragmented beauty" that he took from the late Walter Albini, one of the pioneers of Italian ready-to-wear.
"These are my aesthetic memories that in the end are completely different from yours, but it's an idea to work after," Michele revealed backstage.
The designer drew from icons from his boyhood, more specifically the '70s, ranging from a reinterpreted Sherlock Holmes-style detective cape and cap, featuring crocheted ear covers.
There was also Snoopy and Woodstock motifs on T-shirts, a Charlie Brown sweater, and Western cowboy shirt with boot-leg jeans.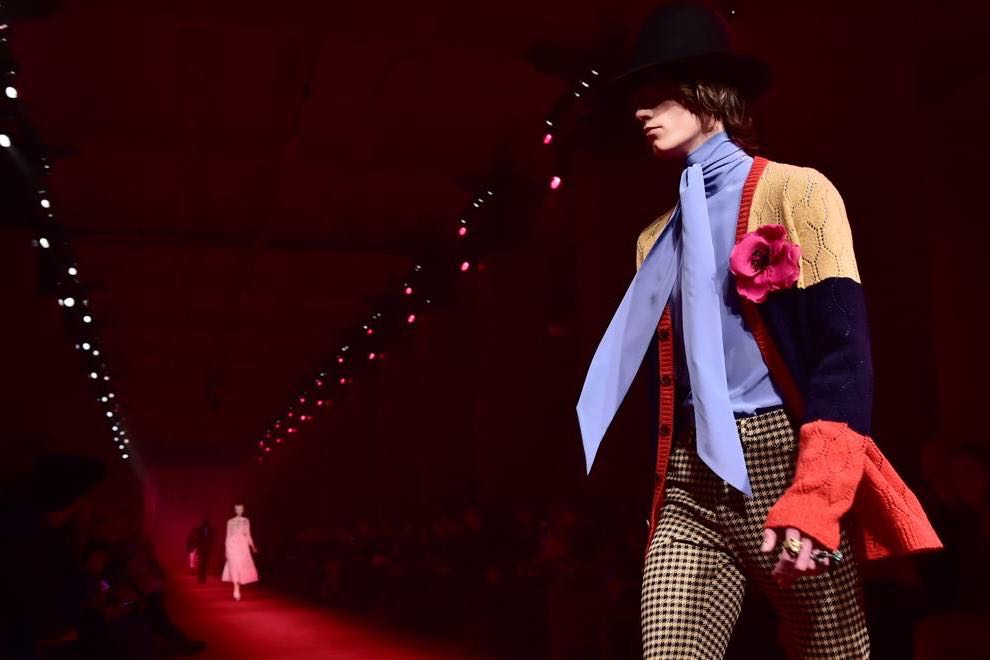 "If you think about Gucci, the biggest and most powerful fragment is the Seventies."
The floral motif that has seen a revival with Michele's appointment continues, on coats and suits, to pyjamas.
There was an added touch of totems applied to the back of floral jackets, embellishments of whimsical ears or fantastical monster faces atop knitted hats, and capes came in striking red, rich fur and classic plaid.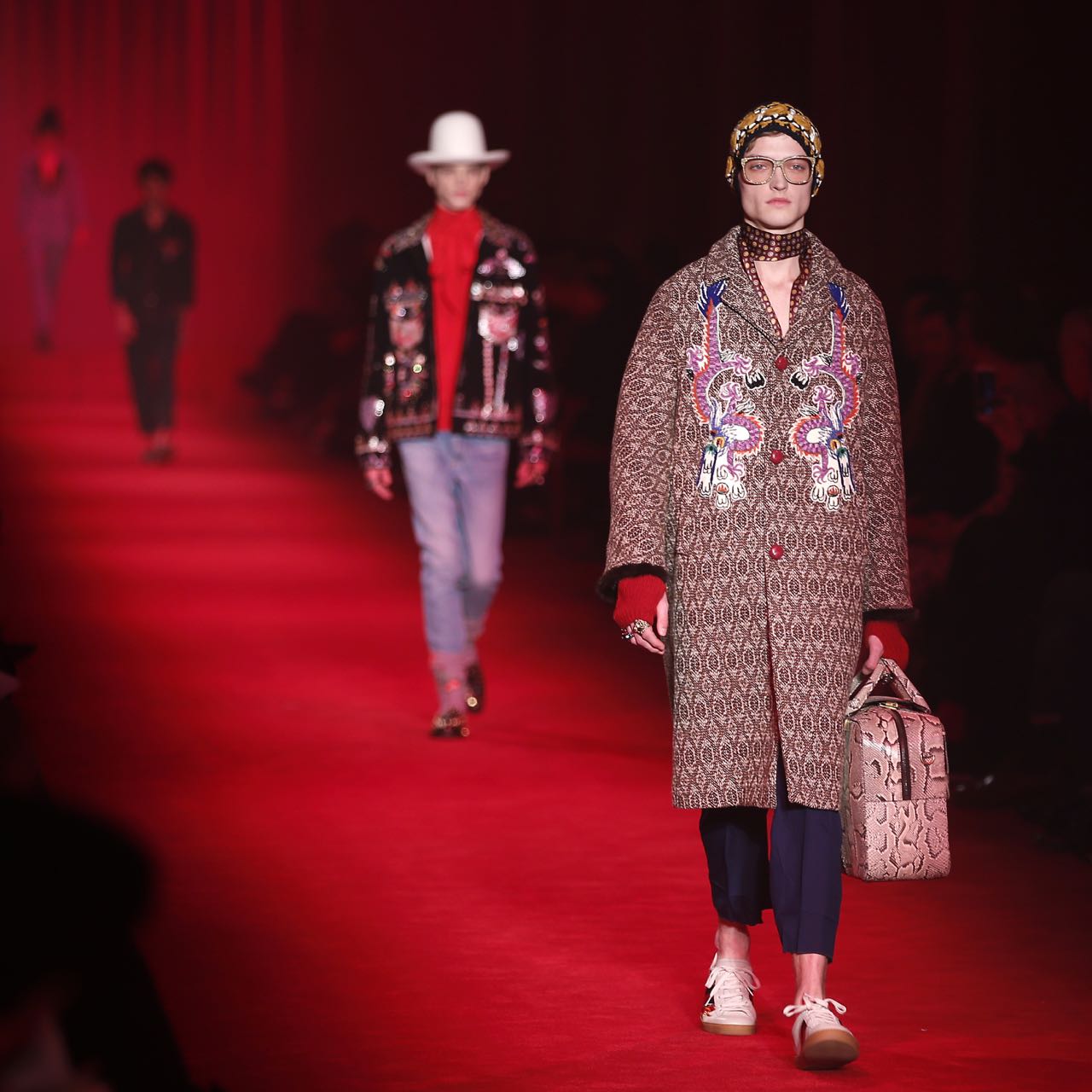 Accessories have been eye-catching since Michele took over -- he was afterall the head of Accessories before taking over -- and the collection's new mélange of rings, beaded necklaces, some with pendants, and headbands with a hand motif, certainly didn't disappoint.
"I like to make every single thing precious in some way, taking something that you don't think of as precious and making it so."