By Stanley Lui
Guo Pei celebrates her atelier's 15th year with her latest mythology inspired "Legend Of The Dragon" show staged in Beijing
With luxury marques the likes of Giorgio Armani, Louis Vuitton and Dior flocking to the shores of China eager to stage their very first runway shows in a bid to cement their positions in the largest growing market for luxury, one woman sits comfortably at the center of it all as she spins her own path into the opulent world of couture making.
Guo Pei 郭培 is arguably one of China's most well known couture designer in the world and is famous for her very extravagantly made gowns which she often designs for her very wealthy clients.
So far her clientele has ranged from businesswomen working at the state-run media to the wives and daughters of the government officials, and celebrities such as Zhang Ziyi and Li Bingbing; the latter wore one of her creations on the red carpet of the 2010 Venice Film Festival.
Besides designing for who's who and the elite of China, Guo Pei also finds pleasure in creating one of a kind pieces for ordinary citizens looking to make a once-in-a-lifetime wedding gown for their big day.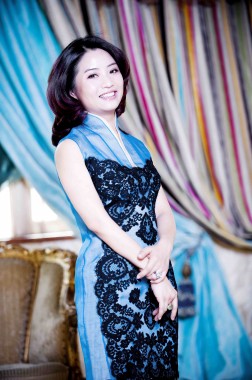 Born in 1967 to a father who is a state housing official, Guo Pei began her studies in fashion at the Beijing Second Light Industry School in 1982 when she was 15.
After her graduation, Guo Pei began her career designing clothing for children before joining Tianma where her designs for the clothing company grew in such popularity, she eventually made enough money to started her own Rose Studio atelier which is located in the north of Beijing.
Now 45, Guo Pei celebrates her atelier's 15th year with her latest mythology inspired "Legend Of The Dragon" (龙的故事) show staged at the fashion capital of Beijing's 798 Art Zone, with two separate showings.
Extravagance at every level is what audiences who are familiar with the brand have come to expect of Guo Pei, especially since it's been two years since her last public show.
Mixing both the rich cultural history of China with the art of couture creation, Guo Pei brings to life the fabled dragon motif on her collection pieces which are painstakingly made by the skillful hands of an almost 400 strong team of artisans back at the Rose Studio 玫瑰坊.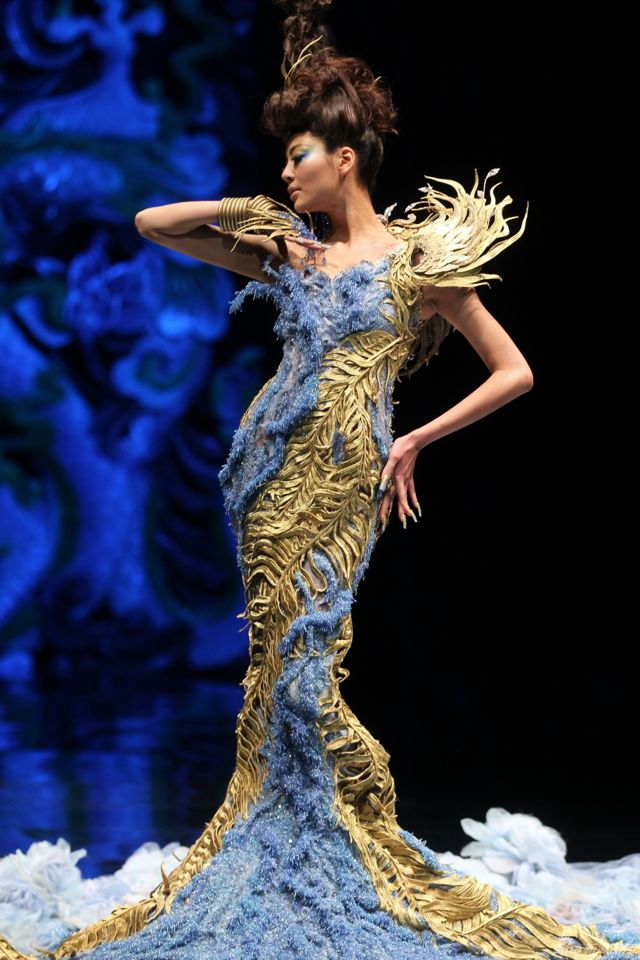 Miss Universe China 2011 was one of the models showcasing Guo Pei's creation at the "Legend Of The Dragon" fashion show
My goal was to let more people see beautiful things, especially beautiful handicrafts.
We want to inspire a greater appreciation for traditional crafts, so that they can continue."
Decked in shimmering gowns made with golden embroidery, stunning crystal embellishments, floral appliqués and extensive beading work, the models graced the runway with great poise as they play the role of Guo Pei's vision of a Dragon Lady.
The over the top costumes are matched by equally eccentric wedges, hairstyles and loud headpieces that has a distinctive oriental spin. With one of the looks in this collection comprising a total of 465,756 hand beaded pearls, a Guo Pei dress on average takes about 7, 412 man hours to complete.
Backed by China's new found prosperity and the prowess of her phenomenal creative abilities, Guo Pei is presenting a real challenge to the most famous and established of Haute Couture from Paris.
Witness the rise of the Chinese Couturier Guo Pei.