With an imposing physique to match his character and a volcanic temperament, the Scottish actor Gerard Butler is one of the big screen's leading personalities. In 2011, his attention was caught by an Excalibur watch.
Since that moment, Gerard Butler has kept the faith with Geneva watchmaker Roger Dubuis and enjoys showing off this watch that is so like him, one of the Warrior world.
Intrigued by the Maison that shared so many of his values, he sought to discover more. 
The spell really took hold after a tour of the Roger Dubuis Manufacture.
"I'm blown away", said Butler, on discovering the world of fine watchmaking and its most arcane secrets. The innovation, passion and creativity at Roger Dubuis were what struck him most during his visit, where he had a glimpse of all stages in the watchmaking process, with every step performed in-house by the Geneva company. 
Gerard Butler ended his tour with a long look at the Manufacture's current models, particularly the Excalibur and La Monégasque collections.
Roger Dubuis President Georges Kern: "Counting Gerard Butler among the brand's friends is all the more special since this proximity is a natural fit with the world of Roger Dubuis.
"Gerard's fire and powerful image resonate perfectly with the firm's watches and will increase publicity amongst an audience who appreciate art and aesthetics".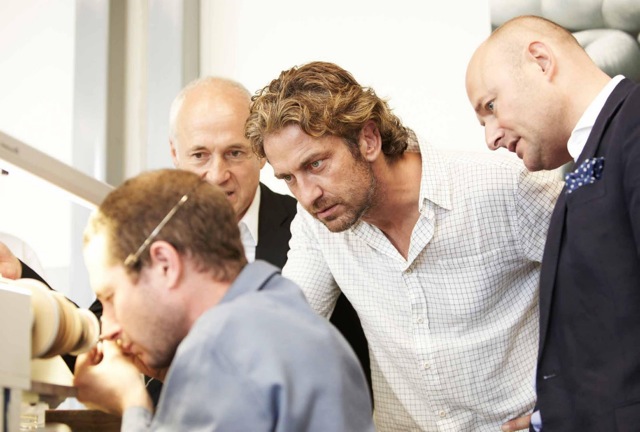 Gerard Butler happily admitted that "watchmaking is just like the cinema, it hides a precise mechanism which must then generate emotion.
The world of Roger Dubuis, the arrival of its collections, like spaces of freedom, perfectly matches my principles. You need to take chances in life and always push yourself.