Tiffany & Co. will be exhibiting a selection of art deco jewellery at its store at Takashimaya S.C. Store in Singapore from 10 to 24 June. Inspired by, with specially made pieces for the movie adaption of F. Scott Fitzgerald's 'The Great Gatsby', the collection is uniquely characterized by brilliant diamonds and colourful gemstones in softer settings with more contoured lines; a design aesthetic that is as fresh and timeless as it was during the Jazz Age. 
Tiffany & Co in the Jazz Age
In fact, Tiffany has a history that dates to the period and context of the story of The Great Gatsby, creating jewellery that had its own design imprint, and introducing to the world gemstones such as Montana Sapphires, tanzanites, kunzites and morganites.
Founded in New York in 1837, Tiffany became the city's icon of chic sophistication and its diamonds the epitome of American glamour. Gilded Age galas ablaze with Tiffany jewels were followed by supper clubs sparkling with diamonds in the new Art Deco style.
Just as jazz continued to influence music worldwide, these brilliant creations shaped Tiffany design throughout the 20th century and into the 21st, culminating with the 2013 Blue Book — Tiffany's annual showcase of breathtaking jewels — including The Great Gatsby Collection.
Incidentally, author F. Scott Fitzgerald was a customer of Tiffany at the time.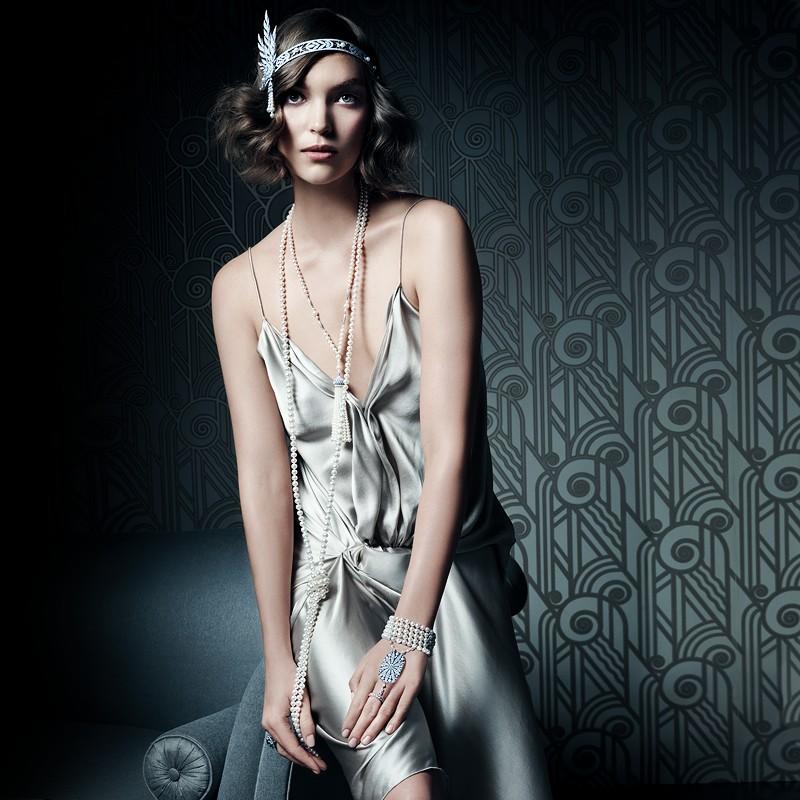 American fashion model Arizona Muse stars in the latest Spring 2013 campaign for Tiffany & Co. 'The Great Gatsby' Collection.
---
The Great Gatsby Collection
The collection by Tiffany captures the characters' privileged lives with modern versions of their Tiffany jewels that glittered through posh parties and summer soirées at grand estates, fueled by jazz and bubbling champagne.
Among these shimmering creations are fluid diamond necklaces and bracelets, ropes of lustrous pearls and bejeweled hand ornaments and headpieces. 
Tiffany's Ziegfeld Collection is also influenced by this period. Named for New York's legendary Ziegfeld Theatre, a model of Art Deco architecture that opened in 1927, the collection reflects the era's cool elegance with elongated strands of pearls, black onyx and sterling silver.
The spontaneous rhythms of jazz infuse other diamond designs including the aptly named Tiffany Jazz™, Tiffany Grace and the Tiffany Legacy Collection®.
Luxurious in length and exquisitely detailed, they echo the sensuous motion of 1920s fashion; and they complement contemporary style with spirit and vitality. 
Check out the pieces available in Singapore at: //senatus.net/album/view/10196/