Yucca Lounge in Shanghai, China is a cocktail lounge with modern Mexican feel, located on the third floor of Mansion 26F in Sinan Mansions, Shanghai.
Shanghai-based design agency Lime 888 was responsible for the interior design and the firm pulled it off with its unique touch.
Inspired by Mexican art with touches of Salvador Dali, Diego Rivera and Frida Kahlo, the Yucca Lounge is a surrealist bar room with daring colours and design in trendy Shanghai.
The building is the headquarters of Yucca's creator, Australian-Greek chef and restaurateur David Laris, and it also houses three of his other restaurants: Funky Chicken, Fat Olive and 12 Chairs. The swanky lounge of Yucca is Laris's latest venture into the riches of the Yucatán culture of Mexico.
The atmosphere is chic with its eccentric decor. Chrome horns hang from the wall, which are painted vivid shades of blue and pink, the soft furnishings are turquoise and a black spiral staircase twists through the core of the bar.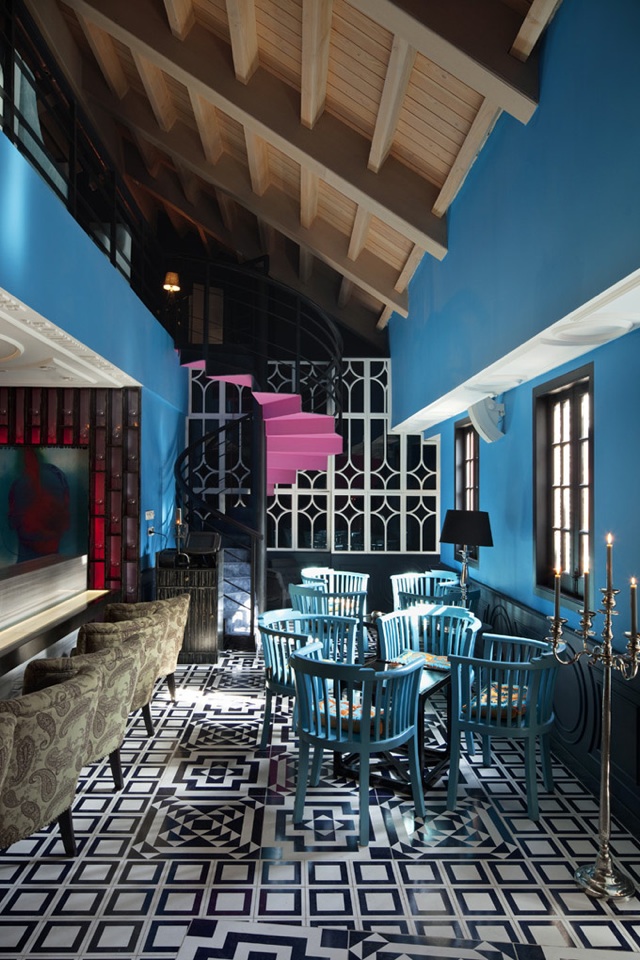 There's a large selection of tequilas including Don Julio and Herradura. Try the basil caipirinhas (RMB78) or the house special, the Mexican mule (RMB65), a version on the Moscow classic made with tequila.
It's also a great spot for an after-dinner drink or warming up for a heavy night.