Award-winning Asian hospitality brand, Banyan Tree Hotels and Resorts has launched Banyan Tree Al Wadi in Ras Al Khaimah in the United Arab Emirates (UAE).
This is the group's second resort in the Middle East, following the success of Banyan Tree Al Areen in Bahrain. Banyan Tree Al Wadi is set to be the first luxury desert resort in the UAE to offer an all-pool villa concept, complete with Asian-inspired hydrotherapy spa facilities, a private beach club, as well as being located within a dedicated nature reserve.

Located in the tranquil Wadi Khadeja, the protected enclave of the sturdy, evergreen ghaf tree, Banyan Tree Al Wadi is a 45-minute drive from Dubai International Airport and located 20 kilometres from the vibrant Ras Al Khaimah city centre. The resort offers city dwellers a unique retreat with its own nature reserve where indigenous desert wildlife roam free, exciting outdoor adventures, and close proximity to a private beach and an 18-hole championship golf course.
---
---
Desert Elegance

Banyan Tree Al Wadi comprises 70 Pool Villas and 31 Tented Pool Villas that measure approximately 158 and 253 square metres respectively. This oasis of indulgence offers a contemporary adaptation of traditional Arabic architecture amidst miles of rolling sand dunes, creating a comfortably seamless experience of staying in the desert. A tribute to the heritage of the region – from the tented design that is inspired by local tribes and nomadic lifestyle, to traditional mud brick buildings – each villa also features elaborate Arabic touches of lattice woodwork, stylised motifs, intricate carvings in arabesque design and high ceilings.
All 101 villas offer a tranquil view of the desert oasis for quiet contemplation, while the external area of each villa features a private pool enveloped by verdant gardens. The Tented Pool Villa also features a dedicated spa treatment room, and an outdoor shower amidst lush surrounds.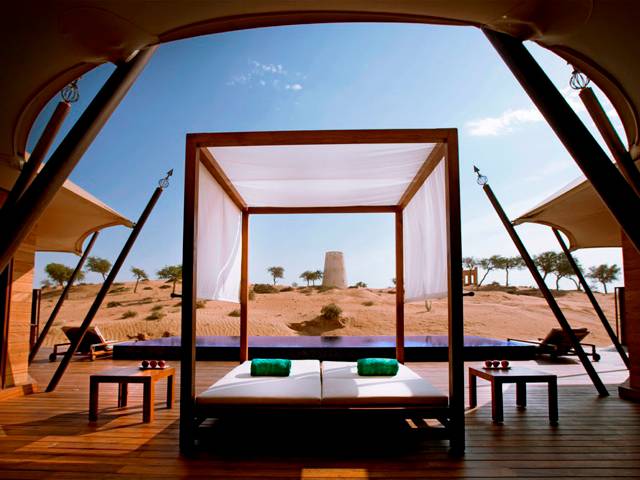 Oasis of Indulgence

The award-winning Banyan Tree Spa features 10 treatment pavilions, complemented by a hydrothermal circuit with a hammam and vitality pool. Guests can enjoy signature Asian-inspired massages delivered by therapists trained at the Banyan Tree Spa Academy in Phuket, Thailand.
The elegant banquet hall can seat up to 120 people, offering an exclusive event space for weddings or corporate groups in the desert terrain of Ras Al Khaimah. For smaller groups of up to 20 people, the two seminar rooms are suited for brainstorm sessions and corporate meetings. Banyan Tree Al Wadi also features five food and beverage venues, giving guests a myriad of dining options. These include contemporary Thai cuisine and Southeast Asian specialties at the signature Saffron restaurant, international selections at the all-day dining restaurant, and refreshing cocktails by the beach club.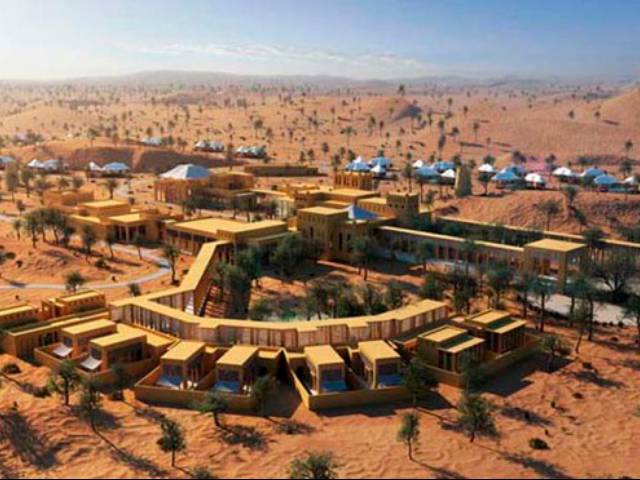 Nature's Offerings

Ras Al Khaimah is renowned for its pristine natural attractions. Here, eco-explorers can seek adventure in activities such as falconry, camel riding, wadi (desert) safaris, or simply meander along rivers on a dhow (traditional Arabic sailing vessel with lateen sails) cruise.
Banyan Tree Al Wadi is the first desert spa resort in Ras Al Khaimah to offer a private nature reserve within its grounds. The resort spans over 100 hectares, of which 60 hectares are set aside for the dedicated nature reserve – home to local desert wildlife such as Arabian gazelles and oryxes, offering guests a unique opportunity to interact with and observe these gentle creatures up close.
Located within a 20-minute car ride from the resort, the Beach Club offers a selection of recreational activities like water-skiing and sailing for enjoyment in the cool shimmering waters of the Arabian Gulf. Guests who prefer to lounge by the private beach may do so in comfort at the Beach Club's breezy bar or by the pool area.