Anointed as the new CEO and currently Chief Creative Officer of Burberry, Christopher Bailey announced that the artists Ben Nicholson, Christopher Wood, Lucian Freud and Duncan Grant were the inspiration for his latest collection for the Fall/Winter 2014/2015 season, entitled "A Painterly Journey" showcased at Kensington Gardens during The London Collections: Men.
"That kind of translated into these hand-painted bags, hand-painted coats, embroideries and jacquards," Bailey added.
I wanted the collection to feel very, very rich as well."
Celebrating the British capital, Burberry's Fall 2014 collection featured maps and landmarks of London as prints on silk scarves to open the show.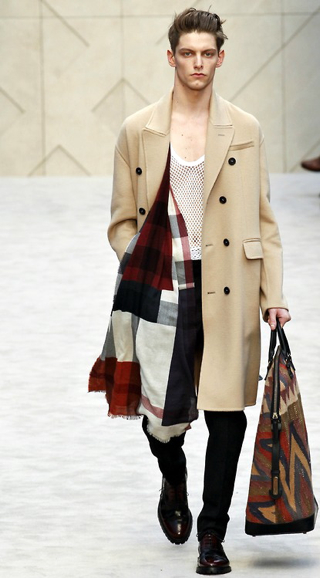 Vines and autumn leaf patterns in mustard, burgundy and hunter green then featured in the second half.
Worn loose and layered over cashmere and silk coats, the equestrian-style scarves were complimented by fluffy coats, floral suede outerwear and sweaters embroidered with sketches of St Paul's Cathedral and an oversized woven bag, christened the St Ives, detailed with the Westminster skyline.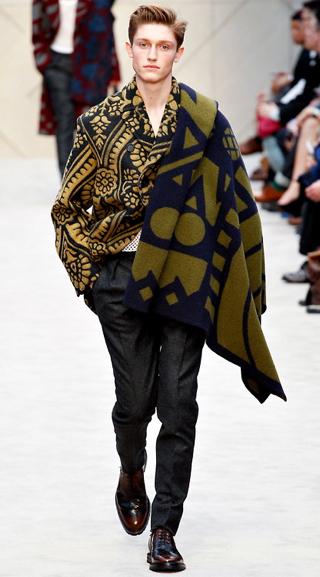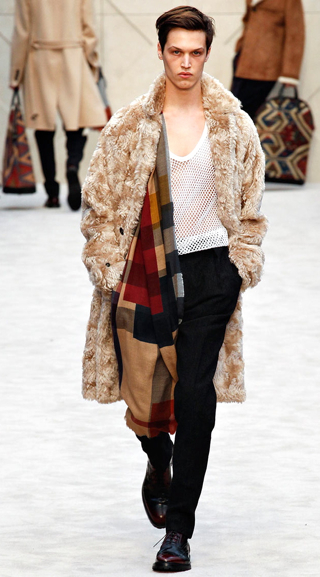 The designs also showcased Britain's rich textile industry with all of the label's signature fabrics including woven cashmere, patchwork shearling and jacquard coming to the forefront, alongside Burberry staples like the classic tweed and trench coats.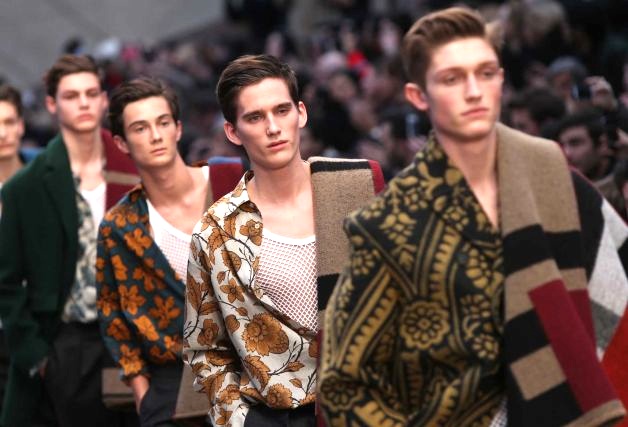 The designer also presented Nicholson-esque abstract prints on billowing silk "artist" shirts to add vibrancy to classic cashmere coats while string vests worn under blouson silk coats lent a laid-back sense of youthfulness to the show.
Brush strokes and geometric prints provided accents of colour while the classic trench coat was given an injection of glamour thanks luscious leather hand painted with swirling curlicues.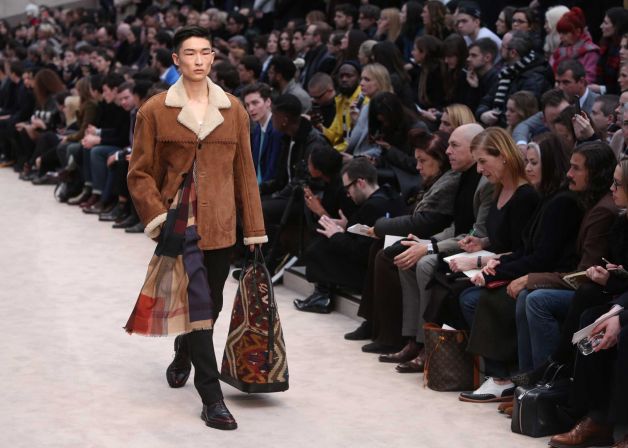 The "man bag" with the oversized St Ives style, in a variety of fabric and print options, is set to be menswear's answer to the oversized tote.
See the complete runway looks