A combination of the finest from Chanel and Audemars Piguet - the "J12".
Over recent years the J-12 collection has established itself as an international watchmaking reference; whether the model be in black or white ceramic, a chronograph, a Tourbillon or set with diamonds, sapphires, emeralds or rubies.
Following the success of the grand complication: the J-12 Tourbillon; Chanel wished a return to authenticity with a "Haute Horlogerie" automatic movement with 3 hands, paying homage to the very roots of traditional watchmaking.
In order to create this new movement, Chanel naturally turned to one of the most prestigious Swiss manufacture, Audemars Piguet.
The result of this partnership is the "J12 calibre 3125" in 18K yellow gold and black ceramic, associating both graphic perfection and mechanical excellence. Audemars Piguet guarantees tradition craftsmanship, outstanding finishes and absolute attention to detail, along with its exceptional know-how combined with state-of-the-art technology.
"Audemars Piguet offers us the prestige of a movement conceived in the finest watchmaking tradition, which will be associated with Chanel watch design excellence, to produce an exceptional timepiece," pointed out Philippe Mougenot, President of the Chanel Watch and Fine Jewelry Division.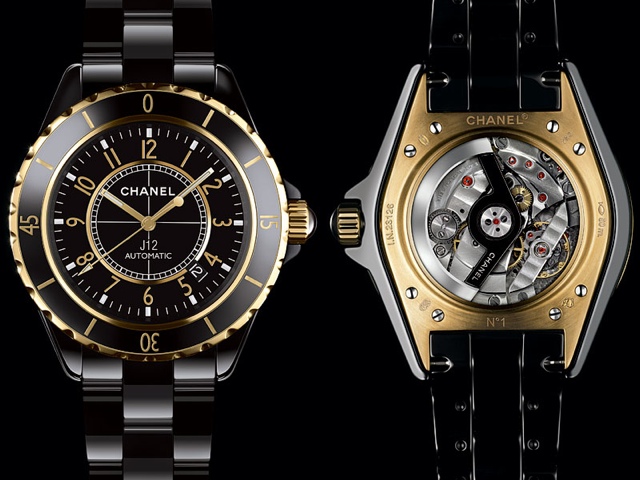 For Audemars Piguet, this collaboration with one of the most emblematic luxury brands in the world offers the opportunity to increase its visibility and prestige in eyes of the feminine sector, one traditionally belonging to Chanel.
"This partnership would not have been possible if we didn't share the same values," added Georges-Henri Meylan, CEO of Audemars Piguet "notably, our insistence upon excellence and perfection and a strong attachment to the independence of our respective companies.