Land Rover has revealed a long-term global partnership with Richard Branson's pioneering commercial spaceline, Virgin Galactic.
Demonstrating their shared vision of pioneering spirit, technological innovation and sense of adventure, the ground-breaking partnership was announced against the backdrop of SpaceShipTwo, the world's first commercial passenger carrying spacecraft, together with Land Rover's new Discovery Vision Concept vehicle.
The announcement illustrates the commitment that both brands share to iconic design and engineering excellence and a desire to push the boundaries of travel for the next generation.
The partnership will see Land Rover vehicles become part of daily life for the Virgin Galactic team and for all 'Future Astronauts', the space experience will now begin with Land Rover as they arrive in New Mexico for training, and continue to the moment they drive from the space terminal building to the waiting spaceship. Land Rover will base a fleet of vehicles at the Virgin Galactic test centre in the Mojave Desert, California and at its astounding operational New Mexico base, Spaceport America.
The announcement was revealed in dramatic fashion on board USS Intrepid, a former aircraft carrier and now a museum dedicated to the exploration of sea, air and space and anchored on the Hudson River.
Land Rover's first act as exclusive partner was to bring a unique full-size replica of SpaceShipTwo VSS Enterprise to New York, where it joined the remarkable British Airways Concorde and its namesake Space Shuttle Enterprise upon the Intrepid.
Like the Space Shuttle, SpaceShipTwo is the first of a revolutionary fleet of reusable human spacecraft. Having the vehicles in one place for the first time provided a powerful symbol of human ingenuity and the adventurous spirit of exploration and discovery.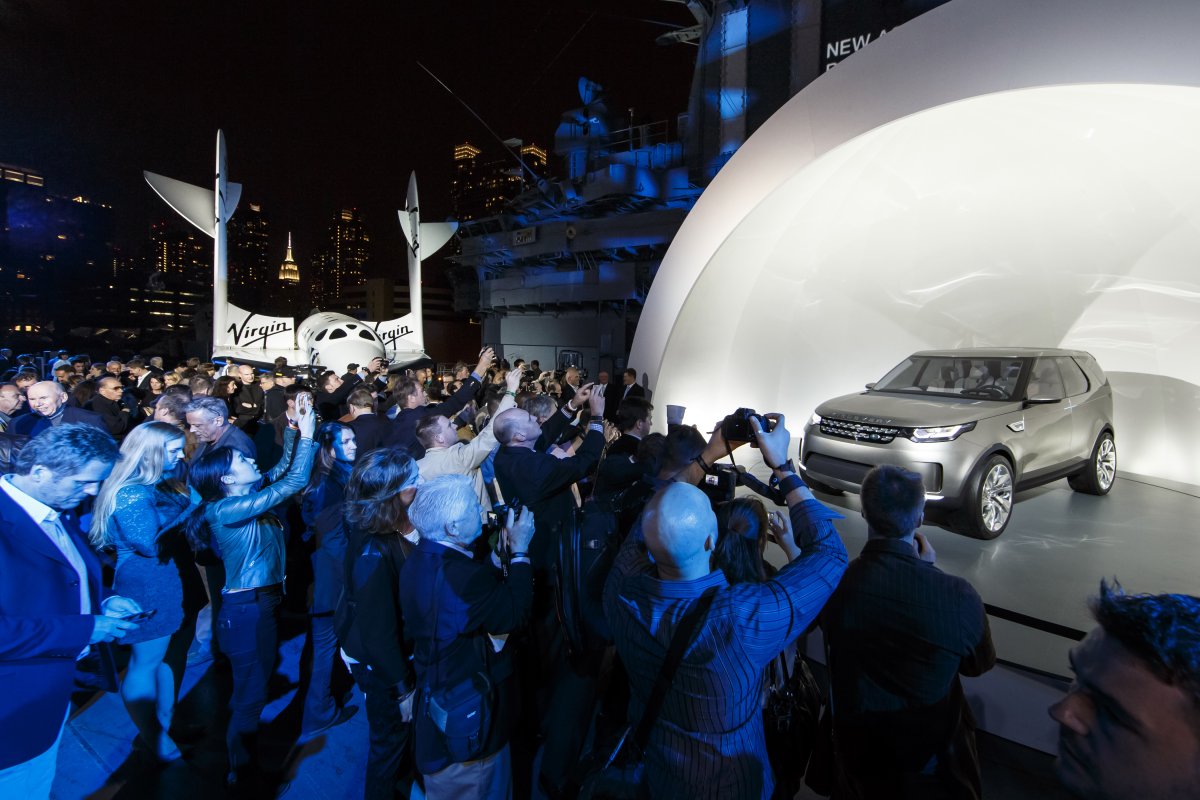 Revealed alongside SpaceShipTwo was Land Rover's Discovery Vision Concept, a vision of Land Rover's future family of Discovery vehicles. The concept car previews dynamic new design language and an array of world first technologies. Building on Land Rover's renowned all-terrain capability, the Discovery Vision Concept represents the ultimate SUV of the future.
The vehicle uses augmented reality technology to display a 'see-through' view of the terrain ahead, making the front of the car 'virtually' invisible from inside the cabin. Gesture Control allows you to open the doors, operate the indicators or turn on the headlamps simply by moving your hand, while Laser Referencing projects visible markings, symbols and imagery onto the ground to aid low speed or tricky manoeuvres.
More than 200 VIP guests witnessed the two game-changing vehicles, which were revealed against a stunning Manhattan background and an awe-inspiring projection mapping sequence.