Marina Bay Sands will soon redefine Singapore's skyline by lifting the first piece of the 7,000-tonne steel superstructure of the Sands SkyPark that will be at the top of the Marina Bay Sands hotel towers. With the Sands SkyPark, Singapore will take centre stage and rank among the world's greatest skylines and tourism destinations.
Lifting this superstructure presents one of the most interesting and complex phases of construction. The groundbreaking architectural design puts the Sands SkyPark 200 meters in the air linking the three separate hotel towers.
The Sands SkyPark will be longer than the Eiffel Tower is tall and big enough to park four-and-a-half A380 jumbo jets.
Marina Bay Sands will use a unique combination of bridge and building technology to build the Sands SkyPark in 14 heavy lifts over the next three months. Each piece takes up to 24 hours to lift to the top and slide into place.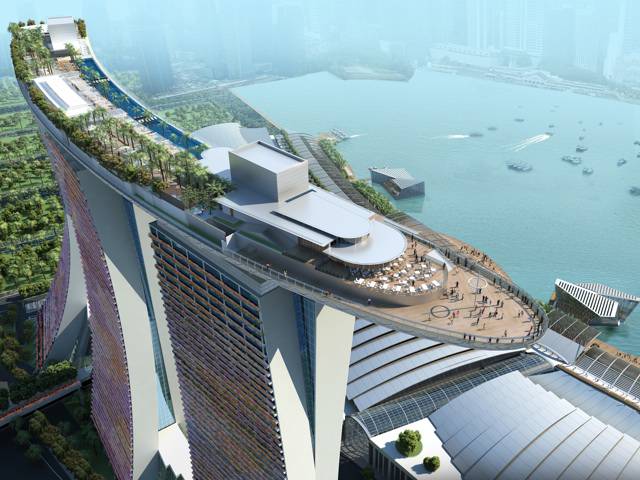 The SkyPark will offer a public observation deck, landscaped gardens, sprawling outdoor pools, signature restaurants, and one of Singapore's hottest nightspots.
Marina Bay Sands' President and Chief Executive Officer Mr. Thomas Arasi said, "The Marina Bay Sands SkyPark will offer visitors a once-in-a-lifetime experience and unrivaled views of Singapore. It will serve as a great symbol of recognition for one of the world's great cities."
The Sands SkyPark will crown an extraordinary integrated resort with something for everyone. Marina Bay Sands Shoppes will offer an impressive line-up of 300 stores comprising international luxury brands and cutting-edge and emerging labels new to Singapore. Brands that have committed to open stores in the new retail Shoppes include Bally, Blancpain, Bottega Veneta, Breguet, Bulgari, Burberry, CHANEL, Ferragamo, Gucci, Guess, Hublot, La Senza, Miu Miu, Omega, Patek Philippe, Prada, Raoul, Tiffany & Co. and Yves Saint Laurent.
In addition to the rooftop Sands SkyPark, Marina Bay Sands will feature large and flexible exhibition and convention facilities, a luxury hotel, a museum, Las Vegas-style gaming, the Paiza Club for premium players, world-class theatres, an outdoor event plaza, and restaurants that allow visitors to eat around the world under one roof.
"The scale and architecture of Marina Bay Sands will mean that just walking around the integrated resort in the heart of Singapore will be one of the most exciting attractions on its own," Mr. Arasi said.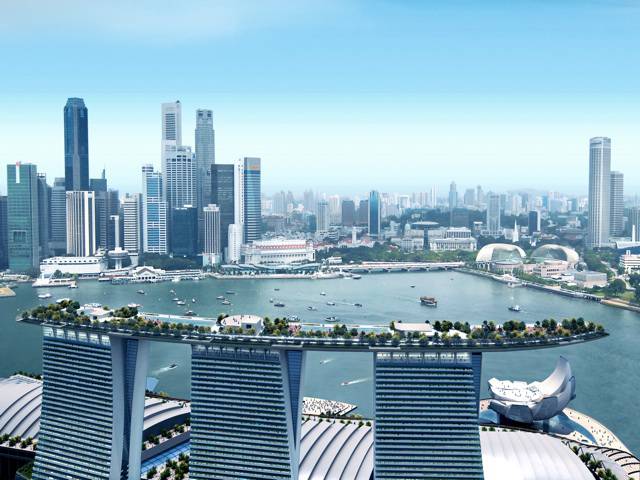 Sands SkyPark at a Glance
200 meters in the sky
Landscaped gardens are home to 250 trees and 650 plants
12,400 square meters of space big enough to fit three football fields
Exclusive restaurants including The Sky on 57, helmed by Singapore's celebrity chef Justin Quek
A spectacular public observation deck that can host hundreds of people
A 150-meter infinity swimming pool, the world's largest outdoor pool at that height
Ticketing Information
Tickets will be available to purchase at the Sands SkyPark ticketing counter/Box office located within the Marina Bay Sands hotel lobby at Tower 3. Purchase must be made in person, on the day of use from 25th June onwards.
---
Related Articles
Marina Bay Sands in Singapore The Marina Bay Sands, set to become a premier entertainment destination with its vibrant diversity of attractions and facilities, opens April 27, 2010.
Marina Bay Sands Art Path Marina Bay Sands launched the Marina Bay Sands Art Path, an impressive collection of large-scale art installations by internationally renowned artists.
Banyan Tree Spa at Marina Bay Sands Banyan Tree will design and operate the 20,000 square feet Spa and Health Club located on the 55th floor of the spectacular Marina Bay Sands Hotel.
---
See more photos from this collection on our Facebook page
On Top of the World at Marina Bay Sands SkyPark
Swim or sunbathe with a view of the world as far as the eye can see from the Sands SkyPark at Marina Bay Sands!
---