London's Savoy Hotel, the "Palace by the Thames" that has welcomed generations of royals, prime ministers and Hollywood stars, reopened on October 10, 2010 after a facelift that cost 220 million pounds ($350 million).
With its iconic Art Deco steel and marble entrance, prime riverside location and glamorous history, the Savoy is one of the world's most famous luxury hotels.
Claude Monet stayed for six months while painting views of the river, Frank Sinatra entertained guests at the grand piano and Winston Churchill held wartime meetings in the restaurant.
Marilyn Monroe, Humphrey Bogart, Charlie Chaplin and Coco Chanel have all stayed at the hotel, while Britain's Queen Elizabeth and the late Princess Diana attended functions there.
Opened in 1889, it was among the first of the world's grand hotels to have electric lights and it boasted London's first public electric elevator.
After the hotel started to show its age in recent years, the Canadian owners, Fairmont Hotels, decided to refurbish it to compete with a host of new luxury rivals opening in the capital.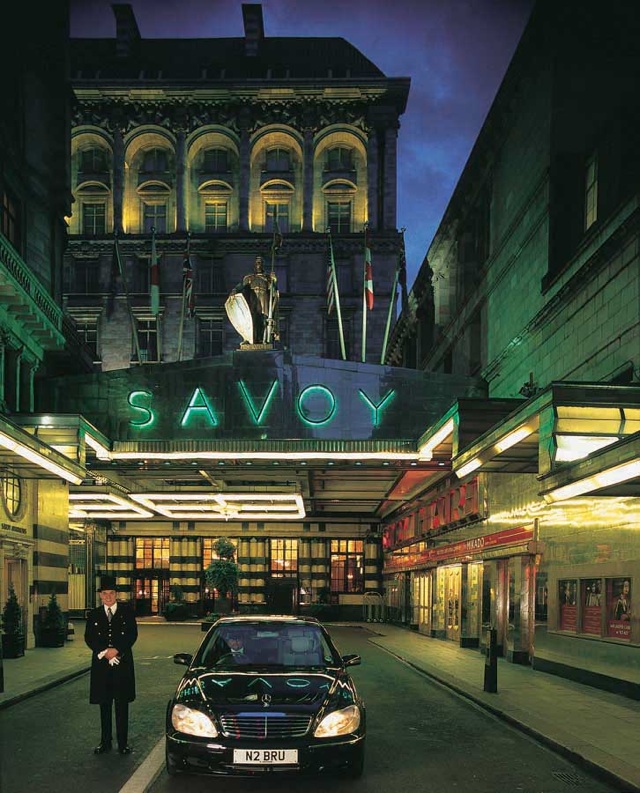 More than 1,000 workers spent nearly three years gutting the hotel, ripping out aging plumbing electrical wiring and air conditioning.
They removed dangerous asbestos and used tons of steel to shore up a wall of balconies that had been added in a poorly executed extension in 1910. The cost of the refurbishment spiraled from 100 million to 220 million pounds.
"It is fair to say that this project has not been without its challenges," said Kiaran MacDonald, hotel general manager.
Royal Suite
A new suite, the biggest and most expensive in the hotel, has been added, covering the front of the entire fifth floor.
The vast Royal Suite has a marble foyer, an office, sitting room, dining room, kitchen and two bedrooms. A walk-in wardrobe has an air-conditioned section for shoes.
The suite comes with a 24-hour butler, someone to pack and unpack the bags ... and a 10,000 pounds a night price tag.
Nine more suites named after famous guests have touches that evoke their glamorous past. The Marlene Dietrich suite will have 12 pink roses -- something the German actress always requested.
---
---
A new Art Deco bar, decorated in black, gold and leather, has been built on the original cabaret stage and a glass dome now sits over the tea room. All 268 rooms have been renovated.
The refurbished hotel, which opens its doors on Sunday, has been designed to be more environmentally friendly.
Cooking oil from the kitchens will be turned into biodiesel, a new heating system will cut electricity bills and 90 percent of the hotel's waste will be recycled.