Semiramis Hotel Athens is a 52-room boutique hotel representing a singular vision of art created by architect Karim Rashid, who designed everything from the interiors and furniture, to the uniforms, stationary, and shampoo bottles.
Entering the Semiramis, guests pass through a glowing colored glass cube that leads into the lobby, where color-changing glass walls radiate with subtle motion.
The lobby features a rotating exhibition of modern art works borrowed from international galleries. Throughout the hotel, the architect uses the vibrant colors of pink, lime green, orange, and yellow on a white background.
Other materials include colored terrazzo slabs, glass tiles, teak wood, epoxy floors, custom printed carpet, colored glass, Rashid-patterned wall coverings, printed laminate surfaces, and other contemporary finishes.
Accommodations consist of 42 balcony suites, six poolside bungalows, and four rooftop suites. Instead of using numbers, Rashid identified them with custom designed symbols that resemble hieroglyphics.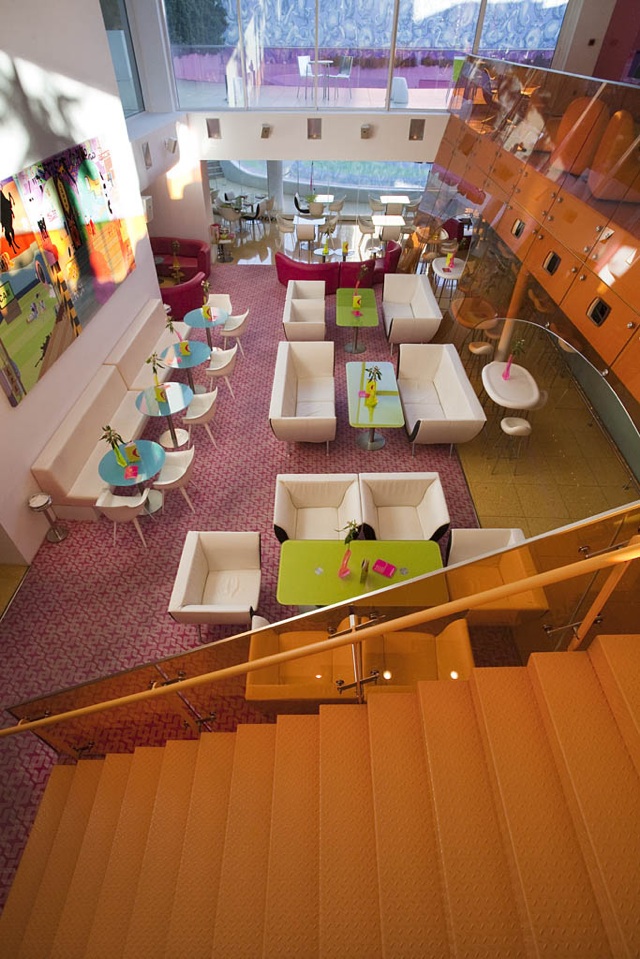 For a softer feeling in the guest rooms, the wall corners curve and the white glossy epoxy floors are inlaid with colorful carpet squares.
The bathrooms and closets feature frosted glass, making these spaces feel larger and allowing daylight to penetrate the entire room.
All rooms feature the latest technologies, such as T-1 Internet television and wireless keyboards.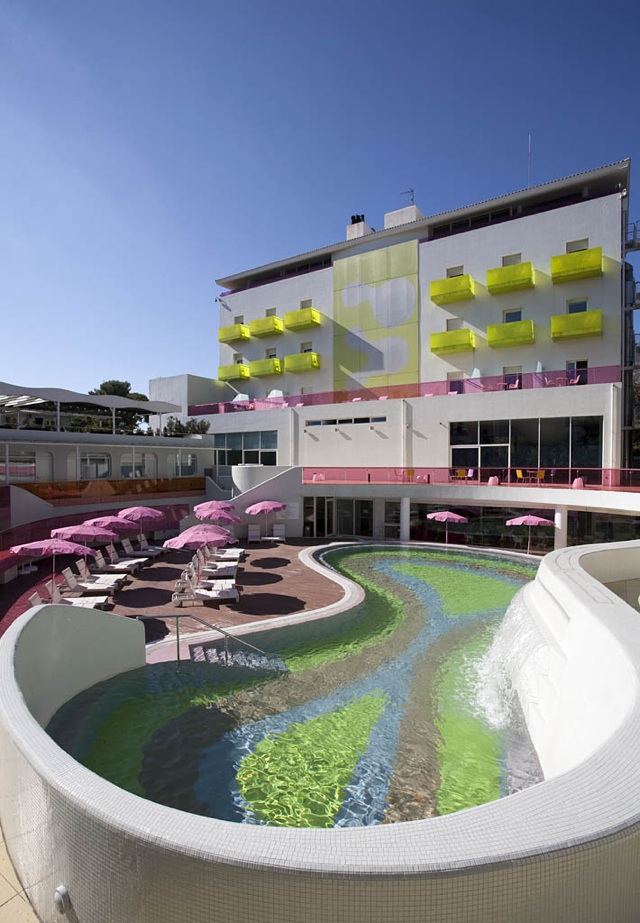 The penthouse and bungalows include rotating flat screen Internet televisions, remote controlled HVAC, curtains, digital locks, and scrolling LED signage to request maid service or privacy.
The hotel restaurant serves modern Mediterranean cuisine. Suspended overhead, a glass belly of twinkling fiber-optic lights create a magical ambience. Encased in orange glass, the restaurant's lobby level extends outdoors onto front and back patios. Seating 40 people, it serves breakfast and day-time dining; its lower level opens directly onto the pool.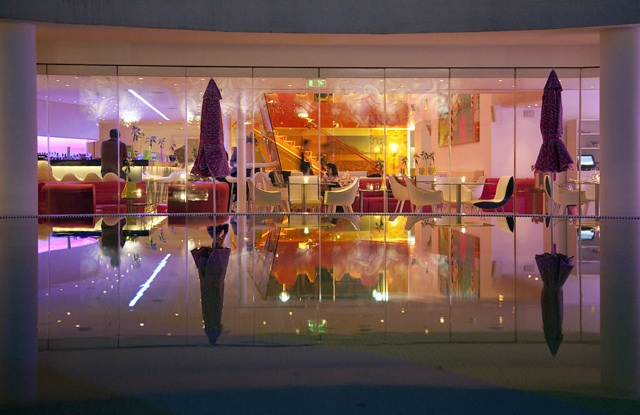 Seating up to 120 people, the poolside area caters to an evening crowd with a lounge bar and a la carte menu. Adjacent meeting rooms, separated from the main space by glass walls, can accommodate 60 additional visitors. The pool area and its flowing, curved landscaped decks are designed for daytime lounging, but as night falls its lighting changes to reflect the neighborhood's buzzing social scene.
---
See more photos on our Facebook page