Located in a former glass factory, the 6,250-square-meter, multi-building Shanghai Museum of Glass is shifting this industrial space's function from production to art, education and exhibition, all centered around the theme, "Glass is a language of art and science."
The complex, which retains much of the spirit of the old factory with a sleek modern design, contains a main museum area, a museum shop, restaurants and cafes, and a demonstration space for live glass-blowing shows.
The museum is the brainchild of Zhang Lin, director of the SGC Shanghai Glass Company Limited, a glass factory which specializes in high-quality daily use products such as tableware. Zhang wanted to support the development of Chinese glass arts and production, and for him artists in the studio glass movement became a type of research and development team encouraging industry innovation.
"This intersection between art and industry makes the opening of the Shanghai Museum of Glass even more significant for the Chinese glass sculpture movement," Taub says. "This museum has a very specific task: to be a pedagogic museum and to bring understanding of glass to the public."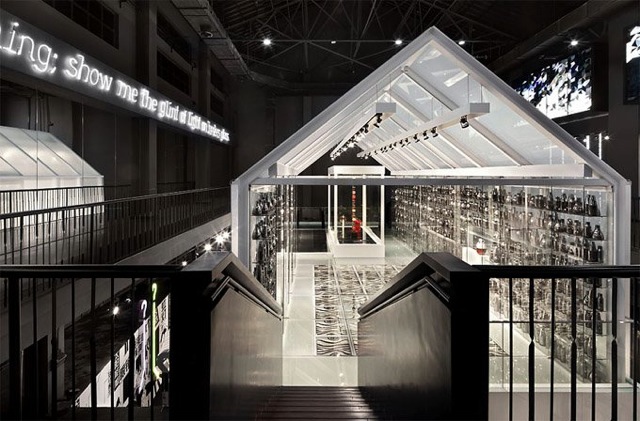 Professor Zhuang Xiaowei, known in art circles as the father of the Chinese studio glass movement, was one of the the driving forces behind the museum's development, trying to establish a relative new art medium in the quickly developing Chinese art scene.
"The good thing about this museum is that it has China State support," says Taub, "and this is really a testament to the importance of art in support to industry and vice versa in China."
The Museum has four main sections all set-up to educate the public as well as exhibit art. The first section defines glass for visitors, the second tracks the history of glass in China and the West and the third area shows where we see glass in our daily lives. The final section is closer to a typical museum, and is devoted to contemporary glass art, showing works by both international and Chinese glass sculptors.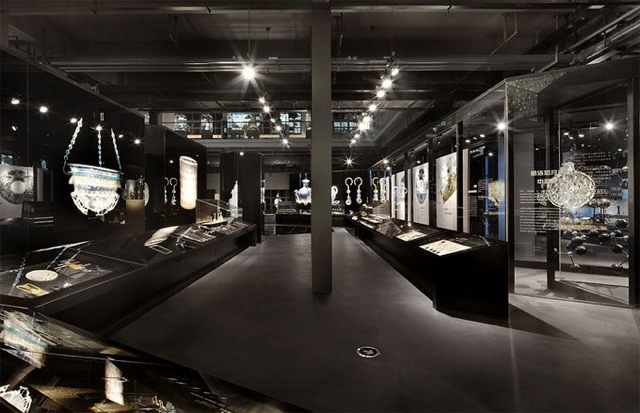 New Landmark of Urban Culture and Symbol of Post-industrial Era
The Shanghai Museum of Glass is a city-level museum approved by Shanghai Civil Affairs Bureau (Civil Affairs No. 0359) and under the supervision of Shanghai Cultural Relic Management Committee. It is a non-profit private museum started and sponsored by Shanghai Glass Company Limited. As a partner of the museum, Shanghai University provides academic and artistic support.
With the theme of "Glass: a Language of Science and Art," the Shanghai Museum of Glass presents visitors with a panoramic outlook to the perfect combination of the science and art of glass from the perspectives of glass material science, technological development and frontiers, and the history of glass art. Visitors will gain better understanding and appreciation of this seemingly ordinary material in daily life. The total exhibition area of the Shanghai Museum of Glass is about 5,000 square meters, of which 2,100 goes to the main building and 1,450 is reserved for promoting the popular science of glass. The main exhibition section is divided into four units. Unit 1: what is glass; Unit 2: development of glass craft and technology; Unit 3: from daily life to technological frontiers; Unit 4: proof of artistic creativity.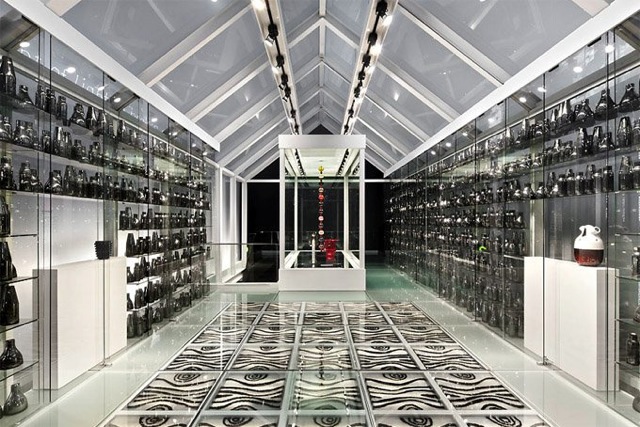 The museum aims to create a brand-new experience that integrating rich historical information, glamorous glass works, open space, within a community basis. It will serve as a bridge between China and the world, between glass art and other art forms, between history and artistic works, between culture and industry and between glass art and human.
G+ Glass Theme Park: Restoring the Infinities of Glass
In the future, the Shanghai Museum of Glass will become the core of a theme park for glass and glass technology. G+ Glass Theme Park is carried out in four phases of projects. Phase 1: The Shanghai Museum of Glass; Phase 2: a courtyard of sculptures; Phase 3: a technological park for glass; Phase 4: a business development park. Phase 2 and 3 are schedule to finish by the end of 2012 and Phase 4 is expected to finish by the end of 2014. Upon its completion, this park will become a landmark for Baoshan District.
The significance of this park lies in its function as a symbol of new Shanghainese culture and a landmark for tourists. It will enrich the functions and notions of urban life and infuse vitality to urban creativity in the post-industrial era. It also brings a bold touch to the obsolete industries and logistics park in the neighborhood.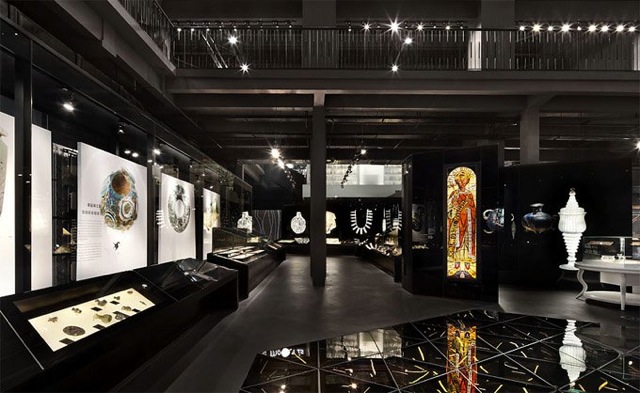 For industries, this museum fills a gap in China by promoting a new art fashion, expanding the influence of glass art in China with its interactive experience. For visitors, it provides a new platform for art appreciation, education and leisure so that glass art and culture can enter into the life of citizens. The tangible experience with glass can help them appreciate the glamor of glass art, improve their taste for art, enhance their way of life, enrich the cultural forms and atmosphere and promote the integration of cultures.
The Shanghai Museum of Glass and G+ Glass Theme Park provide people with a place where they can enjoy experience of different levels and spend a wonderful day inside, participating in interactive exhibitions, listen to lectures, DIY glass works, learn the history of glass, visit studios of glass artists, take high tea and coffee, and enjoy relaxation in our enchanting courtyard.
In these ways they can relax their minds and share everything that our museum has to offer.