Singapore has finally broken into the Top 10 list of Top Fashion Capitals of 2011, emerging #8 while surpassing cities including Tokyo (#9), Berlin(#10), Sydney (#11), Madrid (#12) and Shanghai (14).
With notable fashion buzz surround the Royal Wedding and Alexander McQueen, London overtakes New York to take top bragging rights, whilst Paris and Milan take the 3rd and 4th rankings.
"We are seeing what the impact of two genuine media stars, Princess Kate and Alexander McQueen can have upon a global ranking.  Our numbers show that it was their presence that tipped the victory to London over New York," said Bekka Payack, the Manhattan-based fashion correspondent of the Global Language Monitor.
Most notable contribution to Singapore's improvement of 7 places from #15 in 2010 was the inclusion of Men's Fashion Week ("MFW"), the first in Asia and only the third of its kind in the world -- which presented fashion shows from leading international brands like Hugo Boss, Shanghai Tang, CANALI and also showcased up-and-coming Asian design labels including JBB* from Thailand, JailJeans from the Philippines, Gil Homme from Korea and Song for the Mute from Australia.
According to a survey conducted by Global Language Monitor, the eighth in the series, was based on its Narrative Tracking Technology which analyzed the Internet, blogosphere, the 75,000 print and electronic media, as well as new social media sources (such as Facebook and Twitter).
Source: Wikipedia
Men's Fashion Week 2011 A Key Contributing Factor
Held from March 30 to April 3 at Marina Bay Sands, Men's Fashion Week has so far generated tens of millions in media value with coverage from leading international daily and monthly publications and broadcast/cable channels, ranging from New York Times, Wall Street Journal, International Herald Tribune, CNN, BBC, China Network Television (CCTV), NHK, MTV Asia, Bloomberg, Forbes, Vogue, Elle, MediaCorp, ChannelNewsAsia, The Straits Times, The Business Times, Travel + Leisure, FashionTV and more.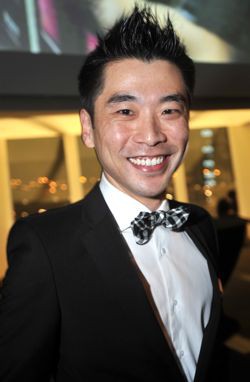 "As Official Online Media Partner for Men's Fashion Week, SENATUS played no small part in raising the online awareness and publicity of the progress we have made in Singapore as a fashion capital, and a barometer for maturing sartorial sensibilities in Asia as a whole," said Kien M Lee, Managing Director of SENATUS.
Following a key contribution during MFW as Sponsorship Director, Kien takes over the role of Festival Director of Women's Fashion Week 2011 in Singapore.
For more videos, go to: //youtube.com/senatusmag
For more photos, go to: //senat.us/eBCHW0
Women's Fashion Week 2011 in Singapore
Set to take place at the end of 2011 and title-sponsored by The Shoppes at Marina Bay Sands and co-organized by SENATUS, Women's Fashion Week is a fashion festival celebrating the finest in women's fashion and luxury accessories, cumulating from a series of preview events and showcase installations set within The Shoppes at Marina Bay Sands.
The event is set to feature a fashion exhibition, retail initiatives, ready-to-wear fashion shows and finally a 5-day finale with a high fashion and luxury showcase in a magnificent arena built from scratch, set to top the Fashion Metropolis at Men's Fashion Week. 
The inaugural WFW 2011, a fashion and style extravangaza, was announced at a preview party held in conjunction with the Closing Charity Gala Party for ScreenSingapore this evening attended by more than 800 guests at the ArtScience Museum, including members of the media and over 30 other local and regional celebrities.