By Kien M. Lee
The SONY Xperia Z1 is now launched islandwide in Singapore, available at SingTel retail and partner stores.
SONY Mobile has launched the Xperia Z1, a game-changing waterproof smartphone powered by Android, with a unique and groundbreaking camera experience, and combines the very best of the Japanese manufacturer's technologies and entertainment content across its design, camera, TV, music and movie divisions, complemented by a wide range of companion products.
Even in the first days of its official unveiling, the Xperia Z1 has begun to receive accolades for having the World's Best Camera in a Waterproof Smartphone, achieved through tapping on the expertise, experience and brain trust of its camera division.
The device features the company's award-winning "G Lens", with a 27mm wide angle and bright F2.0 aperture, custom made large 1/2.3-type CMOS image sensor Exmor RS for mobile with 20.7MP and a BIONZ for mobile image processing engine.
With these core technological strengths, the Z1 is able to capture beautiful, sharp and bright images even in lowlight conditions — a key feature achievement that competitors with ground-up development of their own in-house cameras is unable to match.
High shutter speeds and 3x clear image zoom also prevents shots from being blurred while enabling them to be captured at distance.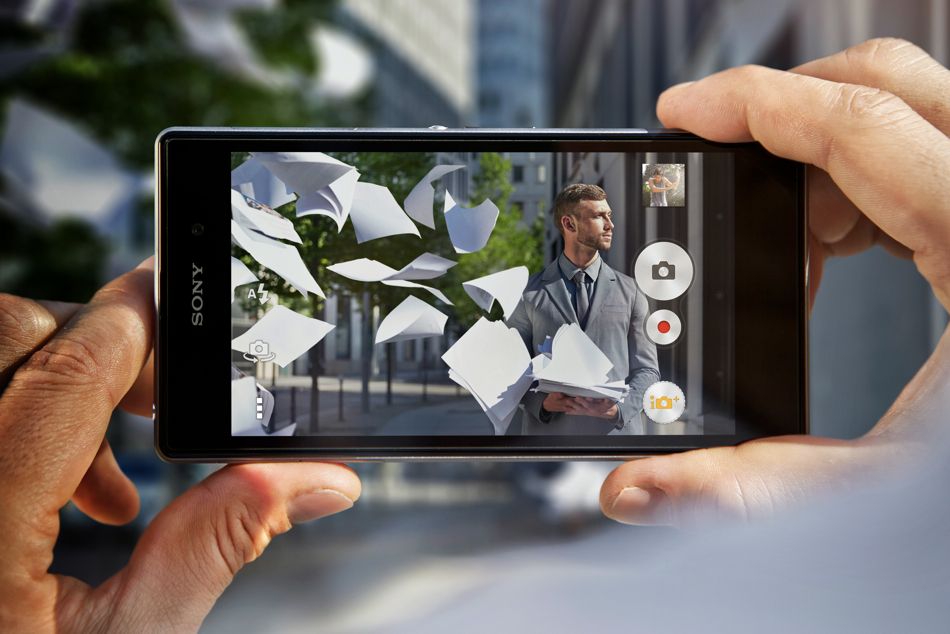 Xperia Z1 represents a significant milestone for SONY in our continued efforts to deliver unforgettable experiences to our consumers.
Kunimasa Suzuki, President and CEO, SONY Mobile Communications, adds:
Not only by bringing the power of SONY to the smartphone and through close collaboration with our partners but by setting a new standard in premium smartphones.
Unique camera applications have been developed specifically for the Z1, providing innovations in smartphone camera use, giving the user a quantum lift in the experience. These include:
Social live: Broadcast precious moments live from Xperia Z1 to Facebook and get your friends' comments right on your screen.
Info-eye™: Innovative visual search function that provides related information on landmarks and on items such as books or wine simply by capturing them with the camera.
Timeshift burst: Capture the perfect shot every time - Xperia Z1 takes 61 images in 2 seconds - a second before and after pressing the shutter - so you can scroll back and forth to find the perfect image.
AR (Augmented Reality) effect: Overlay a selection of fun, customizable animations to create pictures using SONY's SmartARTM augmented reality technology.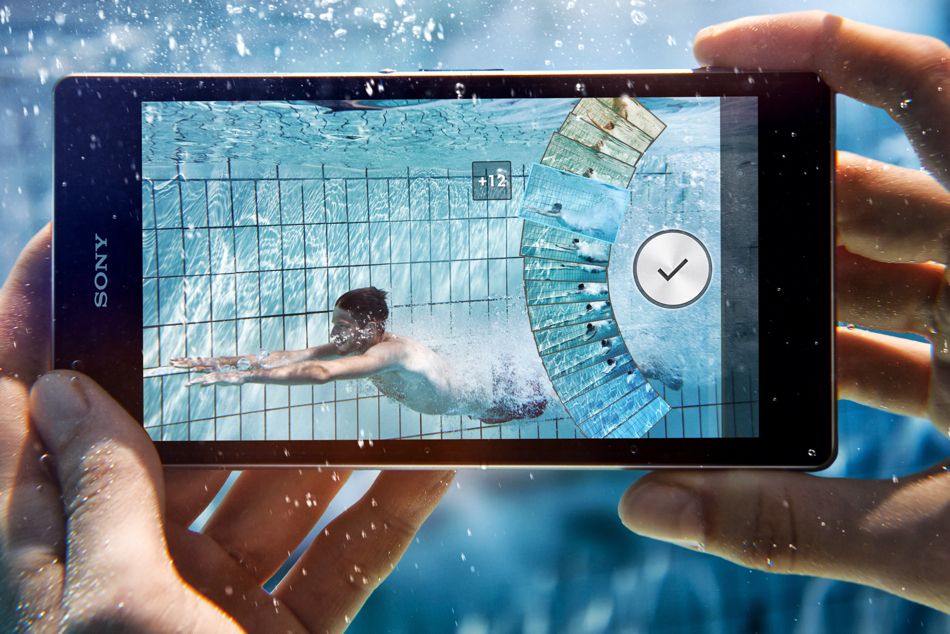 The Timeshift burst camera app utilized while shooting the Xperia Z1 underwater
---
More camera applications developed for the SONY Xperia Z-series smartphones are expected to be rolled out, as the company is developing an ecosystem of established and up-and-coming developer partnerships, recommended via the SONY Select app.
SONY's OmniBalance design has been inflused into the Z1, with the utilization of premium materials and precision engineering to produce not only a slim waterproof device but also dust-resistant (IP55 & IP58). A solid one-piece aluminium frame with tempered glass on the front and back ensures beauty and durability as well as a consistent viewing experience from any angle.
On the inside, the Xperia Z1 is powered by a fully integrated Qualcomm® Snapdragon™ 800 processor with 2.2 GHz quad-core CPU, the latest GPU and dual ISP, and 4G LTE to provide a seamless connected entertainment experience along with incredible graphics, 3D games and videos.
A 3000 mAh battery optimized for a high battery performance is supported by a STAMINA Mode that automatically turns off functions to save power when you don't need them and restarts them when you do.
The winning stroke, so to speak, of the Xperia Z1 lies in its display - again, with the Japanese having a hugely successful industry-leading BRAVIA TV division - featuring SONY's unique TRILUMINOS Display for mobile, creating a wider palette of rich natural colours for an immersive viewing experience. In addition, SONY's X-Reality for mobile technology intelligently analyses and produces super resolution quality to deliver super sharp videos. SONY's ClearAudio+ tops off the audio experience without the need to adjust individual settings.
Upgrade Your Smartphone Experience to the SONY Xperia Z1 Today.
---
Purchase your SONY Xperia Z1 at SingTel stores islandwide or online.
Buy now and stand a chance to see Justin Timberlake in Las Vegas!