Text by Stanley Lui | Photos by John Tan | Makeup by Sharon Pow
Danica Flores Magpantay is the first Filippino and only the second Asian model to have won the prestigious Ford Supermodel of the World International in 2011. Bagging a prize money of USD$250,000 as well as a modeling contract with Ford Models, Danica has gone on to walk the runways of New York Fashion Week and appeared in numerous fashion editorial spreads in magazine titles in Europe as well as Asia.
The daughter of a former Filippino supermodel, Milagros "Lala" Flores, who herself had also won the Supermodel of Philippines Award in 1990 and Asia's Most Glamorous Model in 1994, Danica was largely inspired by her mother's stellar modeling career.
Enrolling herself at the Joey Espino's Masters School for Models in 2010, Danica went through intensive training and honed her craft in hopes of becoming a professional model, scoring her first show for Folded & Hung at Philippine Fashion Week in 2011. In that year, she won the Philippine edition of the Ford Supermodel of the World event held at SM Mall of Asia and represented her country in the global finals held in New York. The rest we know is history.
With her striking features, youthful exuberance juxtaposed with a professional maturity and dexterity beyond her years, Danica is set to take the fashion world by storm.
SENATUS chats with the 5'9 tall beauty to learn how she looks to do just that.
---
Has life turned out what you expected it to be after you won Ford Supermodel of the World International in 2011?
Yes and no. I knew that my life would be different, but I did not think it would turn out the way it did.
In life, we set goals and expectations all the time and things do not always occur as we expected but sometimes, you do not get what you asked for. Instead, you get something better.
To me, if everything I had asked for came true the way I expected it to be, I would probably not have grown and learnt as much. 
Your mom was a supermodel as well, how did that shape your own ambition?
I think my mum being a supermodel was one of the main factors why I wanted to a model. I did not think I would end up to be a supermodel like her, much less thinking about joining the same contest she did.
The modelling school I attended had asked me why I didn't participate in the casting for the Ford Supermodel of the World, Philippines. At that point in time I had only completed two months of modelling school, so my heart literally dropped when they suggested that I go for it.
I figured that if I did join the competition, it would be a good stepping stone for me whether I win or lose and my mother's pictures from her modelling days definitely inspired me.
How did you mother use her prior experience to prepare you?
She has told me lots of hard stories about the modelling world, but she also shared many great stories with me.
She never really taught me how to pose because she told me "I model in the 80s and the 90s and I might teach you things which may not be relevant today. But what I can teach you is how to handle various situations."
As for walking and posing, all she said was that modelling is basically about catching the light and looking taller. Some of the advice she gave me I still hold close to my heart,
In modelling, you have to learn how to handle your expectations well and be prepared to face people who might make things difficult for you.
At the same time, you will have a great experience. You will meet a lot of great people and friends whom you will treasure for the longest time."
She also reminded me that I should enjoy whatever I do in life because all of this will come to pass.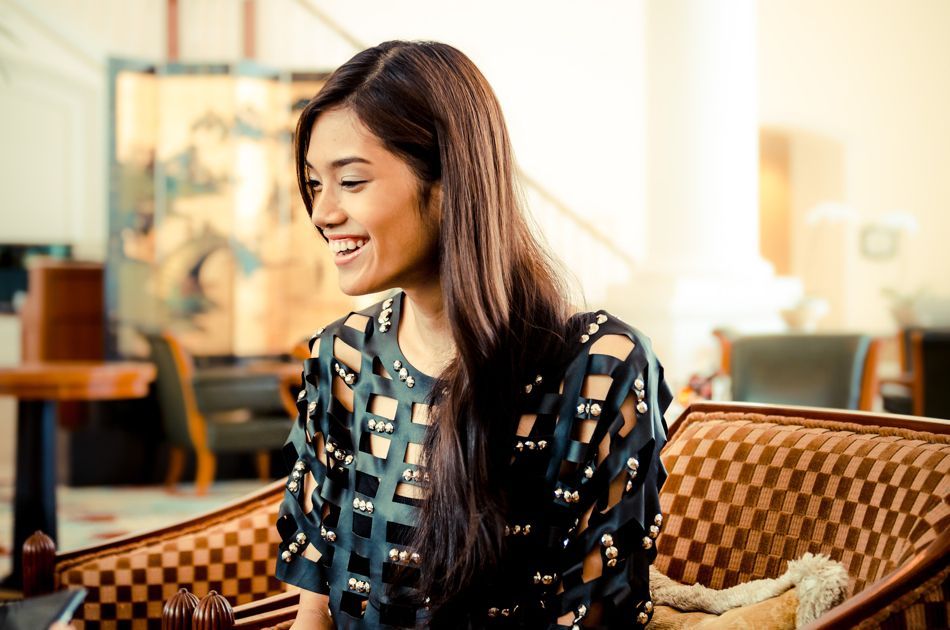 Now that you've spent the last 2 years modeling, tell us something about the fashion industry that you couldn't have prepared yourself for.
In this industry, there are times you get rejected, or accepted and praised for the work that you give — It is really plays with your emotions.
Most of the time, it is nothing personal but you cannot help feeling this way, especially when you are the model as the "product" being chosen. it.
We've seen you in numerous fashion spreads and fashion shows by now, which would you say you prefer?
It depends on my mood. I think, I like doing fashion shows because it is fast. You just walk, present the clothes, strike a pose and it is done.
With photoshoots, you can play with different looks. You can express yourself through happiness, sadness and morph into a different character altogether and that to me, is really fun and exciting.
But if I had to choose, in the long run, I would probably prefer doing fashion spreads.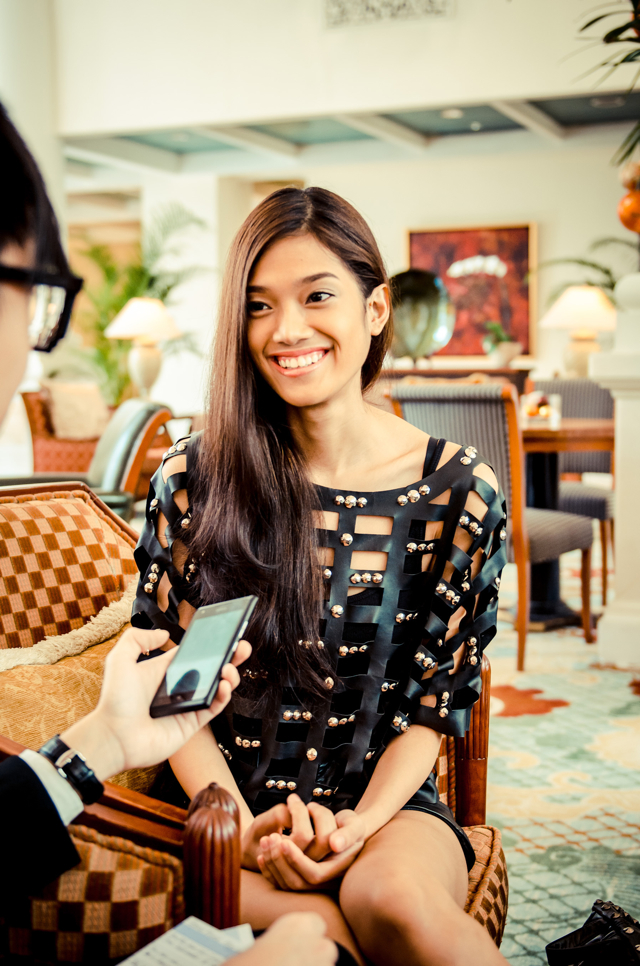 What's the process when it comes to the art direction of a photo shoot and how are you involved in the whole creative process?
When it is a magazine shoot, they usually have an idea in mind and they want you to look a certain character. But I always try to incorporate my own ideas, my individuality and uniqueness, so that they get part of me and the way I am in all my pictures.
In the photoshoots that I do, I am proud that I can bring something original to the table.
There are also things I prefer not to do. For instance, I do not want to hold a cigarette. I also do not shoot naked or model in topless photo shoots. It is important as a model to hold on to certain principles that are dear to you.
You travelled a lot for your overseas modelling assignments. How is the experience like moving from place to place?
I've visited Singapore before while on a vacation. I am here alone now and I really like it here because Singapore is full of malls which I love. I like the simple joy of going to new places and rediscovering old ones.
My New York Fashion Week experience was fun and great! I pushed myself but I dislike the rain and the cold weather. Even on a freezing day, I had to go to about 15 castings.
With the shows, it was so much fun. The people handling the models are really nice and professional. They take good care of the models, which I am very happy about. I have done shows for great and inspiring designers so that is something I am very pleased. Stressful moments for me include trying to make it for the castings.
I remember one night, we started at 8am but I was still rushing to my last stop at 9pm with only about 3 minutes left before my time was up. It was so cold and I was carrying a very heavy bag with my shoes and books. I was on the verge of crying but was so glad I made it!
Most glamorous part about being a model? And the least glamorous?
Of course, the most glamorous part is getting made and dressed up, knowing that you are basically paid to look good.
As for the least glamorous, I think in order to look good, you have to do lots of work.
It is tedious because you need to have a vigorous beauty regime, proper skincare and constantly watch what you eat.
I'm not able to do many things I would like for example, I would love to go to the beach regularly but I cannot because of the UV rays as I tend to get dark very easily.
If I could, I would like to cut my hair shorter.
It is just simple things like these. It does not end when your job finishes. You have to continue to take good care of your body and be mindful of your activities.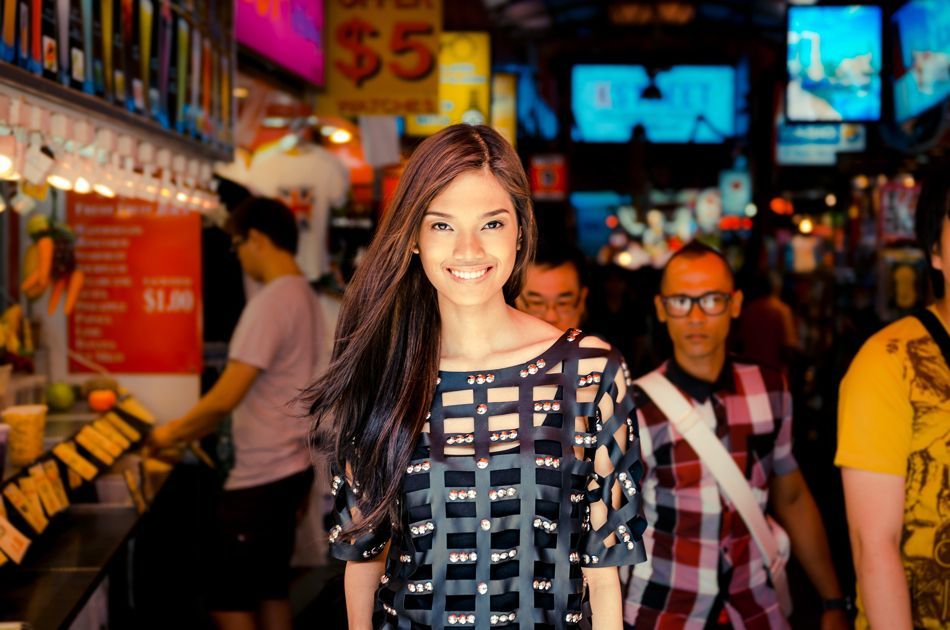 What advice would you give to aspiring models?
If you want to be a model, know what you are getting yourself into. Before you even get a job, you have to go through so much and at best, most models get around two jobs out of ten castings.
In modeling, whatever expectations you may have, put that aside and just be happy with what you have at the moment and enjoy your journey because at the end of the day, it will all come to pass and what you are left witth are just the memories.
What are your goals and dreams for the future?
I would really want to go to Paris and Milan. I am trying to push for that because work is neverending and you will always have something new to aspire towards as a model.
I would love to walk for Chanel be it for their ready-to-wear collections or haute couture. This has always been a dream of mine...