Start:
29 Jun 2013
End:
16 Feb 2014
Location:
ArtScience Museum at Marina Bay Sands
Address:
10 Bayfront Ave, Singapore 018956
Most known for their timeless furniture creations including the Eames Lounge Chair created for Herman Miller, Charles and Ray Eames' influence and innovation extended far beyond that into architecture, exhibition design, toy making and film. 
Based on the book, An Eames Primer, which captures the spirit and philosophy behind the husband-and-wife team, discover the seamless connection among their vast and various creative outputs in the exhibition. 
With over 100 artifacts, the exhibition will showcase a number of rare and never-before-seen works and images. 
Highlights include original paintings by Ray Eames; a special chair designed for Pope John Paul II; reproduction of interactive objects from the Eames' Mathematica exhibition that explains complex mathematical concepts through simple forms; the fun and educational toy, House of Cards – notched cards that can be joined together to build different structures; and groundbreaking films including 'Glimpses of the USA' and 'Powers of Ten'.
Charles and Ray Eames sitting on their own creation.
---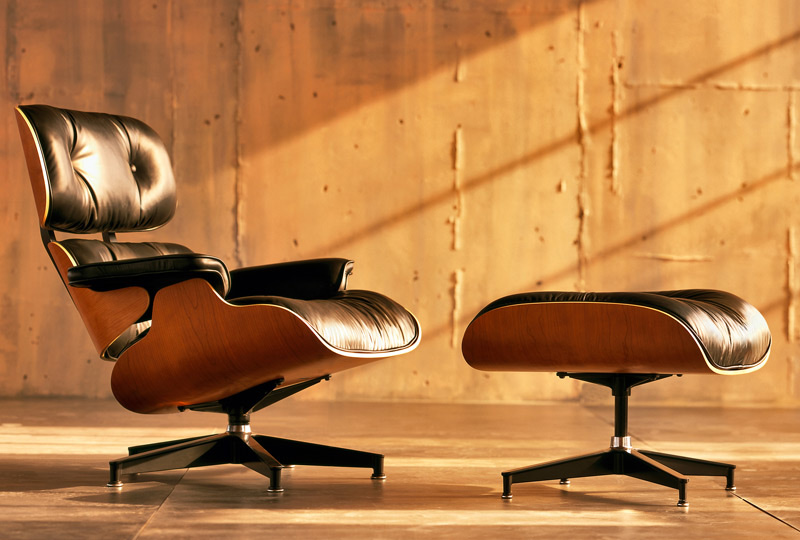 A Short History of Charles and Ray Eames
In the 1950s, the Eameses continued their work in architecture and modern furniture design. As with their earlier molded plywood work, the Eameses pioneered technologies, such as the fiberglass and plastic resin chairs and the wire mesh chairs designed for Herman Miller.
In 1979, the Royal Institute of British Architects awarded Charles and Ray with the Royal Gold Medal. At the time of Charles' death they were working on what became their last production, the Eames Sofa, which went into production in 1984.
Charles and Ray channeled Charles' interest in photography into the production of short films. From their first film, the unfinished Traveling Boy (1950), to Powers of Ten (re-released in 1977), their cinematic work was an outlet for ideas, a vehicle for experimentation and education. The couple often produced short films in order to document their interests, such as collecting toys and cultural artifacts on their travels. The films also record the process of hanging their exhibits or producing classic furniture designs.
Some of their other films cover more intellectual topics.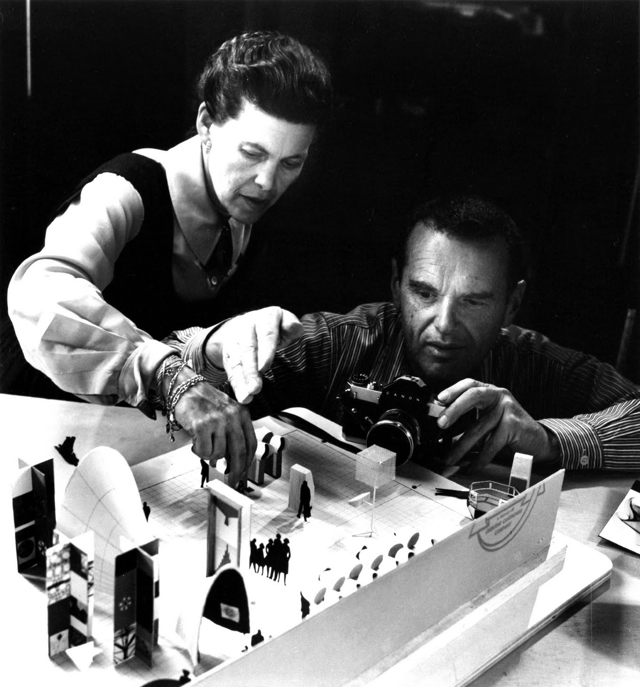 Ray and Charles Eames photographing an early model of the exhibition 'Mathematica: A World of Numbers.... and Beyond', 1960
---
The Eameses also conceived and designed a number of exhibitions. The first of these, Mathematica: A World of Numbers... and Beyond (1961), was sponsored by IBM, and is the only one of their exhibitions still extant. The Mathematica exhibition is still considered a model for science popularization exhibitions. It was followed by A Computer Perspective: Background to the Computer Age (1971) and The World of Franklin and Jefferson (1975–1977), among others.
The office of Charles and Ray Eames, which functioned for more than four decades (1943–1988) in the former Bay Cities Garage at 901 Washington Boulevard in Venice, Los Angeles, California. Among the many important designs originating there are the molded-plywood DCW (Dining Chair Wood) and DCM (Dining Chair Metal with a plywood seat) (1945), Eames Lounge Chair (1956), the Aluminum Group furniture (1958) and as well as the Eames Chaise (1968), designed for Charles's friend, film director Billy Wilder, the playful Do-Nothing Machine (1957), an early solar energy experiment, and a number of toys.
Source: Wikipedia
The exhibition will open on 29 June 2013 through 5 January 2014.