Start:
30 May 2014 - 10:30 AM
End:
27 Jul 2014 - 07:30 PM
Location:
Third Floor - Hermès
Address:
541 Orchard Road, Liat Towers, Singapore 238881
By Natalie White | Photos by Edward Hendricks
The Fondation d'Entreprise Hermès supports people and organisations seeking to learn, perfect, transmit and celebrate the skills and creativity that shape and inspire our lives today, and into the future.
Its central focus is on artisan expertise and creative artistry in the context of society's changing needs and it is with this mission that the organisation is hosting a new site-specific artwork by Aiko Tezuka at Third Floor - Hermès, which opens to the public with free admission, from 30 May through 27 July 2014.
Launched in early 2006, Third Floor located at the Hermes boutique in Liat Towers on Orchard Road, is a non-commercial art space that champions contemporary young artists by commissioning, producing and presenting works within its space.
The Singapore showcase location by the Fondation d'Entreprise Hermès is one of few worldwide, alongside those found only in Brussels, Bern, Seoul, Tokyo and New York.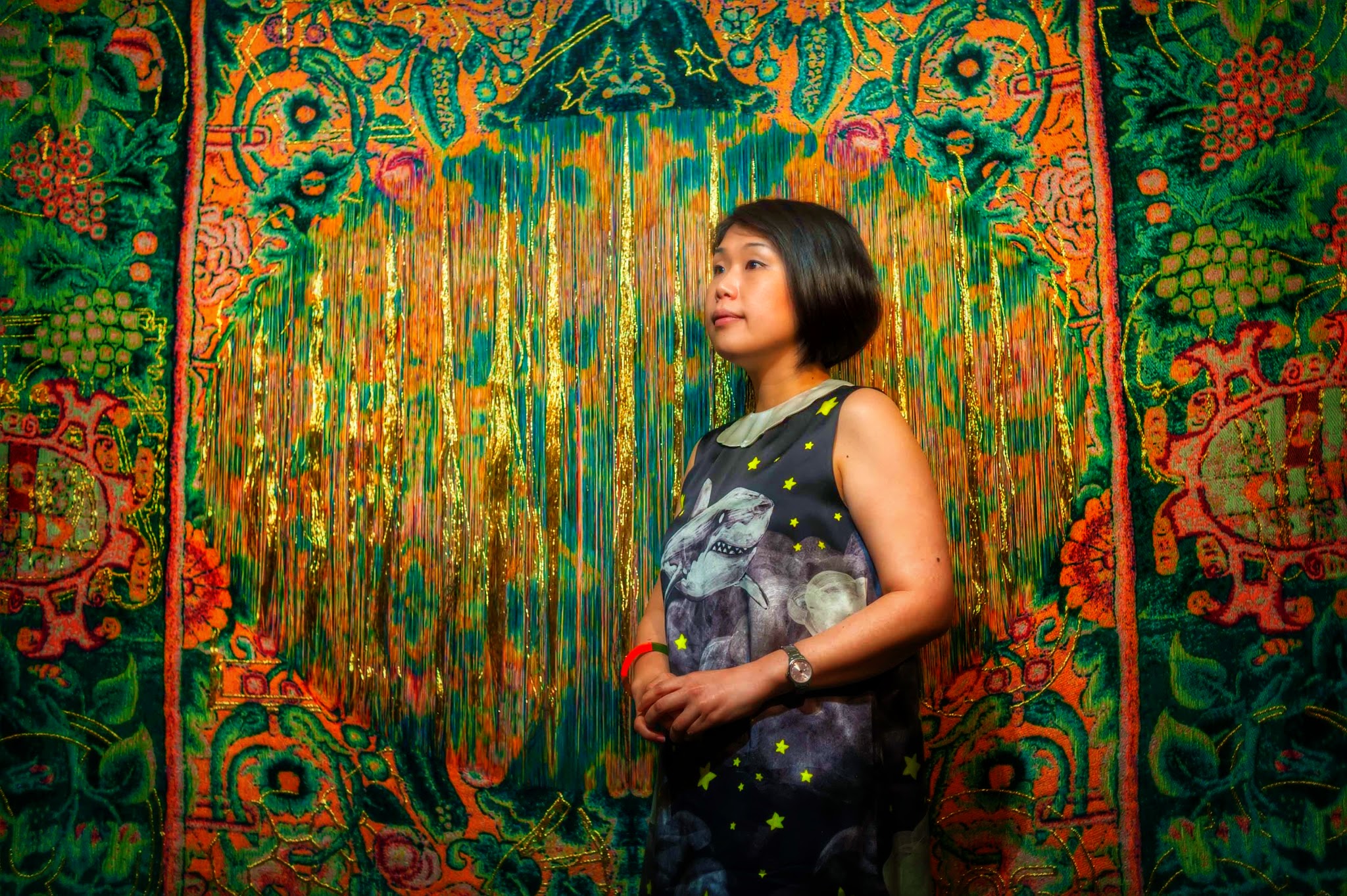 Aiko Tezuka was in attendance at the preview launch party held on 29 May, joined by VIPs, guests and members of the press. See more photos
Certainty/Entropy is an exploration by the artist on the invisible narratives and embedded heritage that exist in the motifs of textiles, as a looking glass into the very fabric of civilisation, its legacy and the evolving cultures of the world today. Through the act of meticulously unraveling fabrics by hand, Tezuka creates compelling compositions of loosened threads, offering a poetic transformation of industrially produced textiles into their constituent parts.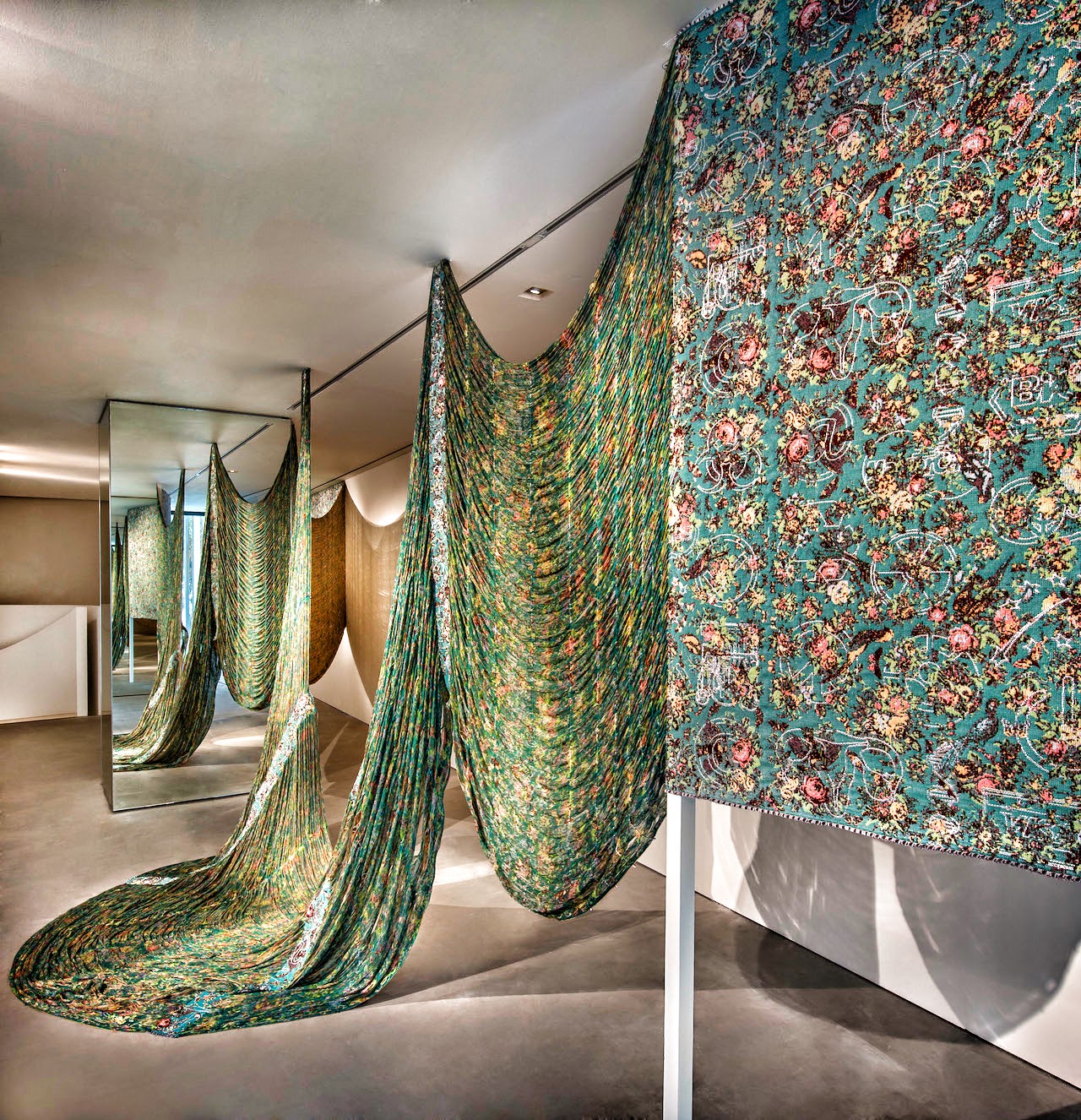 Four multicoloured fabric works, conceptualized and produced by Tezuka and her team of seven artisans at a textile lab in Holland, feature in the exhibit.
Weaving an immediately vibrant assortment of birds, butterflies, flowers and fruit patterns inspired by Singapore's cultural diversity, Tezuka subtly interlaces modern-day iconographies into them, reflecting her fascination with intercultural exchanges and the metamorphosis of societies.
Curious for alternative histories, Tezuka further "unravels tradition" by pulling out threads from the compositions, offering a different perspective in the process. The woven motifs fade out gently into blurred images under her meticulous hands, seeking hidden stories beneath the fabric of life.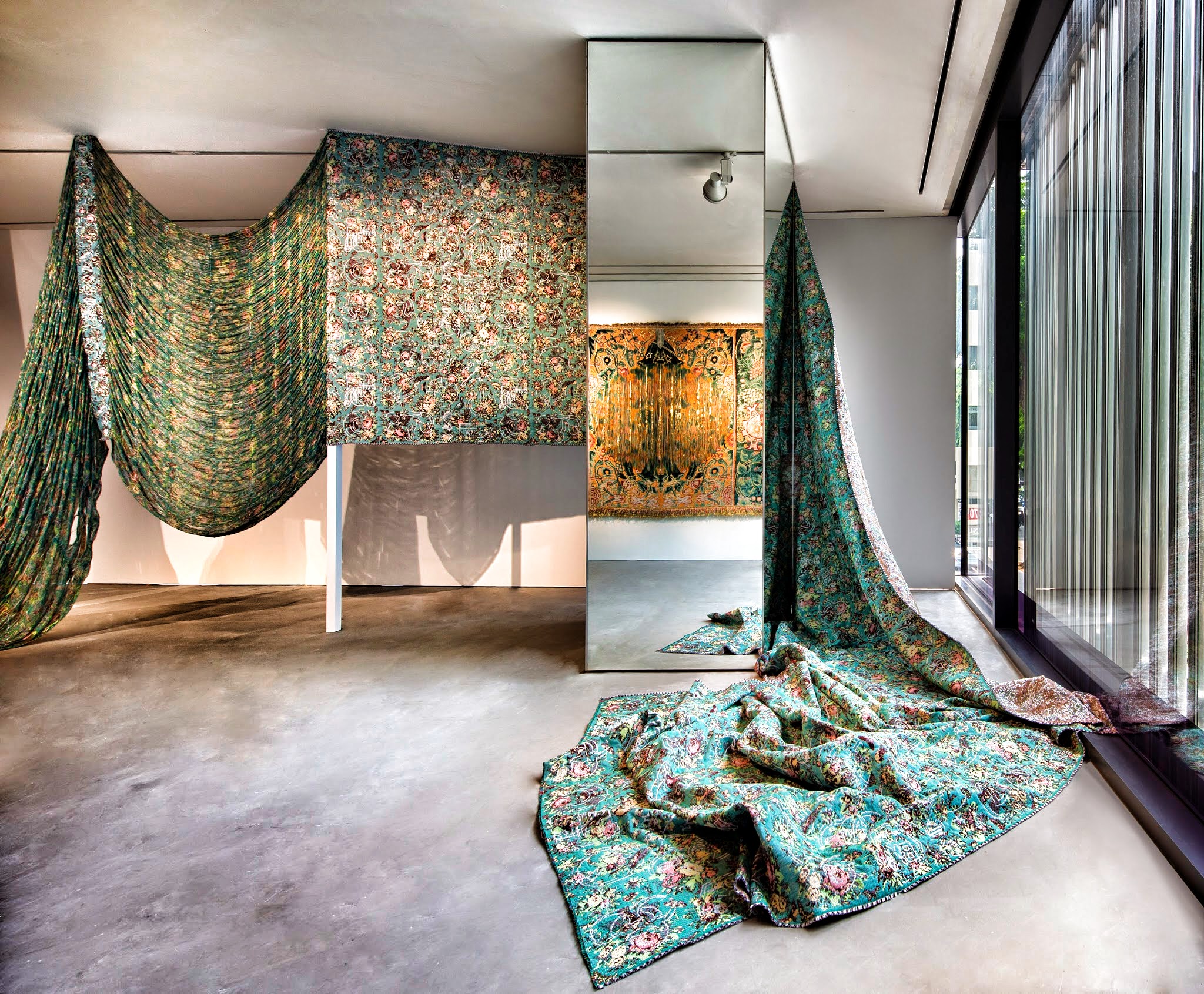 Indeed, the breathtakingly intricate and high quality workmanship of the tapestries reinforce the Fondation d'Entreprise Hermès' commitment to celebrating artistry and innovation.
It is here where visitors are welcomed into a contemplative space to ponder the narratives of life, and encouraged to muse upon the past and the paths that were not taken.