Start:
14 Mar 2015
End:
19 Jul 2015
Location:
Victoria & Albert Museum
Address:
Cromwell Road, London SW7 2RL, United Kingdom
By Natalie White | Photos from McQueen Archives and 2011 Met Exhibit
From 4 May to 7 August in 2011, the Metropolitan Museum of Art in New York City held the exhibition, organized by The Costume Institute, celebrating the late Alexander McQueen's extraordinary contributions to fashion. From his Central Saint Martins postgraduate collection of 1992 to his final runway presentation, which took place after his death in February 2010, McQueen challenged and expanded the understanding of fashion beyond utility to a conceptual expression of culture, politics, and identity. His iconic designs constitute the work of an artist whose medium of expression was fashion.
Held over 77 days, the showcase hosted more than 600,000 visitors, becoming the museum's top 10 most visited exhibitions.
The Victoria & Albert Museum in London has announced that after four years since the first Alexander McQueen: Savage Beauty exhibition was held in New York, that it will be presenting the exhibit from 14 March to 19 July 2015.
This is set to be will be the first and largest retrospective of McQueen's work to be presented in Europe.
It is a "homecoming" of sorts for the late McQueen who born in London helped revive the British fashion industry with edgy designs that ranged from sculptural cocktail dresses in psychedelic patterns to high heels shaped like lobster claws. It was in January 2000 when the designer himself said, 
London's where I was brought up. It's where my heart is and where I get my inspiration."
McQueen committed suicide in February 2010 at age 40, but his London-based fashion house lives on under designer Sarah Burton who added that the exhibition "is a celebration of the most imaginative and talented designer of our time."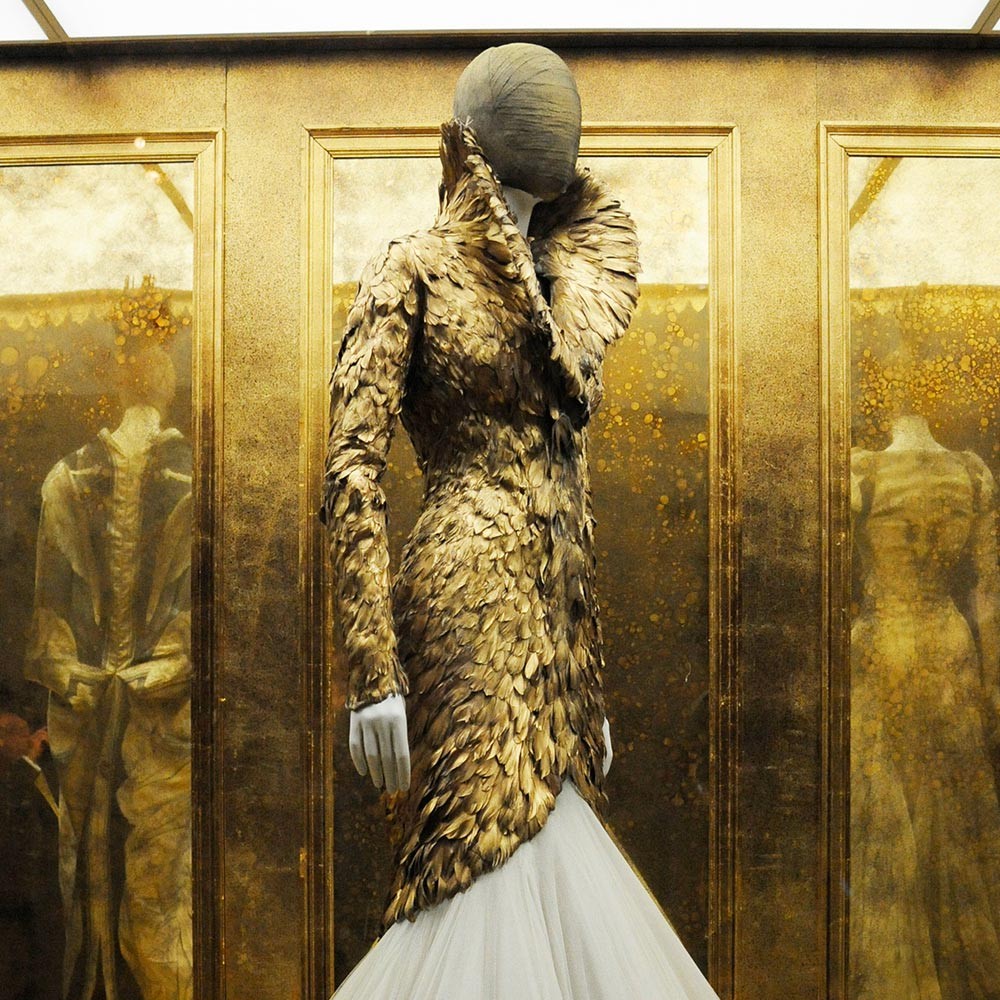 The exhibition will feature approximately 100 ensembles and 70 accessories from McQueen's prolific 19-year career. Drawn primarily from the Alexander McQueen Archive in London, with some pieces from the Givenchy Archive in Paris as well as private collections, signature designs including the "bumster" trouser, the kimono jacket, and the three-point "origami" frockcoat.
McQueen's fashions often referenced the exaggerated silhouettes of the 1860s, 1880s, 1890s, and 1950s, but his technical ingenuity always imbued his designs with an innovative sensibility that kept him at the vanguard.
---
---
Key Themes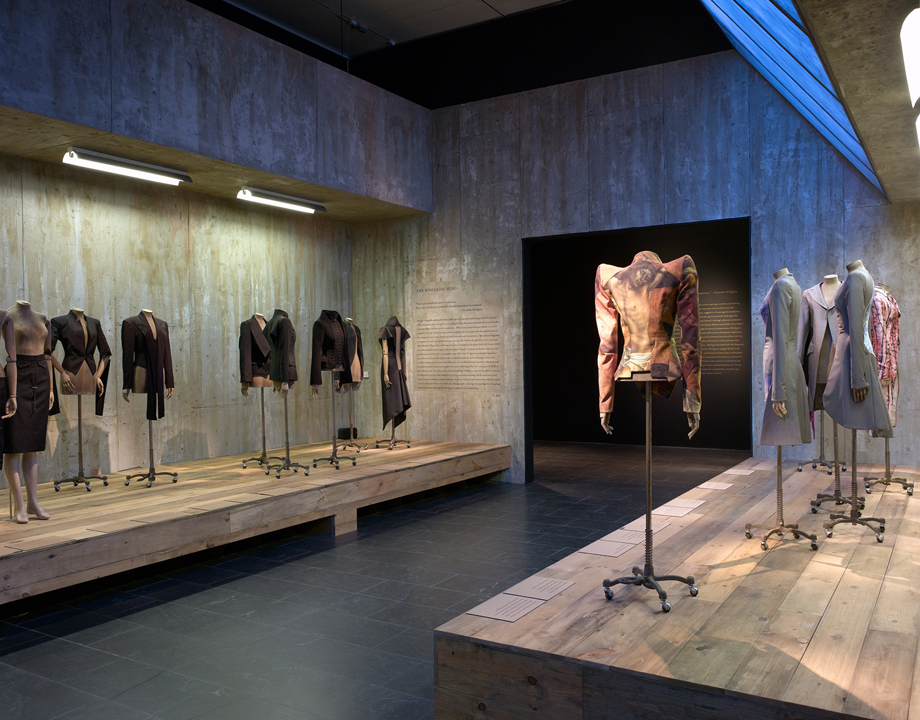 The Romantic Mind
McQueen doggedly promoted freedom of thought and expression and championed the authority of the imagination. In so doing, he was an exemplar of the Romantic individual, the hero-artist who staunchly follows the dictates of his inspiration. "What I am trying to bring to fashion is a sort of originality," he said. McQueen expressed this originality most fundamentally through his methods of cutting and construction, which were both innovative and revolutionary.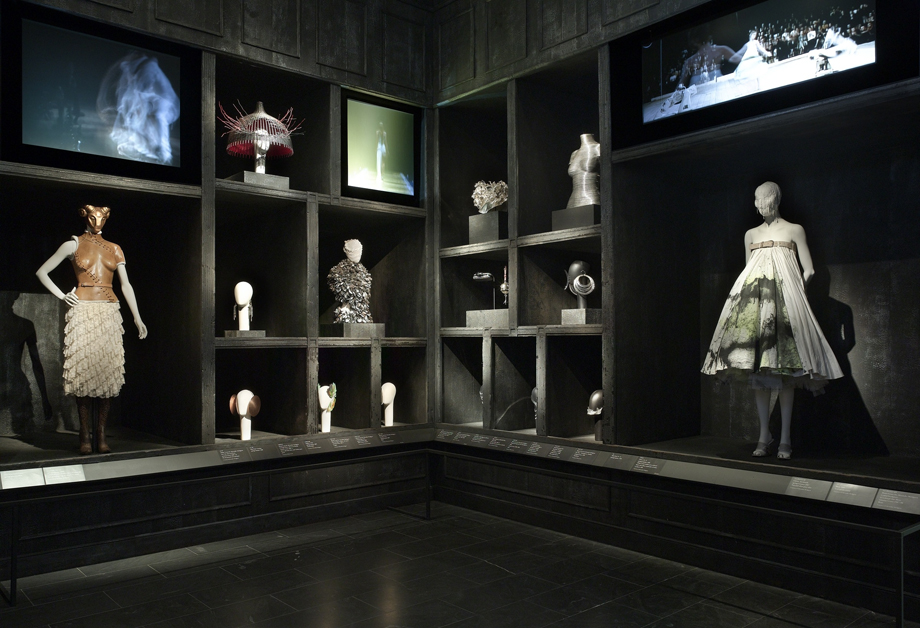 Romantic Gothic and Cabinet of Curiosities
One of the defining features of McQueen's collections is their historicism. While McQueen's historical references are far-reaching, he was particularly inspired by the nineteenth century, especially the Victorian Gothic which combines elements of horror and romance. McQueen's collections often reflect opposites such as life and death, lightness and darkness. Indeed, the emotional intensity of his runway presentations was frequently the consequence of the interplay between dialectical oppositions. The relationship between victim and aggressor was especially apparent, particularly in his accessories.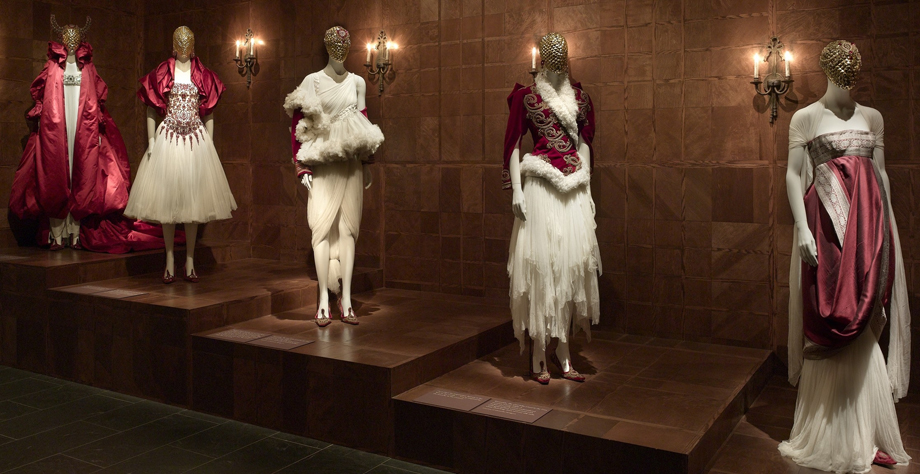 Romantic Nationalism
McQueen's collections were fashioned around elaborate narratives that are profoundly autobiographical, often reflecting his Scottish heritage. Indeed, when he was asked what his Scottish roots meant to him, he replied, "Everything." McQueen's national pride is most evident in the collections Highland Rape (autumn/winter 1995–96) and Widows of Culloden (autumn/winter 2006–7). Both explore Scotland's turbulent political history.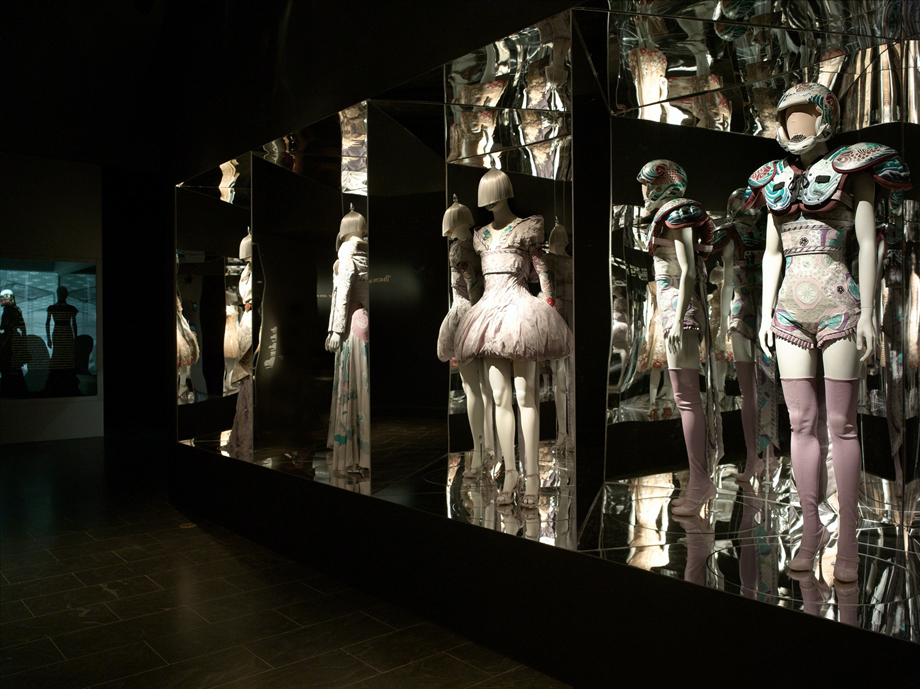 Romantic Exoticism
McQueen's romantic sensibilities expanded his imaginary horizons not only temporally but also geographically. As it had been for Romantic artists and writers, the lure of the exotic was central to his work. Like his historicism, McQueen's exoticism was wide ranging—India, China, Africa, and Turkey all sparked his imagination. Japan was particularly significant to him, both thematically and stylistically. For McQueen, the body was a site for contravention, where normalcy was questioned and the spectacle of marginality was embraced and celebrated.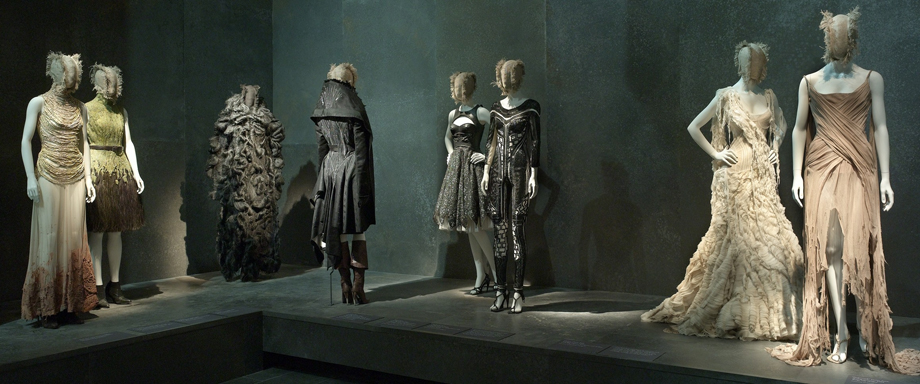 Romantic Primitivism
Throughout his career, McQueen returned to the theme of primitivism, which drew upon the ideal of the noble savage living in harmony with the natural world. It was the focus of his first runway collection after graduating, Nihilism (spring/summer 1994). Typically, McQueen's narrative glorified the state of nature and tipped the moral balance in favor of the "natural man" or "nature's gentleman" unfettered by the artificial constructs of civilization.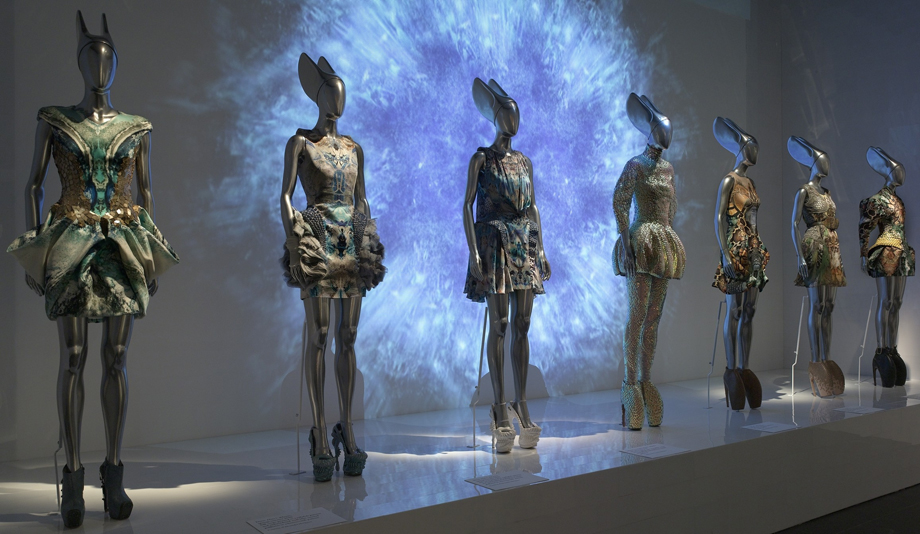 Romantic Naturalism
Nature was the greatest, or at least the most enduring, influence upon McQueen. It was also a central theme, if not the central theme, of Romanticism. Many artists of the Romantic movement presented nature itself as a work of art. McQueen both shared and promoted this view in his collections, which often included fashions that took their forms and raw materials from the natural world. For McQueen, as it was for the Romantics, nature was also a locus for ideas and concepts.
---
---
The exhibition is organized by Andrew Bolton, curator, with the support of Harold Koda, curator in charge, both of The Costume Institute. Sam Gainsbury and Joseph Bennett, the production designers for Alexander McQueen's fashion shows, serve as the exhibition's creative director and production designer, respectively.
For more information, go to //www.vam.ac.uk/content/exhibitions/exhibition-alexander-mcqueen-savage-beauty/