Start:
15 Jun 2013
End:
16 Jun 2013
Location:
Various locations
Address:
rance, Italy, Spain, Switzerland, the UK and Poland.
LVMH Group's Maisons has invited the general public to the 2013 edition of the Group's open day event, "Les Journées Particulières", which will take place on the 15 and 16 of June.
This follows the success of the first edition of Les Journées Particulières, which attracted more than 100 000 visitors to 25 unique sites across France and Europe for a behind-the-scenes glimpse of LVMH brand sites and craftsmanship at work.
This year more than 40 sites will open their doors across France, Italy, Spain, Switzerland, the UK and Poland.This will include several from the previous event, such as the studios of Christian Dior, the family home of Louis Vuitton and the workshop at Asnières, where the bespoke shoes of Berluti are made.
New sites, which will be opening their doors to the public for the first time at Les Journées Particulières this year include: the production site of Guerlain in Orphin (Rambouillet), Louis Vuitton's workshop in Marsaz, the Numanthia Vineyard in Spain, Acqua di Parma in Italy, the workshops of Zenith, TAG Heuer and Hublot watches in Switzerland. 
Les Journées Particulières is a unique event designed to celebrate the heritage and craftsmanship of LVMH Group's Maisons.
The success of the first edition demonstrates the public's recognition of LVMH's heritage in hospitality, craftsmanship and viticulture, which are a part of the collective heritage of France and of all the great artisanal countries of Europe, while also being an important source of economic strength and employment.
Les Journées Particulières is, first and foremost, a celebration of the skill and craftsmanship of the numerous artisan trades represented across the Maisons of LVMH Group. The heritage sites that will be opening their doors are the pride of LVMH Group and its 48 000 European employees.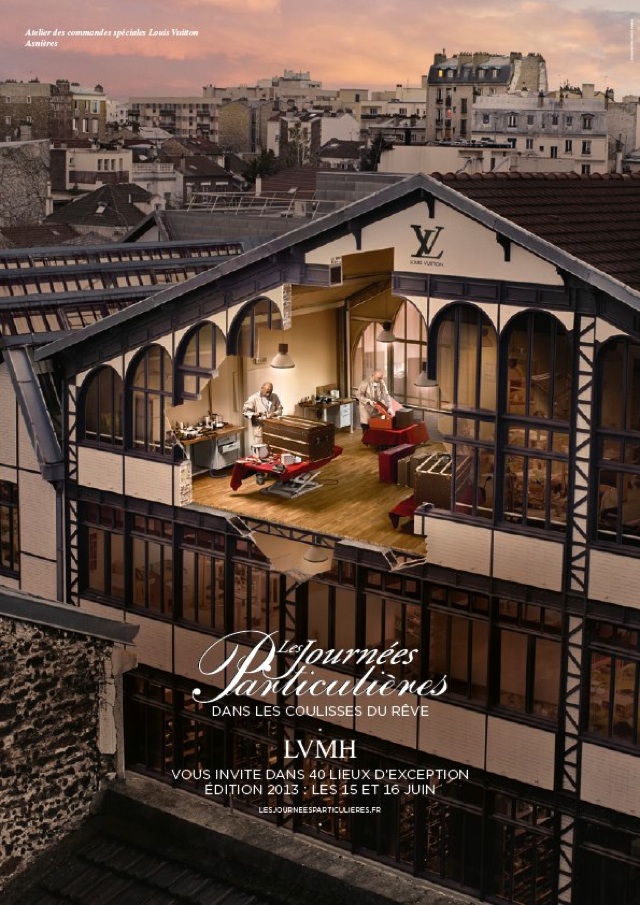 Commenting on the event, Antoine Arnault, CEO of Berluti and LVMH Board Member, said: "We are especially proud and pleased to be repeating this event. Thousands of artisans and employees were mobilised in 2011 in order for the public to be able to discover for themselves the richness of our heritage and the expertise and knowledge that the Maisons of the LVMH Group continue to pass from generation to generation.
"The enthusiasm that the 2011 event was met with convinced us that it would be worth repeating, while at the same time increasing its scale.
I am sure that those of you who enter our Maisons will be as impressed as I am by the talent that our artisans possess and I hope you experience the emotion we feel every time we step behind the scenes.
"We look forward to welcoming you once again." 
On the 15 and 16 of June the public will be able to discover the heritage and the savoir-faire of LVMH Group.