Start:
10 Oct 2012
End:
06 Jan 2013
Location:
ArtScience Museum at Marina Bay Sands
Address:
10 Bayfront Avenue, Singapore 018956
Magnum Photos, the renowned photographic co-operative featuring the world's finest photographers, has finally arrived to Singapore with Outside In: A Magnum Photos Showcase at ArtScience Museum.
For the first time in Asia, photography fans will get a chance to see works by three distinguished photographers - Stuart Franklin, Mark Power and Jacob Aue Sobol, the newest member of Magnum, from 10 October to 6 January 2013.
Outside In: A Magnum Photos Showcase will mark the 65th anniversary of the agency, and is the largest collection of Magnum photographs in Singapore, with a total of 143 pieces on display. Visitors to the exhibition have the opportunity to participate in complementary programs, where the principle of photography is explained and explored.
In the hands of a Magnum photographer, the camera is not just an objective eye, but an instrument to enlighten and inform, a stimulating force to influence opinion and sometimes to speak for those with no voice
.
-
Russell Miller
, author of 
Magnum, Fifty Years at the Front Line of History
Best known for his iconic photograph of a student challenging army tanks in Tiananmen Square in 1989, legendary British photographer Stuart Franklin will be displaying his long-term work, Footprint: Our Landscape in Flux, which tracks Europe's altering landscape through the effects of pollution, flooding and the diminishing of glaciers.
His work also documents the positive side of environmental changes that includes the presence of sanitary water, regenerating forests in Scotland and Poland, and cleaner cities.
Franklin received critical acclaim for his work on the coverage of the Sahel Famine in the early 1980s. Following which, he contributed to the likes of National Geographic, where he completed over twenty assignments for the publication. His passion for documentary photography has taken him to exotic destinations such as, Central and South America, China, Southeast Asia and Europe. Since 2004, he has focused on long-term projects concerned primarily with man and the environment.
British photographer Mark Power's Sound of Two Songs is a more intimate account of a foreigner's impression of Poland. Initially a Magnum-instigated project, the five-year project saw Power making more than 20 trips back to Poland as he discovered the poetic side of the country's fascinating transition and state. Power's work is best known for his large scale format and conceptual techniques.
He has published five books and is currently a Professor of Photography at the University of Brighton in the United Kingdom.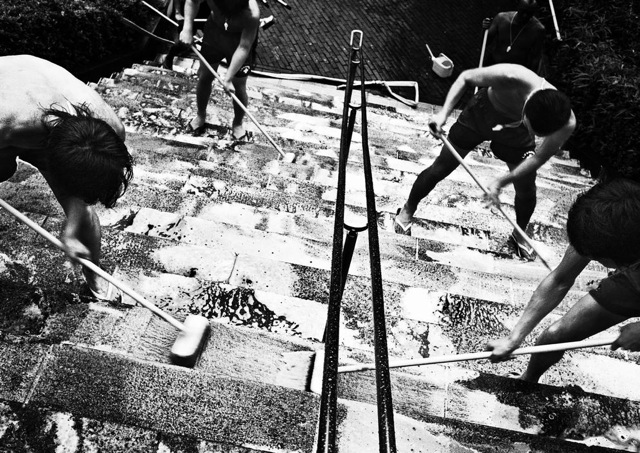 The third featured exhibition is by Danish photographer Jacob Aue Sobol, Magnum's newest member. I, Tokyo is a personal pictorial journal of Sobol, which captures his experience living in Tokyo with his Japanese girlfriend. The clash of cultures saw Sobol feeling out of place with the lack of eye contact, silence amongst big crowds and the fast pace of life in Japan.
Pictures were taken with a pocket camera and served as a reminder for Sobol to document his experiences and mood at that time. The snap-shot style of I, Tokyo gives visitors an intimate sense of unpredictability and playfulness, inviting them into Sobol's self-discovery in Japan.
---
In conjunction with Outside In: A Magnum Photos Showcase, ArtScience Museum will be one of the six venues in the 3rd Singapore International Photography Festival's (SIPF) Open Call exhibitions, which feature 414 selected images out of almost 9,000 submitted from 50 countries in total.
 Singapore's own Sean Lee's A Healing Device and Zakaria Zainal's Singaplural will be showcased at ArtScience Museum, along with works from 18 other photographers.