MB&F's magical M.A.D.Gallery situated in the heart of Geneva, is a creative platform that hosts not just MB&F's Horlogical Machines but also all sorts of other "Machines" from around the world, by creators who will amaze and amuse you in many different ways.
The MB&F M.A.D.Gallery is a captivating universe of kinetic art where Horological Machines and Mechanical Art Devices reign supreme.
MB&F's M.A.D.Gallery is now open in Geneva on Rue Verdaine, a stone's throw from their offices and atelier in the heart of the city's old town.
Featured here are the incredible "Machine Lights" by Frank Buchwald joining the lineup of masterpieces like the sleek "Konstantin B" car by Slovenian designer Nika Zupanc, the transformer sculptures by Chinese artist Xia Hang, or the kinetic objects by Laikingland, an English pair with a great sense of humour.
These are indeed Mechanical Art Devices – the "M.A.D." in M.A.D.Gallery.
About Frank Buchwald
Imagine a battered building in the center of Berlin, full of World War II bullet holes and with no heating to stave off the cold of winter… this is where the artist Frank Buchwald creates his Machine Lights from the metal bars and blocks strewn around his unique workshop.
Buchwald was born in 1956 and studied at Berlin's prestigious school of Fine Arts before becoming an independent artist and science fiction illustrator.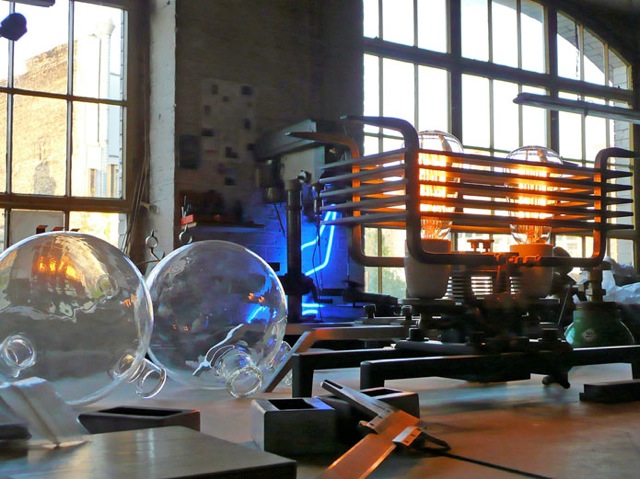 For the past 20 years, the Hannover native has focused his complete attention on the creation of his Machine Lights – extraordinary artworks crafted solely by hand, the fruits of his patiently-honed idiosyncratic techniques in metallic art and design.
It takes him five weeks to create one piece.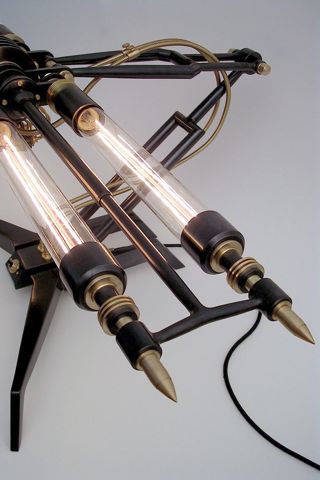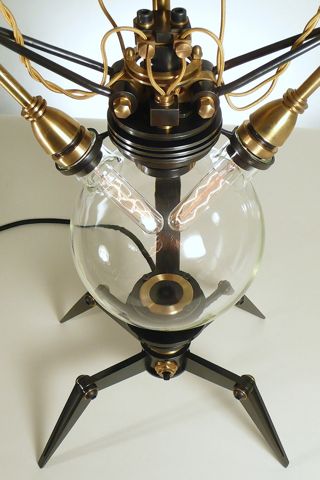 See more photos: //senatus.net/album/view/6624/
As a self-taught artist sketching only on paper with pencil and marker pens, Buchwald learned how to transform materials such as steel and glass into astonishing pieces of art. Until now, he has been creating ten Machine Lights a year in virtual anonymity. With his bare hands – or with gloves when the winter chill becomes unbearable – Buchwald heats the steel, treats it with acid, shapes and colors the metal into life. 
Each Machine Light represents a fragment of Frank Buchwald's own life.
The collection of 12 Machine Lights currently on display at the M.A.D. Gallery is a testimony to an artist who exudes immeasurable passion and eschews conventionality. Named from Type 1 to Type 12, each machine is made from brass, burnished steel, textile cables and retro-futuristic light bulbs.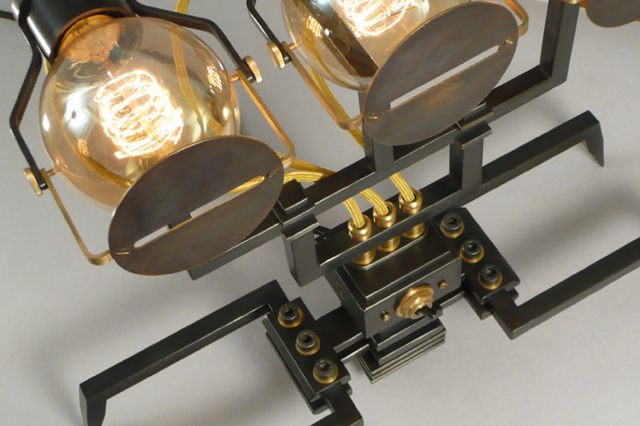 Buchwald loves to transform everyday objects into timeless works of art.
If you're in Geneva, make sure to pay a visit to the MB&F M.A.D. Gallery!
M.A.D. Gallery
Rue Verdaine 11
1204 Geneva
Switzerland
Tel: +41 22 508 10 38
Fax: +41 22 310 97 11
Email: info@madgallery.ch