An innovative new range of rolling trunks from Louis Vuitton for the 21st century traveller has been designed by Marc Newson.
The industrial and product designer had previously worked on a collaboration with the French luxury label for its 160th anniversary in 2014, contributing a Fleece Pack of backpacks for the special series entitled "Celebrating Monogram".
In a throwback reference to Vuitton's historic trunks, the new luggage pieces feature corners are covered in natural cowhide leather as are the handles, studied to offer maximum comfort when in use and minimum volume when out of use.
The trunk is structured out of a new type of self-reinforced polypropylene, moulded in a mesh matrix of several layers. Its exceptionally thin, lightweight and elastic characteristics can absorb shocks.
Louis Vuitton's emblematic Monogram canvas is wrapped in a new ultra light material, with almost 50% in weight.
The anodised aluminium extendable cane has been relocated outside from within the trunk, adding both structure and strength, as well as substantially increasing the interior packing space, removing entirely the awkward bumps and ridges normally associated with internal cane mechanisms and leaving in useful space in its place.
Additional innovations include a new transversal side hinge that is built-in within the structure of the trunk itself, just like Louis Vuitton's traditional hard trunks, allowing for 180 degree opening.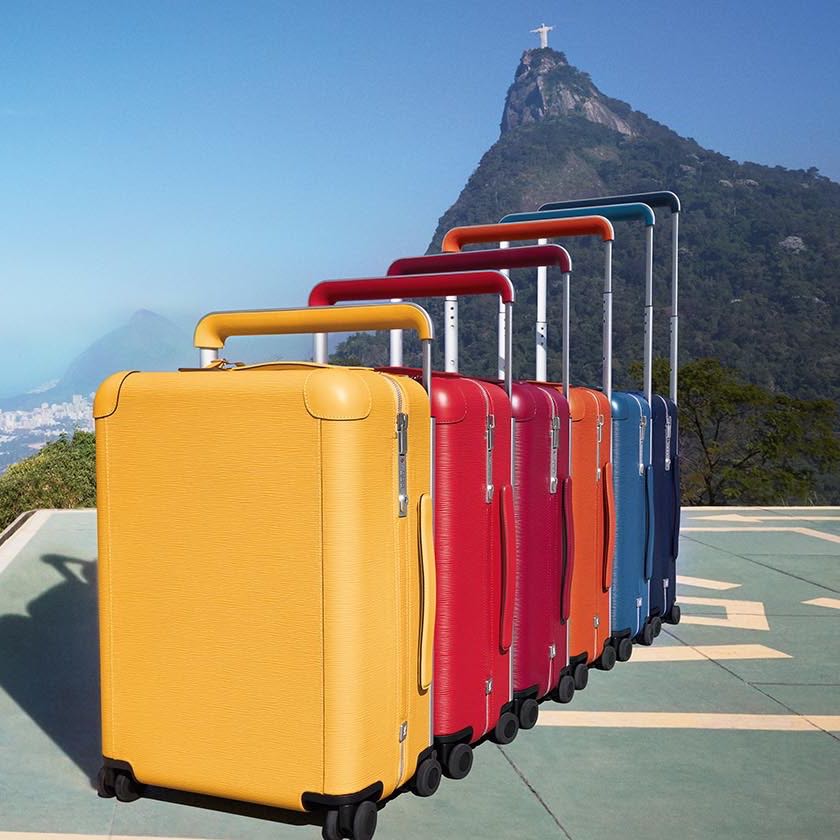 The ultra-slim aluminium 3-digit combination zip-pull lock system is TSA approved and integrated with a single zipper pull, designed to reduce weight and avoid the usual stress points with double zip pulls in luggage.
Four miniature wheels, engineered to be as silent as possible, offers 360 degree movement, whilst ensuring smooth and stable manoeuvring.
Taking 18 months to develop, the luggage sees an increase in internal volume by 15% compared to a similar sized trunk with the traditional internal mounted cane, and an unparalleled 37-litre capacity in the cabin size.
Lightweight, strong and resistant, the trunk weighs a mere 2.7kg for the 50 version and 3kg for the cabin size, excluding the inside elements.
Three new pending patent applications include the zip-pull lock system, an ultra-thin titanium layer bonded to the polypropylene composite shell, and the external full-width extendable cane.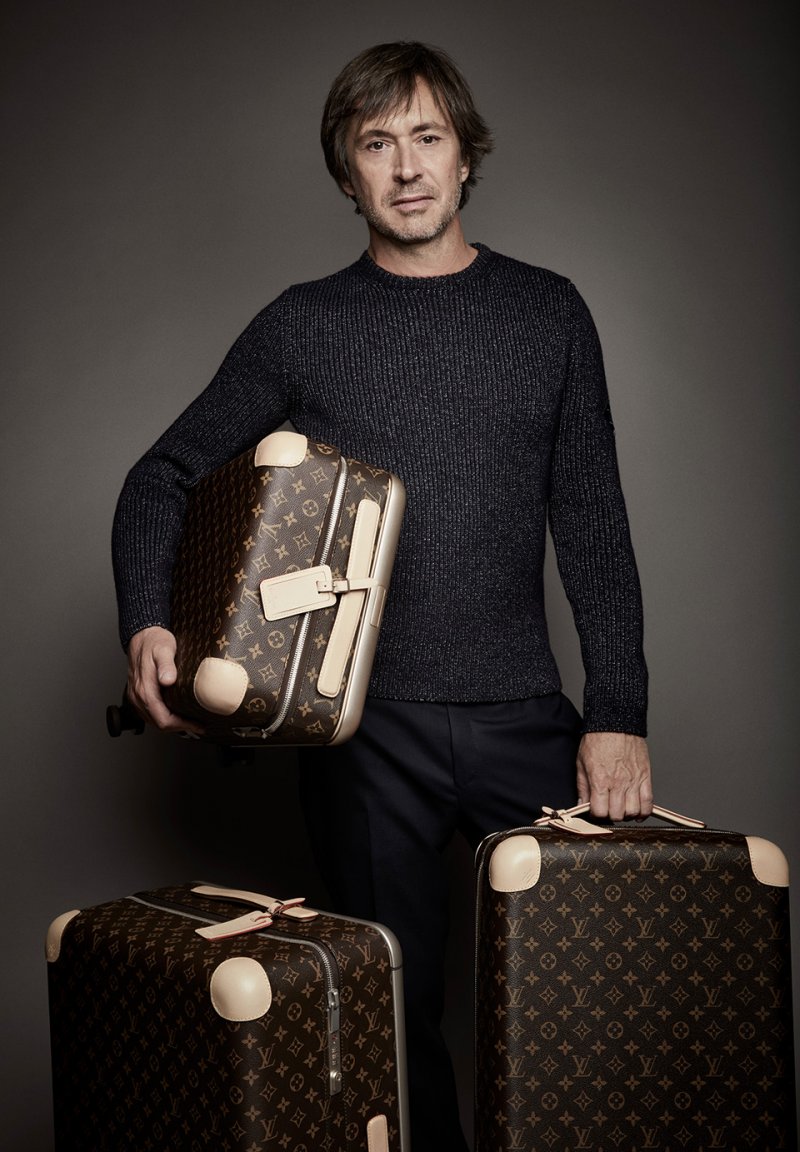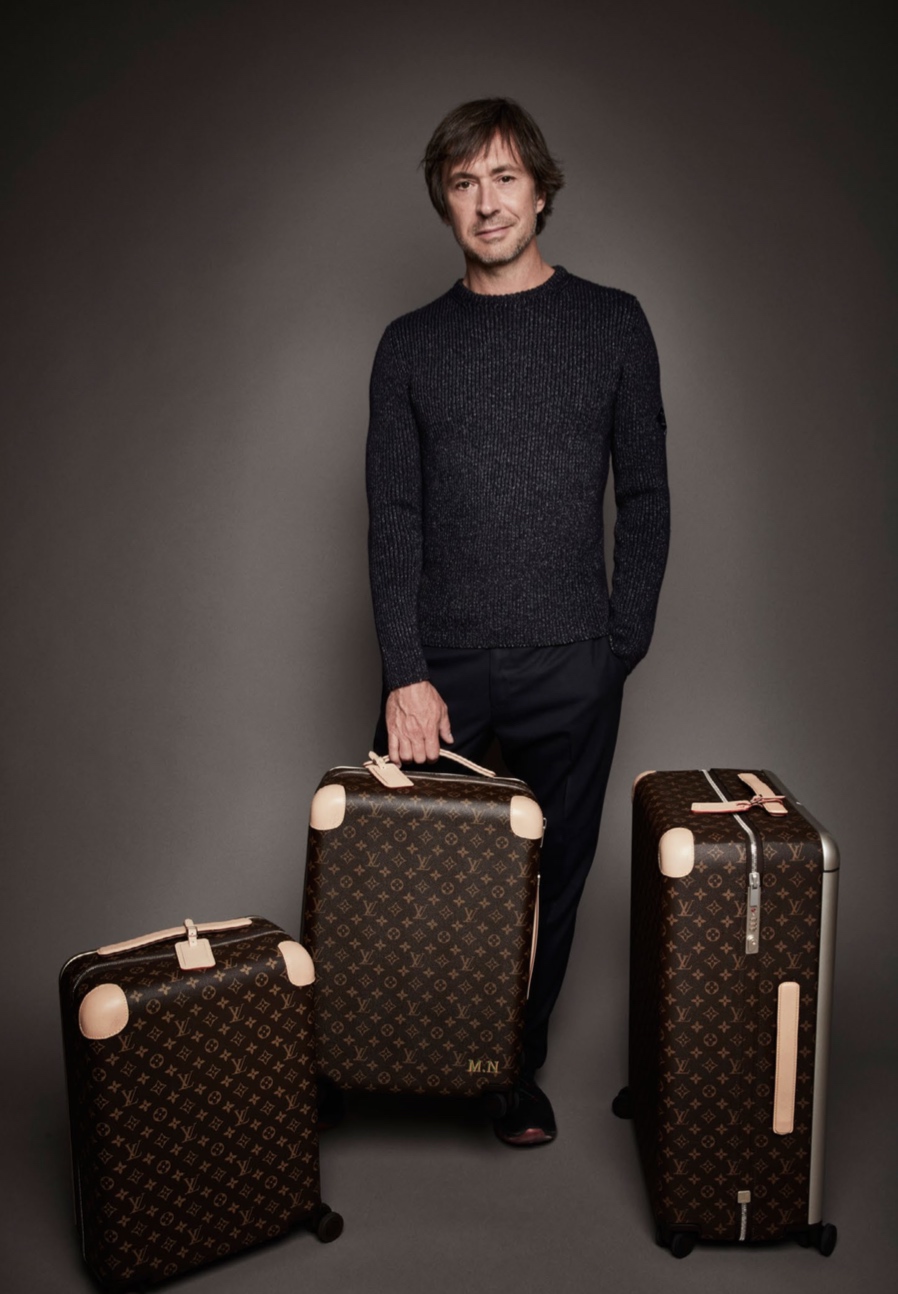 "What compelled me to join forces with Louis Vuitton was the challenge to design a great piece of luggage, because like a lot of people, I travel a lot and I feel that I am in many ways kind of uniquely placed to be able to do that, as a consumer more so than a designer", says Marc Newson.
The trunks come with a protective cover for use when checking in, an interior removable x strap and a removable mesh screen divider panel. A special range of additional accessories have been created that include a briefcase with a special strap to attach to the trunk, a padded computer sleeve, an accessories pouch, a set of 2 washable shoe pouches and a garment cover. The trunk has luggage tag and an accessory pouch that can be personalised.
The trunk is produced in Monogram canvas, Monogram Eclipse, Damier Graphite, Taiga leather, in natural cowhide leather and a rainbow of 7 colours of Epi leather. 2017 will see the addition of an additional model with laser-engraved monogram titanium finish.
The trunk comes in two cabin sizes, 50 (50 x 35 x 20 cm) and 55 (55 x 39 x 21 cm) while a check-in size 70 will come later on.
To accompany the launch, Louis Vuitton will offer a 48 hour after-sales repair service in 14 cities globally.
---
Available in Singapore
Monogram/Eclipse/Damier Canvas 55: $4,250
Monogram/Eclipse/Damier Canvas 50: $3,650
Taiga Leather 55: $5,850
VVN Leather 55: $8,100
Epi Leather 55: $5,850
Epi Leather 50: $5050