Start:
17 Mar 2012
End:
12 Aug 2012
Location:
ArtScience Museum @ Marina Bay Sands
Address:
10 Bayfront Ave, Singapore 018956
25 years after his death, Andy Warhol's creations continue to make an impact on the global art scene.
To highlight the influence of Andy Warhol on Southeast Asian modern and contemporary art, three artists from the region have been selected to showcase their artworks as part of the upcoming Andy Warhol: 15 Minutes Eternal exhibition at ArtScience Museum at Marina Bay Sands in Singapore when it opens on 17 March 2012.
This collection is exclusive to the Singapore venue of the exhibition.
Over 16 artworks and associated documentation such as publications and photographs have been selected by ArtScience Museum with each reflecting a visual language similar to Warhol's but infused with distinctive cultural elements.
Specially curated by the museum for the exhibition, the artworks draw on common themes and techniques made famous by the iconic Pop Artist, for example his interest in mass consumer, pop and celebrity culture, and the use of mass reproduction techniques for art.
Key highlights include: taking famous icons such as Mickey Mouse from their "Western" environment and depicting them as traditional Thai mythical figures; and a local take on Warhol's Campbell Soup series with a can of Ma Ling luncheon meat – a brand of canned processed meat many local Singaporeans can identify with.
Visitors to the gallery will be able to view the artworks from three artists from Singapore, Malaysia and Thailand, including: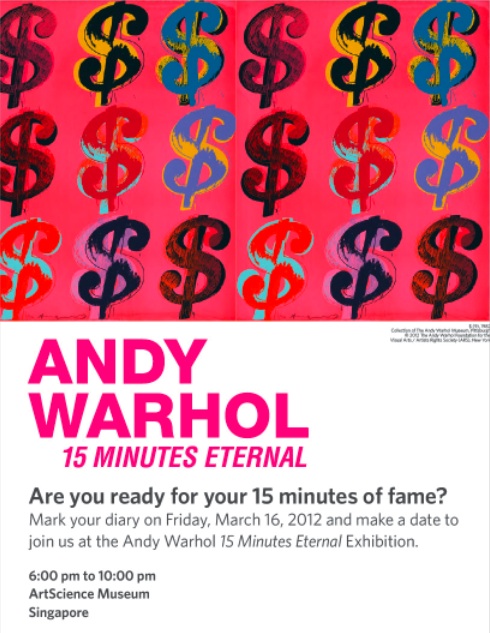 Jahan Loh (Singapore): Jahan Loh works primarily in the field of urban pop painting. He merges both the traditional presentation mode of "high-end" visual pop art with modern street art into his paintings.
Ibrahim Hussein (Malaysia; 1936-2009): Ibrahim Hussein devised a medium called "printage" which is a combination of printing and collage. Having met Andy Warhol in 1977 as a fellow exhibitor, he created a printage in memory of his friendship with Warhol.
Jirapat Tatsanasomboon (Thailand): Jirapat Tatsanasomboon is known for applying pop-art style to his paintings which often feature interactions between East-West and Modern-Traditional. He takes on well-known icons in the art and entertainment industry and immerses them in a Thai context.
Andy Warhol: 15 Minutes Eternal is the largest collection of iconic works by Andy Warhol exhibited in Asia and will be on display at ArtScience Museum at Marina Bay Sands on the 25th anniversary of the artist's death. The exhibition, sponsored by BNY Mellon and organized by The Andy Warhol Museum in Warhol's home town of Pittsburgh, chronicles the breadth of Warhol's career and demonstrates the scope of his interests.
Andy Warhol: 15 Minutes Eternal will run from 17 March 2012 until 12 August 2012. This exhibition is part of an Asian tour that will travel to five cities over 27 months starting in Singapore. It will then move on to Hong Kong, Shanghai, Beijing and finally Tokyo in 2014.