Start:
24 Nov 2010 - 07:00 PM
End:
24 Nov 2010 - 09:30 PM
Location:
Velvet Underground, Zouk
Address:
17 Jiak Kim Street, Singapore 169420
WAN-IFRA, the World Association of Newspapers and News Publishers, announces the winners of the first Asian Digital Media Awards, presented November 24, 2010, during the second edition of the Digital Media Asia Conference in Singapore.
More than 50 media companies from 13 countries across Asia participated in this new competition. 
"The Asian Digital Media Awards were launched to identify the best and recognize outstanding work in the digital media space in Asia Pacific," said Thomas Jacob, Deputy CEO of WAN-IFRA and Managing Director for Greater Asia Pacific.
The Asian Digital Media Awards feature categories that were introduced in recent years in WAN-IFRA's long-established Asia Media Awards, such as Best in Online Media and Best in Cross Media. It also includes brand new categories such as Best in Mobile Media, Online Content, eReader/Tablet, and Social Media. 
"With digital media's evolution gathering pace, publishers and media owners are looking for business models and best practices. The award-winning pioneers not only prove themselves to be the best in Asia Pacific, but also become role models for others to emulate,"  Jacob added.
The award ceremony takes place on the first day of Asia's largest conference on new media, Digital Media Asia 2010. Due to an overwhelming response, Digital Media Asia 2010 is sold out, with 260 people from 24 countries participating in the various events. 
The Sponsors of Digital Media Asia 2010 and Asian Digital Media Awards 2010 are Atex, Adobe, The Wall Street Journal Asia, The Wall Street Journal Digital Network, iCELL Network, and OneVision. Official Media Partner is the Financial Times. Supporting organisations are Singapore Press Holdings, Media Development Authority Singapore, Singapore Exhibition & Convention Bureau, Magazine Publishers Association of Singapore, Malaysian Newspaper Publishers Association, the Society of Publishers in Asia, and Gxpress.net.
The entries were evaluated by a jury composed of the following media professionals: 
Benny Siphret, Strategic Alliance Manager, Adobe, Singapore
Thomas Crampton, Asia-Pacific Director, Digital Influence, Ogilvy, Hong Kong
Stig Nordqvist, Executive Director Emerging Digital Platforms, WAN-IFRA, Germany
Jeremy Wagstaff, Technology & Innovation Commentator and Broadcaster, Loose Wire, Singapore
Matthias Kretschmer, CEO xalmiento Web Services, Germany
David Radicke, Founder & CEO, Radicke-eCommerce, Germany
Cherian George, Associate Professor, Nayang Technology University, Singapore
Grig Davidovitz, New Media Consultant, Israël
Olivier Delteil, Business Development Manager for New Media, Les Echos, France 
A summary of all the competition categories is listed below:
1. BEST IN ONLINE MEDIA
1.A Newspaper website and 1.B Magazine website
Entries were evaluated on strong, compelling content with quality and integrity. Winning entries demonstrate consistency through interactivity with users, evidence of the publishing company's commitment to running the service, and offering value to readers and advertisers.
Gold: The Wall Street Journal Asia (www.asia.wsj.com)
Silver: APN Online (NZ) Ltd (www.nzherald.co.nz)
Bronze: The Post Publishing Public Co Ltd (www.bangkokpost.com)
Special Award: The Yomiuri Shumbun (www.yomiuri.co.jp)
Gold: SENATUS Pte Ltd (www.senatus.net)
Silver: PT Gaya Favorit Press (www.gadis.co.id)
Bronze: Malayala Manorama Company Ltd (www.manoramaweekly.in)
1.C Classifieds Website
This category honours classifieds websites that show outstanding quality of design and navigation and provide a unique end-user experience.
Gold: iProperty.com Malaysia (www.iproperty.my)
Silver: Jagran Prakashan Ltd (www.khojle.in)
Bronze: JobsCentral Pte Ltd (www.jobscentral.com.sg)
2. BEST IN DIGITAL CONTENT
2.A Online video journalism
The award recognizes the video's narrative qualities, taking into account the originality of perception and treatment, its ability to relate a story in a concise and objective way, and its capacity to expand knowledge or understanding of an issue through effective use of the medium.
Gold: The Associated Press (www.ap.org - Pakistan Flood)
Silver: The Post Publishing Public Co Ltd (www.bangkokost.com - The World's Window to Thailand)
Bronze: Star Publications (Malaysia) Bhd (thestaronline.tv)
2.B Online infographics
This award recognizes excellence in design, usefulness and clarity of information conveyed in online graphics, in both breaking news and non-breaking news.
Gold: The Associated Press (www.ap.org - North Korea Succession)
Silver: PT Tempo Inti Media Tbk (www.tempointeraktif.com)
Bronze: The Post Publishing Public Co Ltd (www.bangkokost.com - Shinawatra's Assets)
2.C User generated content (UGC)
This award evaluated the capacity of a media company to attract and publish relevant content from its readers/users. The frequency, variety, quality and relevancy of the content published were taken into account.
Gold: Nation Broadcasting Corporation Plc (www.oknation.net)
Silver: PT Kompas Media Nusantara (www.kompasiana.com)
Bronze: Singapore Press Holdings Ltd (www.stomp.sg)
3. BEST IN CROSS MEDIA
3.A  Cross Media editorial coverage and 3.B  Cross media advertising
This award honours a newspaper's ability to offer added value to its readers/users and advertisers through publishing or advertising on several media channels. Entries demonstrate effective use of each media platform's specificity as well as a coherent management of their complementarities for serving the readers and advertisers with the best media experience possible.
Gold: Dong-A Ilbo (www.dongA.com - 100 Minds Who Will Shine Korea in 2020)
Silver: PT Kompas Media Nusantara (www.kompasiana.com - Jelajah Musi 2010)
Bronze: Singapore Press Holdings Ltd (www.omy.sg - 'Four Heavenly King' Food Contest - Durian Puff)
4. BEST IN MOBILE MEDIA
4.A Mobile publishing
This category honours the best and most innovative services offered by a newspaper publisher on a mobile platform. The evaluation examined the quality and originality of the services offered, ease of registration, access and navigation and the coherence of the offer with the publication's mission and brand.
Gold: Singapore Press Holdings Ltd (Singapore Tourism Board 'Night Out 2010')
Silver: Lokmat Newspapers Private Ltd (Lokmat Aurangabad Premier League A Cricket Carnival)
Bronze: Singapore Press Holdings Ltd (Fashion Season @ Orchard 2010)
4.B Mobile advertising
This award recognizes the publisher that has implemented the most original and efficient advertising campaign on a mobile device.
Gold: Singapore Press Holdings Ltd (The New Paper - Football Kaki)
Silver: Singapore Press Holdings Ltd (www.soshiok.com)
Bronze: Singapore Press Holdings Ltd (www.stomp.sg)
5. BEST IN EREADER / TABLET
5.A Tablet / iPad news product and 5.B eReader news product
The jury evaluated the capacity of publications to embrace these new platforms and to create applications that make full use of each devices type's specific features for creating a new and enjoyable media experience. Judges paid special attention to news product design and ease of navigation.
Gold: NDTV Convergence Ltd (NDTV HD)
Silver: PT Kompas Media Nusantar (Kompas Editor's Choice for iPad)
Bronze: APN Online (NZ) Ltd (NZ Herald iPad App)
Bronze: The Mainichi Shumbun (www.mainichi.jp)
6. BEST IN SOCIAL MEDIA
6.A Innovative use of  social media (Flickr, YouTube, Facebook, Twitter, etc.)
The jury evaluated the originality of the offering, the level of users' engagement, and the complementarities of the social media platform involvement with the media company's main products.
Gold: Singapore Press Holdings Ltd (www.omy.sg - Singapore Blogs Awards)
Silver: Singapore Press Holdings Ltd (www.straitstimes.com)
Bronze: Singapore Press Holdings Ltd (www.omy.sg - Jack Neo's Affair Scandal)
About Digital Media Asia 2010
Digital Media Asia 2010, held 24-26 November in Singapore, is WAN-IFRA's leading event on new media in Asia. It showcases how cutting-edge media organisations are using the most advanced digital media platforms for syndicating and monetizing newspaper, magazine, broadcast and book contents.
Digital Media Asia 2010 includes three one-day conferences: Online Media, held 24 November; Mobile Media, 25 November; and eReading & Tablets, 26 November. It also features several media visits and pre-conference workshops.
About WAN-IFRA
WAN-IFRA (www.wan-ifra.org), based in Paris, France, and Darmstadt, Germany, with subsidiaries in Singapore, India, Spain and Sweden is the world's association of newspapers and news publishers. It represents more than 18,000 publications, 15,000 online sites and over 3,000 companies in more than 120 countries. WAN-IFRA Asia Pacific office, based in Singapore, helps to bring services such as trainings, events, consulting and publications closer to members in the region.
---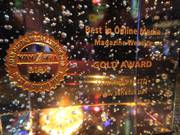 Related Article
SENATUS Wins Best Online Magazine at Digital Media Awards
SENATUS wins the Gold Award in the Best in Online Media (Magazine) category at the Asian Digital Media Awards, emerging best in entries across Asia-Pacific and Middle East.