Marina Bay Sands announces the launch of promotions to celebrate the opening of a series of luxury stores at The Shoppes at Marina Bay Sands.
Beginning September 8th shoppers from Singapore and around the world will be wowed by an unprecedented collection of Singapore labels, popular international brands, new-to-market stores and luxury boutiques. International fashion exhibitions, catwalks and a series of store launches will captivate shoppers with leading trends at Asia's most exciting shopping destination. 
Mr. David Sylvester, Senior Vice-President Sands Retail Asia, said, "The Shoppes at Marina Bay Sands opened its doors in April with pioneer tenants including Guess by Marciano and Raoul. Now we are ready to showcase a comprehensive range of fine jewelry, watches and one-of-a-kind luxury boutiques. Today we have over 100 stores open and in September there will be over 150, when we celebrate the launch of The Shoppes at Marina Bay Sands. We will welcome our luxury brands like Christian Dior and Hermès housed in exceptional stores including legendary designer Peter Marino's creation for Chanel."
The vision for Marina Bay Sands was always to create a spectacular retail experience. By giving retailers a distinctive environment to showcase their brands' personality, we see the very best of what these labels have to offer. With Marina Bay Sands' extravagant architecture, we are providing an extraordinary stage for our retailers to exhibit this creativity and individuality. Once visitors see our exciting retail mix combined with this unique design, there was no doubt that when we said we will deliver an all new shopping experience, we meant it," said
Mr. Sylvester
.
The Shoppes at Marina Bay Sands will feature a range of flagship stores that will introduce custom-made items exclusive only to Marina Bay Sands. This includes an impressive number of new-to-market labels such as Anne Fontaine, iROO, Marisfrolg, Moiselle, Zadig and Voltaire and exclusive jewelry brands including De Beers, Scavia and LEVIEV.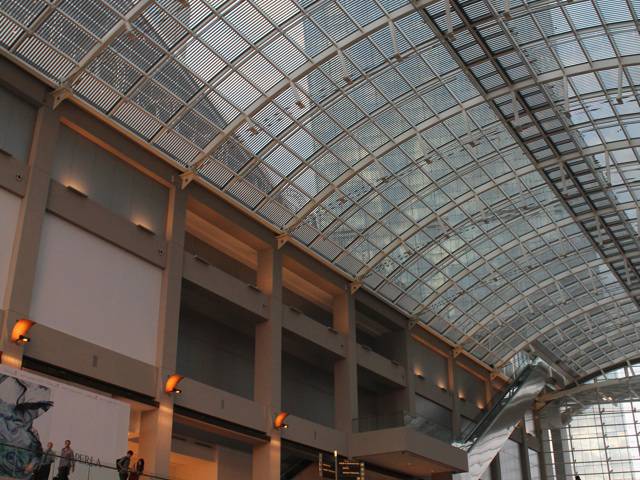 Shoppers can explore the two main shopping corridors, the Grand Colonnade South and the Grand Colonnade North on two levels along with stores along the promenade.
The retail space within the Grand Colonnades will evoke a sense of being outdoors as the contemporary design of the shopping belt features a glass roof offering great views and bringing in natural light.
Throughout the retail belt, internationally acclaimed artists will showcase revolutionary art pieces designed specifically for Marina Bay Sands, including Ned Kahn's Rain Oculus, a large acrylic and stainless steel structure located along the southern Grand Colonnade.
It will create an outdoor whirlpool motion above the promenade level with the water falling two storeys to the heart of The Shoppes into the 130-meter canal where a traditional Asian designed 'sampan' will take visitors on a scenic boat ride through the retail belt.
The fourth quarter of the year will see the unveiling of Ralph Lauren's luxury store housed in a 5,500 square foot duplex, making it the brand's most opulent retail location in Southeast Asia. Paris-born luxury goods giant Cartier will have a stand-alone boutique designed by renowned French architect Bruno Moinard.
World-leading luxury brand Louis Vuitton will be housed in a one-of-a-kind, striking glass and steel 'Crystal Pavilion' floating island store. Visitors will enter the store via an underwater tunnel, emerging into a unique multi-level Louis Vuitton brand experience.
When fully completed, The Shoppes at Marina Bay Sands will feature over 300 retail stores and restaurants.
Full the latest store listing and retail promotions, please visit: //www.marinabaysands.com/#shopping
Stand a chance to win your object of desire with every $300 spent at The Shoppes at Marina Bay Sands. Choose from designer items from Alfred Dunhill, Bally, Manolo Blahnik and Montblanc. Plus a chance to win a set of BVLGARI B.ZERO1 Pink Gold Ceramic Rings in the Grand Draw! Promotion ends 3 Oct. T&C apply. Find out more: //www.marinabaysands.com/Shopping/The_Autumn_Fashion_Festival.aspx
---
See photos from On Top of the World at Marina Bay Sands SkyPark on our Facebook page
---
Related Articles
Marina Bay Sands in Singapore The Marina Bay Sands, set to become a premier entertainment destination with its vibrant diversity of attractions and facilities, opens April 27, 2010.
Marina Bay Sands Art Path Marina Bay Sands launched the Marina Bay Sands Art Path, an impressive collection of large-scale art installations by internationally renowned artists.
Sands SkyPark to Redefine Singapore Skyline With the Sands SkyPark, Singapore will take centre stage and rank among the world's greatest skylines and tourism destinations.
World Championship Climb to the Sands SkyPark Twenty one professional climbers embarked on a first of its kind challenge to scale the world's newest architectural icon, Marina Bay Sands, in Singapore as part of its Opening Celebration festivitie